With yesterday's announcement that Ohio State will kickoff against the Cal Bears out in Berkeley at 7 p.m. EDT on Saturday, September 14th, the Buckeyes now have four or their five known kick times slotted for primetime. 
Urban wanted more night games. You wanted more night games. Everyone's a winner. I suppose it's fair to note the Cal game is just an afternooner on the left coast but more than a few evening television sets in the east will be watching the Buckeyes. 
The more subtle outcome of this announcement is that all college football fans win now that we can watch Alabama at Texas A&M at 3:30 p.m. EDT followed by The Braxton Miller Show in primetime. Just adjust the contrast on your TV to make that bright Cali sunshine look like the moon or a glowing orb shaped like Woody's head or something.  
In other Buckeye news, Ohio State announced a pretty cool initiative that gets underway this morning:
"On Thursday, representatives of The Ohio State University, including football coach Urban Meyer, members of the football team, and the Office of Student Life will join with Lowe's to dedicate a completely renovated playground at Graham Expeditionary Middle School near campus.  The dedication is set for 12:30 p.m."


"This new playground is part of a "Play it Forward" initiative that has provided the logistical coordination, resources, and materials for the renovation.  Play it Forward is a new partnership between The Ohio State University Football Program, the Ohio State Office of Student Life, Lowe's, and local schools in Columbus."
Reminds me of back when we were kids and playground installers trolled us hard with white-hot slides. I just assumed that since those days technology had advanced to the point where something could have a slippery surface yet not heat up to magma-like temperatures but I guess not. 
YOUR LIST IS ON MY LIST. As predictable as God Bless America during the 7th-inning stretch or being afraid of clowns, the offseason is notorious for spawning lists covering virtually every aspect of college football. 
With Athlon Sports wrapping up their preseason Top 25 with Ohio State inked in the #2 slot, they churned out a few lists probably without even realizing it.  One of particular note ranked the top 10 Buckeyes since 1967: 
Archie Griffin
Orlando Pace
Jim Stillwagon
Eddie George
Chris Spielman
Jack Tatum
John Hicks
Cris Carter
Troy Smith
Antoine Winfield
What an incredible list of players. You can debate these things six ways to Sunday but my quick and dirty two cents is that Stillwagon is probably too high, my heart says 'Toine should be closer to the 8th spot and holy smokes this list doesn't eve have Keith Byars or David Boston on it.  Speaking of Boston, Athlon's had a list of the Top 50 WR of the BCS Era a few weeks back and Ohio State's career leader in both receptions and touchdown catches fared no better than 32nd. 
Finally, Tom Dienhart took a stab at ranking the B1G receiving corps and ranks the Buckeye lot third, behind Nebraska and Northwestern. I'm not trying to clown on either squad but I have a feeling this list will look different at season's end.  
WHAT'S THE PAY FOR THIS GIG? With some of the power conferences holding their media meetings, nuggets regarding the pending formation of the College Football Playoff selection committee continue to surface. Over at the Big 12 meetings, commissioner Bob Bowlsby at least confirmed who won't be on the committee:
''I really believe there are some people with a high level of expertise that would be helpful to the process, a high level of experience that would be helpful to the process but we felt like it was just going to be too disruptive and too subject to suspicion and therefore decided that we wouldn't be in the room.''
Meanwhile, BCS Executive Director Wild Bill Hankcock said commissioners remain open to the idea of having active athletic directors serve but there is stronger sentiment toward pursuing former administrators, coaches, or even potentially media members. Additionally, conferences have been solicited to send names of individuals they think might be a good for the committee, which is expected to include 12-20 folks. The desire is to have the group in place sometime before Thanksgiving or so but there is no concrete due date.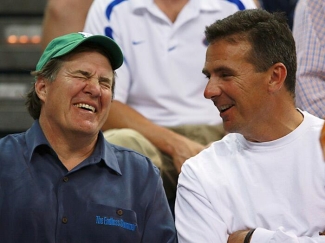 STAND BY YOUR (WO)MAN. First off, is it me or does Julie Hermann always looks like she's flaring her nostrils in disgust - probably because she believes all cameramen are learning disabled?
In the latest bit of good news for the future-B1G school, it was reported yesterday that Rutgers paid Parker Executive Search $70K to advertise their open athletic director spot, target candidates and perform subsequent background checks. 
Showcasing their love for repeatedly touching the stove, Rutgers decided on using the services of Parker Executive Search even after the last AD the firm head-hunted was none other Tom Pernetti, aka the man that the school paid $1.2 million to go away after his botched handling of the Mike Rice player-abuse scandal. 
I'm not saying the Hermann situation is solely the fault of the firm but why not change it up a bit on the 2nd go 'round? And don't even get Gary Parrish started on this topic.
Last night, the story heated up even more as emails from Ronald Garutti, a member of the school's search committee and board of trustees, suggested the selection process didn't go as smoothly as co-chairs Kate Sweeney and Richard Edwards portrayed saying:
"Please, let us not at this late date attempt to convince ourselves and the public that there was sufficient time to delve deeply into either candidates's documents ...With 13-15 committee members present at the interviews, and with each member needing to be given the opportunity to ask their own questions, and with Julie's interview starting more than 15 minutes late, there was little or no time to ask follow-up questions, or probe deeply ...Please let's not present this as any kind of exemplary process. Subsequent events have proven otherwise."
Clown show, indeed.  
SO YOU'RE TELLING ME THERE'S A CHANCE. Jahlil Okafor, the 6'10" gem of the 2014 basketball recruiting rankings, trimmed his list of potential landing spots to eight schools and Ohio State made the cut. Joining the Buckeyes in his final eight are Arizona, Baylor, Duke, Illinois, Kentucky, Kansas and Michigan State. The Illini might seem like the odd squad out but Okafor plays his high school ball at Whitney Young in Chicago, the same program that produced Sam Thompson. 
Also of note, Okafor's best friend and stud point guard Tyus Jones have long suggested they want to play together in college and it just so happens Ohio State is on his list but so are the likes of Baylor, Duke, Kansas, Kentucky and Michigan State. 
Okafor highlights? Okafor highlights:
Dude's got some Sully in his game and he's two inches taller?! Works for me. 
END SESSION. Musician portraits using just their CDs... Rage much?... Boston Marathon survivor throws out first pitch... Hat tip to @_Tim_Barney_ for turning me on to the pure craziness that is Cards Against Humanity... Why aren't these standard in every parking garage?... Dude must have a pretty sweet 60" projection TV inside... High Street back in 1900... The Most Epic Scripps National Spelling Bee Celebrations In History...Barrel 44 is about to get bigger and Little Palace is adding a patio... 30 for 30 Short on Clint Malarchuk. He's the goalie that his carotid artery slashed back in the day... Today's Skully sponsored by these three sick instrumental albums.