GOOD MORNING VIETNAM!!!!11
"Good golly, is that Stone Cold's music?" Nah, that's just my alarm clock. Wait.. you mean to tell me there are people in America who wake up to anything other than Stone Cold's banger of an anthem? Little doubt this will be pinpointed by alien anthropologists as the crux of Mankind's ultimate downfall.
I guess I shouldn't be surprised. This is the America we live in today, unfortunately. This past Memorial Day weekend, I saw little reverence paid to one of America's greatest veterans: Stone Cold Steve Austin the Texas Rattlesnake. 
Without him, our nation's youth would have grown up watching WCW instead of WWE. Frankly, it's scary to think about where this country would be if Stone Cold Steve Austin hadn't descended on the WCW/ECW invasion like an angry pillar of wasps and saved us from that decadent way of life. Stunnin' Steve's theme should be the new fight song, or at the very least, it should immediately replace any rendition of "Seven Nation Army" within a forty-mile circumference of the Horseshoe on fall Saturdays. 
Just a little something for Urban Meyer and his psychology degree to chew on. The greatest natural steroid known to Man is sitting there like a fumbled magic diamond. Ohio State should weaponize it.#imjustsaying
 BERT BELIMA IS STILL UNBEARABLE. 42 year-old frat brother Bert Beliema, 15 months ago:
I can tell you this, we at the Big Ten don't want to be like the SEC — in any way, shape or form.
43 year-old frat brother Bert Beliema, yesterday: 
... in the Big Ten, we disliked SEC because of success they had.
Isn't it awesome when sports figures you don't like do something that verifies your pre-conceived notions of them? Bert Beliema has thrown down the troll gauntlet down against the Big Ten and I couldn't be happier. The best part is he doubled down when asked specifically about his anti-SEC comment from last year:
"That was about one coach and one instance."
Shine on, you duplicitous troll. I will miss Ohio State swaddling him up in his baby blanket and burping him to sleep every year.
 SON DROPPED FROM TRACK TEAM; FATHER SUES FOR $40 MIL. Via John Infante, a must-follow on Twitter and a man who knows the NCAA by-laws better than the NCAA, comes this article out of South Jersey.
The father of the suit is arguing "students have rights just like adults," meaning his son has a right to play sports. When his son was kicked off the school's track team, the father responded by suing the school for $40 million dollars in damages, 2012 and 2013 Varsity letters, and the always-illustrious championship jacket. It's only a matter of time before one of these lawsuits hits home, and forces the issue on America's welding of sports and academic institutions. 
Suits like this, coupled with the O'Bannon verdict due this summer, it's certainly an interesting time to be alive, considering these rulings could shape all spheres of American sports for the next 20 to 30.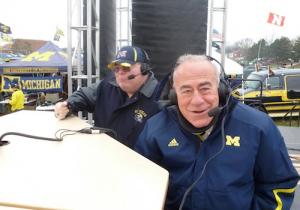 THE VOICE OF MICHIGAN FOOTBALL LEAVES THE YARD. I'm sorry to go quote heavy, but there's no other way to dance around this pearl of wisdom dropped on us by Michigan football's radio voice Frank Beckmann. The voice of Michigan football since 1981 and apparent luminary had this to say when he  somehow got onto the subject of African-Americans and fried chicknen: 
To the politically correct, the mention of fried chicken is an immediate endorsement of slavery rather than a testament to the innovative determination of the American slave population to improve its own physical wellbeing by creating a readily available dish which improved their diet.

Making fried chicken and popularizing it could thus be viewed as an accomplishment that should serve as a testament to the determination of a group of people who found an inventive way to subsist while enduring unimaginable and deplorable living conditions.
But that would remove the opportunity of the political elite to capitalize by creating an atmosphere of victimization.
I think the only acceptable opinion expressed in those two graphs is the deliciousness of fried chicken in general. Leave it to a freakin' Michigan Man to make fried chicken divisive.
THE ANTITHESIS OF ALL THOSE OSU FOOTBALL HYPE VIDEOS. Spencer Hall found this YouTube gem: The time The Ohio State University "owned" the SEC... during a period of a game that resulted in a 28-31 loss to South Carolina. The punch line hits you when you realize it was an Ohio State fan that uploaded this magnificent ode: 
Yup, Ohio State sure "OWNed" the SEC there. This video really eased the pain of seven straight SEC national champions. Ohio State fans will always have the furious second-half comeback against South Carolina, Jim Tressel and Terrelle Pryor's swan song in the 2011 Sugar Bowl, and the Civil War. Bee. One. Gee, baby!
THE REDS SMASHED THE INDIANS 8-2. It was 3-1 Cincinnati until the bottom of the 7th when an error from Carlos Santana opened up the wormhole. It was 7-2 when the inning's dust settled, and the Indians never recovered. The Reds have earned at least a split of the four game series. The series now shifts to Cleveland, and Game 3 is tonight at 7:05 PM. I don't mess with MLB unless my team (the Dodgers) is good and in the playoffs; however, I do enjoy any opportunity to insult Cincinnati's professional sports clubs, so here's to hoping the Indians get their sticks out and rally out of this bender of bad play they've been on for the last week. 
THAT W.M.D. The Pacers beat El Heat 99-92, evening the ECF at 2-games a piece.... One of the best D2 Quarterbacks ever was found dead in Michigan at age 30.... Chief Keef arrested in Illinois for speeding at 110 mph... A story involving Keyshawn Johnson, Justin Bieber, a speeding Ferrari, and a Prius... BLANKSTARE NEWS: Fresh vegetables "may not" have more nutrients than canned ones... USMNT's Clint Dempsey is driven to succeed...