In the off-season, sometimes one gets stuck when searching for a topic, particularly when recruiting isn't one's forte.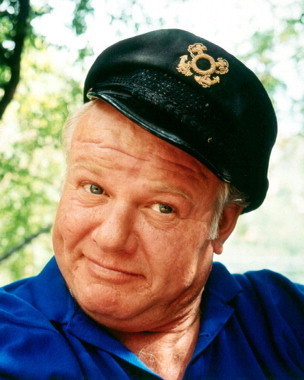 So when I got stuck, I remembered that Ted Chaough on AMC's Mad Men had a plan for whenever the creative juices weren't quite flowing freely—the Gilligan's Island formula.
Ted's theory is that the companies in each industry (the margarine game, for example) could be compared to characters on the iconic television show. By sorting each company into recognizable archetypes, Ted would break through whatever was blocking his creativity and design a game plan for landing the client.
I decided to put Ted's formula to the test and sat down and try to figure out which B1G coach would correspond to everyone on the island (which I'm pretty sure they never actually named "Gilligan's Island" but I digress).
The following is my approximation of Ted Chaough's formula as relates to the Big Ten's football coaches. As there were seven castaways, not all 12 coaches (or 14 if you're already counting Maryland and Rutgers) are represented.
Let's start with the obvious.
The Skipper – Brady Hoke
Hoke is quite easily "Skipper" Jonas Grumby, played by Alan Hale, Jr. Both are full-sized gentlemen who are sometimes a bit of a blowhard, somewhat oafish and each is usually found wearing a blue shirt. Both men probably think they are a little more important to the group than they really are.
Skipper is basically a useful guy to have around, relative to the group of worthless people he's stranded on the island with. Likewise, Brady Hoke seems to be quite a bit more competent than many of his B1G contemporaries, particularly in terms of recruiting.
Like many sailors, Skipper is a superstitious man, much like Hoke is afraid of adding "State" after he says "Ohio." He's obviously chickening out because he's scared that by saying "Ohio State" like all the other B1G coaches, he'll end up having similar results against the Buckeyes.
During important happenings, Skipper is often subservient to the Professor. And, although his hat is ubiquitous, you never see the Skipper with a headset on. Hmmm…the similarities are uncanny.
Gilligan — Mark Dantonio
It's a shame that Bret Bert Bielema went to Arkansas, because there's some meat to a Gilligan-Bielema comparison including, but not limited to, the bumbling character (Gilligan, not Bert) wearing a red shirt and white hat reminiscent of Wisconsin. Gary Andersen has yet to do anything Bert-like, so we'll reserve judgment on him for now.
Whether they like it or not, the Michigan schools will forever be linked. Skipper had Gilligan as his "Little Buddy," just as Michigan has "Little Brother" Sparty. Enter Mark Dantonio as the title character, played by Bob Denver.
The Gilligan-ness of Michigan State is undeniable. After all, "Sparty No!" is a thing. One can imagine every "Sparty No!" as yet another plan to escape from the island gone awry due to Gilligan's shenanigans.
Like Gilligan, Dantonio is often awkward, as evidenced by his lack of a smile and his "next question" press conferences.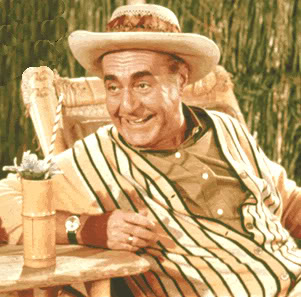 Thurston Howell III — Kirk Ferentz
Kirk Ferentz bears similarities to the millionaire, Thurston Howell III, played by Jim Backus. Both men are sitting on a pile of money and neither is very useful.
Just as Howell does very little to help the other castaways, Ferentz has done the B1G little good of late with the way Iowa has faded from any sort of national prominence. His teams are 19-19 over the past three seasons, finishing no higher than fourth in the league/division. His recruiting hasn't set the world on fire either.
The stranded passengers and crew of the S.S. Minnow can't get rid of Thurston Howell III, because there's nowhere he can go. Iowa fans and the Big Ten are similarly stuck with Ferentz.
Eunice "Lovey" Wentworth Howell — Bill O'Brien
Bill O'Brien is Mrs. Howell, as portrayed by Natalie Schafer. Mrs. Howell comes from old money and married on her social level. O'Brien came from the successful New England Patriots to "old money" B1G power Penn State.
While Lovey was marooned with her hubby on a deserted, uncharted island, O'Brien was stranded in a program facing serious NCAA sanctions. Just as Mrs. Howell punches above her weight as a character on Gilligan's Island, so too has O'Brien been punching above his weight in the Big Ten recruiting wars.
Mrs. Howell has shown herself to have a good heart throughout the series, and O'Brien passed on opportunities to bail on Penn State, which was a pretty standup thing to do.
Ginger Grant — Bo Pelini
Ginger, played by Tina Louise, often used subterfuge, her movie star past, and her feminine charms on the island to further her agenda. Bo doesn't really have looks to fall back on, but he leverages the star quality of Nebraska's football past to gather recruits and keep his team competitive.
Ginger's and Nebraska's glory days may be in the past, but both still have potential.
Mary Ann Summers — Gary Andersen
Just like the old "Ginger or Mary Ann?" debate, one could generate a lot of conversation by posing the question of whether Nebraska or Wisconsin has the sexier football program. Ginger may have the obvious glamor of the storied Cornhusker program, but the Badgers have been more successful in recent years. That could make Wisconsin the more attractive program, much like Dawn Wells' Mary Ann character was more attractive than Tina Louise's Ginger (and yes, she was).
There may be other comparisons here, but honestly I just don't know enough about Gary Andersen right now to take this analogy any further.
Professor Roy Hinckley — Urban Meyer
The true leader of the island and a master innovator, "The Professor," portrayed Russell Johnson, was a genius. He could take a few coconuts, some bamboo and a few vines and somehow power a transistor radio. In a similar fashion, Urban Meyer showed he can take a fullback and plug him in at linebacker, fixing a leaky defense.
Meyer shares The Professor's flair for innovation as well as his leadership ability. He's constantly trying to improve not only Ohio State, but the entire B1G, just as The Professor was always teaching the other castaways. But much like on Gilligan's Island, those lessons mostly fell flat with the others.
So there you have it. Ted Chaough, you were right. Everything is subject to the Gilligan's Island formula. Even Big Ten football.