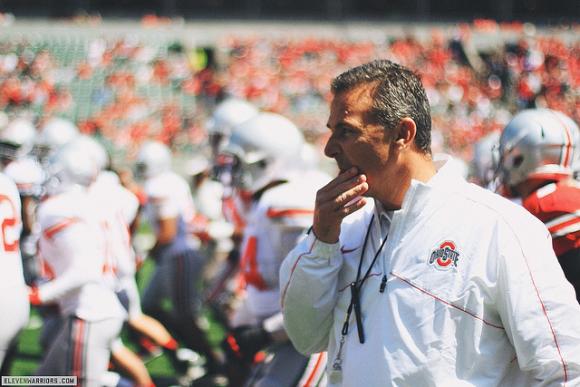 The offseason feels like years when all is normal. With an absence during bowl season, the November to August lull is unbearable for some in Buckeye Nation. Ohio State fans pride themselves on being diehards that live vicariously through the Buckeyes. No games for nine months amounts to torture.
Fear not, Thursday marks the 100th day until the opener. And while it's only Buffalo, the excitement is growing with each passing day. The 2013 season signals an official rebirth of the Ohio State football program. Last year may have featured Urban Meyer's maiden voyage and an undefeated season, but the Buckeyes weren't immersed into the national title chase.
That changes on Aug. 31 when Ohio State begins the season almost certainly ranked in the top five. Leaders were all over the roster last year. Meyer is searching for those indispensable players this year. It could be the difference between seven wins and 12 wins, as he alluded to prior to last season.
"Talent will get you about seven or eight wins," Meyer said. "Discipline will push it to nine, maybe, and leadership is where magic starts happening."
Buffalo Bulls
Date: August 31
Location: Ohio Stadium
2012 Finish: 4-8, 3-5 MAC East (T-4th)
Previous Meeting: First meeting
The anticipation surrounding the 2013 season opener began minutes after the Michigan game ended last November. Going bowl-less combined with an undefeated season has ratcheted up the hype meter in Columbus. Even the hornless Buffalo Bulls coming to Ohio Stadium will get 105,000 Buckeye fans giddy. Jeff Quinn's bunch has experienced a few down years, but Buffalo is expected to bounce back this season. There's experience all over the field, especially at the playmaking positions, be it offense or defense. Winning at Ohio State is a stretch, though. But once the Bulls get into the MAC schedule, a championship is a possibility.
San Diego State Aztecs
Date: September 7
Location: Ohio Stadium
2012 Finish: 9-4, 7-1 Mountain West (T-1st)
Previous Meeting: Ohio State 27-6 (2005)
San Diego State was the emergency callup when Vanderbilt slighted Ohio State earlier this year by backing out of what was supposed to be a season-opening game. The Commodores got a home game on ESPN instead, opting to steer clear of the Buckeyes. For Ohio State, the Aztecs are a quality replacement. They've had winning seasons three straight years with their resurgence starting under then-head coach Brady Hoke. Rocky Long has continued what Hoke built. Quarterback Ryan Katz is gone, but Adam Dingwell completed 57 percent of his passes as a backup last year. The problem for San Diego State is the offensive line's spotty play. They allowed a whopping 35 sacks last season, nearly three per game. Stats like that will have Noah Spence, Adolphus Washington and the rest of the Ohio State defensive line foaming at the mouth. The Aztec defense is also a bit raw and undersized, which could give way to a Braxton Miller field day.
California Golden Bears
Date: September 14
Location: Memorial Stadium, Berkeley, Calif.
2012 Finish: 3-9, 2-7 Pac-12 North (5th)
Previous Meeting: Ohio State 35-28 (2012)
Buckeye Nation certainly doesn't forget the upset Cal nearly pulled off a year ago. The Bears almost put an end to what would be an undefeated Ohio State season – and that was in a down year. Now Cal is armed with a new head coach – Sonny Dykes – and a high-powered offense. At Louisiana Tech, Dykes was in charge of one of the top offenses in the country. He, along with veteran offensive coordinator Tony Franklin, has installed the same air raid offense – or bear raid, as they refer to it in Berkeley – that led the nation in scoring (51.5 points) and total offense (577.9 yards) in 2013. A 3-9 record might not show it, but the Bears are not low on dynamic players, even with the absence of wide receiver Keenan Allen. Running back Brendan Bigelow, who broke two long touchdown runs against the Buckeyes last year, is back but sat out the spring due to a knee injury. Speed has become the norm in most of college football, but the Pac-12 has been right there with the SEC in establishing the trend. Dykes and Co. hope to take it to another level. The first trip on the road is always a dicey situation, combine that with a trip across the country and there is reason for Ohio State to cool it on the 'easy win' talk. At the turn of the century, Cal had its turn at the top of the conference totem pole. Archrival Stanford has enjoyed unprecedented success in recent seasons, so it's Dykes' job to return the glory in the East Bay. 
Florida A&M Rattlers
Date: September 21
Location: Ohio Stadium
2012 Finish: 4-7, 4-4 MEAC (T-6th)
Previous Meeting: First meeting
There's at least one yawner every season for Ohio State. The Florida A&M game is at the top of the list in 2013. It's hard to justify fans paying $75, but there will still more than likely be a sold out crowd in Ohio Stadium for the occasion. The Rattlers have a long and storied history, winning the Black College Football national championship 12 times and the 1-AA title once. The program has sent more than 60 players to the NFL, including current head coach Earl Holmes, who played for the Cleveland Browns in 2002. Florida A&M struggled last season and hasn't seen much success in recent games against FBS schools. The same is expected when they come to Columbus.
Wisconsin Badgers
Date: September 28
Location: Ohio Stadium
2012 Finish: 8-6, 4-4 Big Ten Leaders (1st)*
Previous Meeting: Ohio State 21-14 in overtime (2012)
Wisconsin's reign as the Big Ten's ruler is nearing its end. It technically happened last season, but Ohio State and Penn State's NCAA issues allowed the Badgers to swoop in for a third straight championship. Bret Bielema is at Arkansas, the quarterback situation is uncertain, Montee Ball is in the NFL and Jared Abbrederis is the only playmaking wide receiver still on the roster. Bielema's departure was the most stunning coaching move of the year. He's a Midwesterner to through and through that graduated from Iowa and was Barry Alvarez's handpicked successor. That saga is over now, and it's Chris Andersen – an Urban Meyer disciple – who must pick up the pieces. Russell Wilson's one-year stay gave Wisconsin fans a glimpse of how much a difference-making quarterback can do. The team is light years from that kind of production just two years later. Maryland's Danny O'Brien was a disaster in 2012 and Joel Stave was inconsistent in relief. The offensive line also wasn't up to typical Madison standards. Twelve starters return – six on both sides of the ball – which is a fairly barren cupboard. It could be a longer winter in Wisconsin.
The Wisconsin game will also serve as the nightcap for Eat Too, Brutus IV.
Northwestern Wildcats
Date: October 5
Location: Ryan Field, Evanston, Ill.
2012 Finish: 10-3, 5-3 Big Ten Legends (3rd)
Previous Meeting: Ohio State 45-10 (2008)
At the first glance, Ohio State's schedule is easy to gloss over. But the October 5th date at Northwestern is arguably the trickiest of the bunch. Once it was confirmed as a night game that sealed the deal. First off, the Wildcats are good and have been for several years under Pat Fitzgerald. The work he's done in Evanston has been nothing short of remarkable. Northwestern is coming off a 10-win season and with several key parts returning, it's not farfetched to say the teams could play twice. The Buckeyes have struggled some at Ryan Field in the past, and even though there will be plenty of scarlet and gray in the stands, it's still a road game at night in a rabid atmosphere. If Ohio State leaves undefeated, Michigan becomes the only serious hurdle to 12-0.
Iowa Hawkeyes
Date: October 19
Location: Ohio Stadium
2012 Finish: 4-8, 2-6 Big Ten Legends (T-5th)
Previous Meeting: Ohio State 20-17 (2010)
Ohio State has not played Iowa since the Big Ten went to a divisional setup. The Buckeyes and Hawkeyes have played many classics over the years, including their two most recent meetings. But Iowa has spiraled downhill recently with staff turnover coinciding with a high number of losses. Kirk Ferentz may finally be on the hot seat. The offense has been dreadful the past two seasons. The quarterback and leading receiver are gone, so maybe it will spark a resurgence. Where the Hawkeyes can make hay is defense. Even in losing season the unit has churned out production and talented players. The defensive line will need to be patched up, but a strong group of linebacker could cover up mistakes. 
Penn State Nittany Lions
Date: October 26
Location: Ohio Stadium
2012 Finish: 8-4, 6-2 Big Ten Leaders (2nd)*
Previous Meeting: Ohio State 35-23 (2012)
It was a season to remember for Penn State in 2012. Many thought the downfall would begin, but head coach Bill O'Brien allow it, even after a disastrous 0-2 start. Reality could hit this year, though. Scholarship limits are starting to be felt and several key leaders graduated. Sixteen starters return, but depth could be a major issue. The offensive line and defensive front seven – strengths a year ago – are decidedly weaker this season. Factor in a night game to Ohio Stadium and the prospects of an upset shrink.
Purdue Boilermakers
Date: November 2
Location: Ross-Ade Stadium, West Lafayette, Ind.
2012 Finish: 5-7, 3-5 ACC (4th in Atlantic Division).
Previous Meeting: Ohio State 29-22 in overtime (2012)
The Buckeyes have made a habit out of making the Purdue game memorable in storybook seasons – 1968, 2002 and 2012 all accompany that list. If they know another memorable chapter is coming in 2013, they'd gladly sign up. Ohio State has lost at Ross-Ade Stadium its past two trips to West Lafayette. Falling in that trap again would likely doom any national championship hopes. Former Ohio State assistant Darrell Hazell now heads up the Boilermakers, who are looking for a turnaround similar to what occurred at Kent State the past two seasons. Hazell nearly took the moribund program to the BCS. He inherits a Purdue program that hasn't delivered on immense potential the past two seasons. That hope spring eternal once again, as eight starters return on offense and seven on defense. Quarterback Rob Henry will be the spark but few playmakers return, and Kawann Short's departure makes the defensive line less fearsome and trickles down the rest of the defense.
Illinois Fighting Illini
Date: November 16
Location: Memorial Stadium, Champaign, Ill.
2012 Finish: 2-10, 0-8 Big Ten Leaders (6th)
Previous Meeting: Ohio State 52-22 (2012)
Urban Meyer and Tim Beckman had far different experiences during their first season in the Big Ten. Meyer was lauded for taking a 6-7 team and turning in an undefeated season, while Beckman's squad went from 7-6 to 2-10. It took less than one year for boosters to call for the embattled coach's firing. Already, Year 2 could be make-or-break. Nine starters return on offense, which could prove lively for the Fighting Illini under new coordinator Bill Cubit. Nathan Scheelhaase enters his senior season as the starting quarterback. Whether he stays there or not remains to be seen. It's been an up-and-down three seasons for Scheelhaase, who's been both excellent and dreadful. The linebacker corps should be stout, but the lines on both sides of the ball will be stretched thin. On offense, that could lead to Scheelhaase being under duress and the run game being ineffective. Opponents could experience the opposite on offense – success running and throwing the ball.
Indiana Hoosiers
Date: November 23
Location: Ohio Stadium
2012 Finish: 4-8, 2-6 Big Ten Leaders (5th)
Previous Meeting: Ohio State 52-49 (2012)
The Indiana game served as the turning point last season for a sketchy Ohio State defense. The Hoosiers have steadily improved under head coach Kevin Wilson, who brought a high scoring game plan with him after years of success as Oklahoma's offensive coordinator. Quarterback Tre Roberson returns from a season-ending knee injury, but Wilson indicated the position is an open competition between Roberson, Cam Coffman and Nate Sudfeld. All three played last season and produced. Indiana has the offense to compete in the conference; defensively, though, it can barely stay above water. The Hoosiers ranked 103rd in total defense and 101st in scoring defense in 2012. Fix the D and Indiana could be bowl bound, something that hasn't happened in Bloomington since 2007.
Michigan Wolverines
Date: November 30
Location: Michigan Stadium, Ann Arbor, Mich.
2012 Finish: 8-5, 6-2 Big Ten Legends (2nd)
Previous Meeting: Ohio State 26-21 (2012)
It's the biggest game of the year on both team's schedules every year. It's a game where the cliché 'throw out the records' is relevant. For Ohio State, it could carry even more significance in 2013. When you glance at the previous 11 games, the opportunity to travel north to Ann Arbor with an unblemished record is as good as it's ever been. Brady Hoke won his first game in the rivalry, but it came against a down Ohio State team. Last year, it looked like Michigan had the opportunity to play spoiler until some questionable second-half play calls doomed the Wolverines' prospects. Urban Meyer and Hoke have upped the intensity in this storied rivalry and their players and the fans have fed off of it. Devin Gardner takes over quarterback duties fulltime, which could be an upgrade from the days of dynamic but inconsistent Denard Robinson. Missing on defense is most of the core from last season's group that was near the top of every defensive statistic in the Big Ten. That's not what you want when Braxton Miller is the opposing quarterback. And for the first time in the series' history, Ohio State and Michigan could play twice.