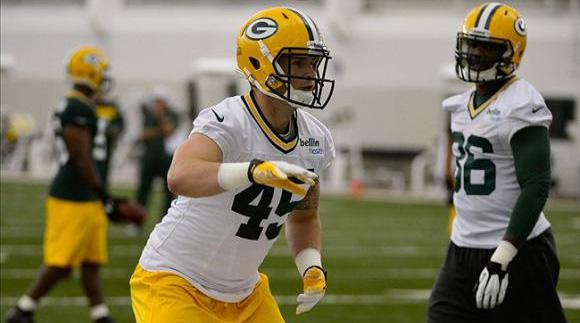 The disappointment was brief. The dream may have been shattered, but in a matter of moments the end result was ultimately the same: an opportunity to play in the NFL.
Jake Stoneburner was not drafted. It came as a surprise to many, especially after an impressive series of workouts leading up to the draft. Stoneburner displayed the skills to front office personnel that made coaches and fans so giddy when he was being recruited. Ultimately, though, he slipped through the seven-round process.
But it's a big boy business and that isn't lost on Stoneburner. That's why the mood was upbeat when the Green Bay Packers contacted him to become an undrafted free agent.  Stoneburner will keep that undrafted status in the back of his mind for a little extra motivation. 
"Teams didn't pick you for a reason," he said. "You've got to figure out what that reason was and you've got to take that and critique it. Take it with you to Green Bay and show teams they made a mistake in not drafting you. You don't want to act too crazy up there and act like you're some nut job that wishes he'd have been drafted, but you definitely have to have a chip on your shoulder."
There was logic in the reasoning why Stoneburner remained on draft boards for 254 picks. He's had two knee injuries, including a torn meniscus last season, and he never quite lived up to his potential at Ohio State, though it can debated whether that was his fault or not.
But the Dublin native was a safe free agent pickup with tremendous upside. Stoneburner, with Troy Smith throwing passes, put on a show at Ohio State's Pro Day in March. At 6-foot-3, 249 pounds, he has the size combined with speed that NFL tight ends are known to utilize.
At Pro Day, Stoneburner was impressive in pass-catching drills, running crisp routes and flashing the speed that could make him a steal for the Packers. His 4.52 40 was among the fastest times for all tight ends eligible for the draft.
In four years at Ohio State, Stoneburner caught 53 passes for 714 yards. But nearly 25 percent of his receptions went for touchdowns.
"Why not Jake Stoneburner?" Smith said.
"Why not Jake Stoneburner?" 
Green Bay hopes the tight end takes that same approach, because the franchise has largely been built on front office decisions during the NFL Draft weekend. Fifty-seven players attended the Packers' rookie orientation and they were given a history lesson.
Tom Crabtree, a fellow Central Ohio native, also went undrafted. He might not have the same cachet of Green Bay legends such as Bart Starr or Brett Favre or even current players Aaron Rodgers and Clay Matthews, but hard work and a can't-lose attitude paid off for the undrafted free agent. After being waived by Kansas City in 2009, the Packers took a flier on him – and it paid off.
Crabtree played in 41 games over the past three seasons, a total of 462 offensive snaps. He had a reception and a tackle in Super Bowl XLV, which Green Bay won, but most of Crabtree's production was of the blocking variety.
"Frankly, I've changed the philosophy of our program," Green Bay head coach Mike McCarthy said. "We've been noted as a draft-and-develop football team, but we're really a draft-and-undrafted football team. That's what the facts show and something we take a lot of pride in."
The Packers might have a whopping seven tight ends on the roster, but it's a position that's always been loaded during general manager Ted Thompson's tenure, and few of the producers have been must-get players.
Jeremichael Finley is the only tight end Green Bay has drafted in the first four rounds in drafts conducted by Thompson. It's not lost on Stoneburner, a student of the game. He understands his place and that his services mesh with the team identity and what fans look for in a Packer.
"(Their offense) suits me almost to a T with the way they split out Jermichael," Stoneburner said. "I felt like it was a good opportunity to come in. It's a great atmosphere here to come in, compete and hopefully earn a roster spot.
"It's there for me to make it. I just have to perform."
"I think I ended up in the best possible situation. I've seen a lot of people go undrafted and play a long time in the NFL."
Exhibiting all his skills appeals to Stoneburner, and he believes Green Bay will allow that. Blocking will be expected, and Stoneburner is underrated in that department. But it's his athleticism that will turn the most heads.
A bum knee will not be something holding Stoneburner back. He recently gave himself a clean bill of health, as did doctors, and expects to be at full speed for the foreseeable future.
"I don't feel pain and I'm able to run," Stoneburner said. "Its just some doctors thought it looked torn and some didn't. Some teams weren't willing to take the waiver on my knee, especially because I've torn it two years in a row now."
Easing the pain is Rodgers, arguably the top quarterback in the league and the best that money can buy. With the draft winding down, Stoneburner and his agent, Eric Metz, were in contact with 10-15 teams. One franchise – the Seattle Seahawks – even indicated they would draft the tight end, though that never came to fruition. One wish Stoneburner had was to play with a star quarterback. Consider it granted. 
"I wanted to make sure I had a set quarterback that is known for throwing the ball," he said. "I've never really been able to have that. In high school I kind of had that, and I was able to thrive in that. So when I was looking at free agency, I wanted a set quarterback that's going to be there for a while that I know can throw the ball around. (Rodgers) just happens to be pretty good at it."
Stoneburner will also have familiar faces around him, former Buckeyes Ryan Pickett and AJ Hawk.
"I've heard that Green Bay is the Ohio State of the NFL, so I don't mind that," Stoneburner said. "I think I ended up in the best possible situation.
"I've seen a lot of people go undrafted and play a long time in the NFL."