Former Ohio State basketball coach Randy Ayers will be one of 12 inductees into the Ohio Basketball Hall of Fame at a banquet at the Columbus Convention Center.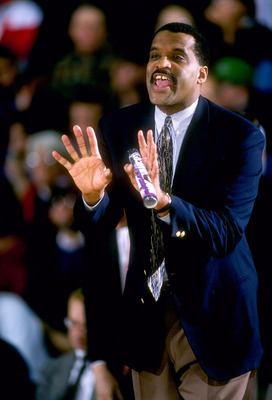 Ayers took over the program after Gary Williams left in 1989. He coached the Buckeyes for eight seasons, with a career mark of 124-108, and a B1G record of 64-80. He took the Buckeyes to regional No. 1 seeds in 1991 and 1992, winning conference championships both years. His teams reached the NCAA tournament three straight years from 1990-92.
In 1990-91, Ayers led the Buckeyes to the Sweet 16, before falling to No. 4 seed St. John's, 91-74. His 1991-92 squad, featuring Jim Jackson, current OSU Assistant Coach Chris Jent, Lawrence Funderburke and guards Mark Baker and Jamaal Brown came up just short in the Elite Eight, falling 75-71 in overtime to the Fab Vacated Five.
Ayers was named National Coach of the Year in 1991, and Big Ten Coach of the Year in 1991 and 1992. His teams at Ohio State performed well, but didn't quite seem to reach their full potential — something that Ayers laments.
"We had a nice three-year run with that group," Ayers said. "That group was such an unselfish group."

But then the program slipped, beset by players' off-the-court problems. After four straight losing seasons, Ayers was let go.

"It was really disappointing," Ayers said. "I was more disappointed in myself because I didn't complete the job. I was really happy for the highs, but very disappointed with the lows. It still nags at me to this day."
Bleacher Report named him No. 3 on their worst Big Ten coaches since 1992 list slideshow, which of course means his most successful years didn't count in the article slideshow. It is noteworthy that Bleacher Report also named him No. 5 on their list of best coaches in program history, ahead of Gary Williams.
Still, he's the fifth winningest coach in program history. During his tenure, Ayers coached such Buckeyes as Greg Simpson, Derek Anderson and two-sport star Ricky Dudley, in addition to the aforementioned 1991-92 starters.
After leaving Ohio State, Ayers became an assistant coach for the Philadelphia 76ers. He was named head coach in 2003, compiling a 21–31 record before being let go mid-season. He served as an assistant coach for the Orlando Magic and Washington Wizards, then returned to Philadelphia as an assistant in 2009. He is currently on the New Orleans Pelicans' coaching staff.
Ayers was a star player at Springfield North and later at Miami University. He was drafted by the Chicago Bulls but did not make the roster. Ayers returned to Miami, where he was on Jerry Pierson's coaching staff until he took the Ohio State job.
Other 2013 Ohio Basketball Hall of Fame inductees include: Brad Daugherty, Fran Guilbault, Howard Jolliff, Kenyon Martin, James Morgan, Ron Niekamp, Tamika Williams Raymond, Wally Szczerbiak, official Steve Trout, Barbara Turner, and Bill Uhl. Team inductees are the 1964 state champion Dayton Belmont High School boys and 2009 national champion University of Findlay men.