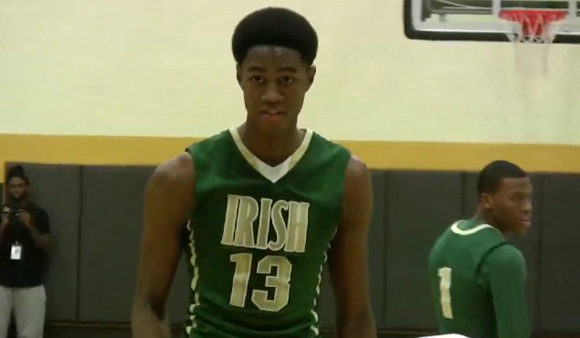 V.J. King, a 6-6, 182-pound small forward that led his St. Vincent-St. Mary team in scoring and blocked shots as a freshman, is someone you will soon be hearing more about. On Thursday, he was offered by Thad Matta and the Buckeyes, who have plenty of time to convince King to become a member of the school's 2016 class.
Already holding offers from a slew of Big Ten teams, including Ohio State, King is considered one of the top ninth-graders in the nation and the best at his position by at least one scouting service. King led the Fighting Irish to a Division II state runner-up finish, averaging 15.9 points and 5.1 rebounds along the way, and fairly or not is already being compared to another former St. Vincent-St. Mary star, none other than LeBron James.
"Honestly, we knew when we moved here that the comparisons to LeBron were inevitable," King's father Vince told the Cleveland Plain Dealer. "I mean, he goes to St. Vincent-St. Mary, in Akron, Ohio, and his last name is King. It doesn't take a lot of imagination. But, when you are compared to LeBron James, you have to take it as a compliment."
Weeks after graduating from St. Vincent-St. Mary, James was selected No. 1 overall in the 2003 NBA Draft. A collective bargaining agreement signed in 2006 forces players to be 19 years of age and at least one year removed from high school to be eligible for the draft, so unlike James, King may have to make a pit stop at Ohio State before moving on to the NBA.