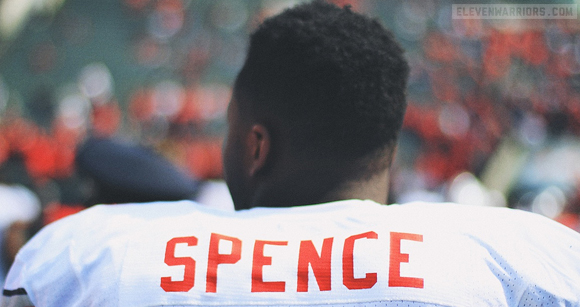 For years, the narrative used to explain the SEC's dominance over the B1G, or more specifically, any elite SEC team's dominance over Ohio State, has centered on that notorious Ess-Eee-Cee Speed at the skill positions. 
Such talk wasn't without merit a little more than a decade ago but a more specific reason for Ohio State's struggles against SEC, or any truly elite competition for that matter, has typically been the lack of elite performances from players in the trenches. 
More often than not, when the Buckeyes ran into trouble against an elite foe, either the offensive or defensive line was dominated by its counterpart. 
In Ohio State's 38-24 loss to LSU in the 2007 national championship game, the Silver Bullets, despite coming into the game ranked as the #1 defense in the land, allowed LSU to convert 11 of 18 third-down conversions on the way to four touchdowns through the air and 152 yards on the ground. It's a team game and the pass defense wasn't exactly on fire but the front four failed to get pressure to set the tone. Instead, it was Glenn Dorsey and company destroying Tressel's offensive line, racking up five sacks and three hurries to Ohio State's one sack and two hurries. 
When the Buckeyes got smoked by Florida in the 2006 title tilt, the Gators dominated the lines of scrimmage. In particular, the offensive line was overwhelmed by Florida's combination of speed and power along the front four, as the Buckeyes gave up five sacks and managed just 47 yards on the ground. Meanwhile, the OSU defensive line failed to get much of a push allowing the Gators to rush for 156 yards and gave Chris Leak all day to throw. Leak took advantage, connecting on 25/36 passes for over 200 yards and a touchdown. 
This year, the Buckeyes appear to be in great shape along the offensive line, with four starters back from a group that paved the way for 242 rushing yards per game in 2012, good for 10th in the nation. Even better, the unit did so with defenses keying on the run as Braxton continued his slow but sure maturation as a passer. The o-liners, albeit with some help/growth from Braxton, cut their sacks surrendered from 46 in 2011 to 30 during last year's undefeated run. 
With Ohio State's stability along the offensive front, Braxton's potential Heisman abilities, and a surplus of talented weapons at the skill positions, the Buckeyes are poised to put up a boatload of points. They also return a seasoned secondary, an All-American caliber linebacker and boast a coach that has done some special things in year two of his coaching stops preceding his time in Columbus. 
Taking notice of these strengths, many pundits have begun touting the Buckeyes as the most likely team to knock Alabama - and by extension the SEC - off their pedestal. 
As a fan, I want to go all-in with this growing sentiment but there's the little matter of Ohio State's defensive line.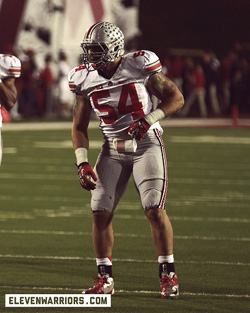 Yes, the Buckeyes have a glut of blue chips chomping at the bit to show what they can do but as it stands, the collective group is largely unproven. 
In fact, Ohio State lost all four starters from last year's front of John Simon, Johnathan Hankins, Garrett Goebel and Nathan Williams. 
Wondering just how significant that is, I dug into the media guide to find out the last time Ohio State turned over the entire starting defensive front. Any guess?
Try 1989.
And that's back when Ohio State played a 3-4 defense. That year, the Buckeyes trotted out Srecko Zizakovic, Rich Frimel and Pat Thomas as replacements for the '88 group of Ken Coleman, Mike Sullivan and Derek MacCready. 
So, in a year in which Ohio State, its fans and the national media are largely thinking national title or bust, the Buckeyes will have to do it with a completely overhauled starting defensive front - something they haven't had to do in 24 years.
Interested in just how much production the Buckeyes are losing from last year's starters compared to defensive lines of the past, I took a look at the last five seasons worth of data. Here's what the four starters did in 2012:
| 2012 | SIMON | HANKINS | GOEBEL | WILLIAMS | TOTAL |
| --- | --- | --- | --- | --- | --- |
| TACKLES | 45 | 55 | 42 | 40 | 182 |
| TACKLES FOR LOSS | 14.5 | 4.0 | 4.0 | 3.5 | 26.0 |
| SACKS | 9.0 | 1.0 | 1.0 | 2.0 | 13.0 |
This undefeated starting front put up some legit individual stats compared to fronts of the previous four years and it's probably no coincidence they returned three starters from the 2011 squad plus Williams, who started in 2010. Interestingly, their overall tackle production was pretty even across the board though the defense as a whole ranked only 14th nationally against the run and 34th in Total Defense. Let's compare that to 2011: 
| 2011 | SIMON | HANKINS | GOEBEL | BELLAMY | TOTAL |
| --- | --- | --- | --- | --- | --- |
| TACKLES | 53 | 67 | 33 | 25 | 178 |
| TACKLES FOR LOSS | 16.0 | 11.0 | 4.0 | 1.5 | 32.5 |
| SACKS | 7.0 | 3.0 | 1.0 | 1.0 | 12.0 |
The 2011 group's total tackle production was pretty much flat and their Tackles For Loss were a good bit higher than what the 2012 group would produce. In fact, the 32.5 TFL's would end up the 2nd highest total over a five-year period spanning 2008 through the 2012 season. Nationally, the Bullets struggled against the run, ranking 50th nationally while posting a Total Defense ranking of 19th. It should be noted Simon was the only returning starter from the previous year's front though Hankins, Goebel and Bellamy all played in every game of the 2010 season. That said, Hankins led the reserve defensive linemen in tackles with only 16. So what about the 2010 starters:
| 2010 | SIMON  | LARIMORE | HEYWARD | WILLIAMS | TOTAL |
| --- | --- | --- | --- | --- | --- |
| TACKLES | 41 | 40 | 48 | 46 | 175 |
| TACKLES FOR LOSS | 8.5 | 7.5 | 13.0 | 9.5 | 38.5 |
| SACKS | 3.0 | 4.0 | 3.5 | 4.5 | 15.0 |
The 2010 version of the front four boasted just one returning starter in Cameron Heyward but managed to put up the most impressive stats during the '08 - '12 timeframe. The balance was outstanding and the starting unit managed five-year-period highs of 38.5 tackles for loss and 15 sacks. On the national scene, the Bullets ranked 3rd in Rushing Defense and 4th in Total Defense. It's probably no coincidence the 2010 edition of the Buckeyes managed to defeat SEC foe Arkansas in the Sugar Bowl. Moving on to 2009:
| 2009 | GIBSON | WORTHINGTON | HEYWARD | DENLINGER | TOTAL |
| --- | --- | --- | --- | --- | --- |
| TACKLES | 45 | 42 | 46 | 16 | 149 |
| TACKLES FOR LOSS | 13.0 | 5.0 | 10.0 | 4.0 | 32 |
| SACKS | 4.0 | 2.0 | 6.5 | 2.0 | 14.5 |
Thaddeus Maximus, Doug Worthington and Heyward gave Tressel three returning starters from his 2008 group and they paced the nation's 5th best Total Defense and 7th ranked Rushing Defense. The squad finished with an 11-2 record with a home loss to USC and Purdue Harbor tainting their record.
The front four was mostly solid against USC as the defense held the Trojans to 40 yards on the ground and forced Matt Barkley into a 15/32 passing performance but Pete Carroll's crew still had enough for a 14 play, 86 yard drive to win the game in Columbus. Ohio State's other loss that season, Purdue Harbor, was also tough to pin on the Bullets as the offense turned it over five times while the D managed to hold Purdue to four field goals on six scoring drives, many aided by strong field position. With that, let's wrap things up with 2008:
| 2008 | GIBSON | WORTHINGTON | HEYWARD | ABDALLAH | TOTAL |
| --- | --- | --- | --- | --- | --- |
| TACKLES | 26 | 34 | 36 | 33 | 129 |
| TACKLES FOR LOSS | 9.0 | 5.0 | 4.5 | 6.0 | 24.5 |
| SACKS | 5.0 | 1.5 | 3.0 | 1.0 | 10.5 |
It seemed like the 2008 defense spent a ton of time on the field as the offense struggled to find footing behind a raw Terrelle Pryor and the statusque Todd Boeckman. The front four returned three starters in Worthington, Abdallah and Heyward but ranked just 19th in Rushing Defense giving up 114 yards per contest, including 164 by USC in the rout in the Coliseum. The 129 total tackles by the starters represents the lowest total over the five-year window. 
Looking at the numbers, Ohio State's starting defensive lines have increased their combined total tackles each of the last four years though there has been some ebb and flow in the other metrics.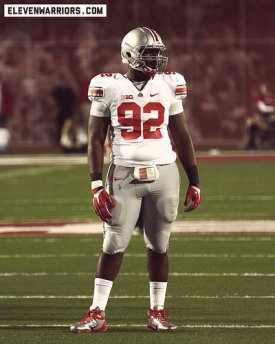 If the Buckeyes are going to make a run at a national title, regardless of how explosive the offense might be, you can bet the Buckeyes will find themselves in a dogfight or two, and in those instances, it's typically imperative that the winning team comes up with a few monster plays to kill a drive or two in the final quarter. 
From what little we've seen, true sophomores Noah Spence and Adolphus Washington seem poised to make a run at filling the big shoes vacated by Simon and Hankins but is it realistic to expect similar or better production in their first full seasons as starters? And what about the other two spots? Michael Bennett has been more hype than substance thus far - though injuries have certainly played a part in that reality - while guys like Tommy Schutt, Joel Hale and Chris Carter should also make a push for time inside, as could early enrollee Tracy Sprinkle. And back to the outside, Tyquan Lewis enrolled early while J.T. Moore and Steve Miller are still around. 
This fall, the Buckeyes will also welcome a few more defensive linemen to the fold headlined by DE Joey Bosa and DT Michael Hill. 
I guess the good news for Mike Vrabel, besides the flashes of excellence shown by Spence and Washington, is that he'll have a ton of highly-touted kids to rotate in camp which should create fierce competition for playing time. 
Still, knowing what the expectations are for this season amidst the pending overhaul of the front four, the pressure is certainly on Vrabel's positional players to take on roles that far surpass what was expected of them a year ago. 
When it comes time for the Buckeyes to go toe to toe with the few legit teams on their schedule, plus what would surely be an even larger test in the BCS national championship or a top-tier bowl, will the front four be able to meet the challenge?
The answer to that question will be central to determining whether or not the 2013 season of Buckeye football is considered a success or a huge disappointment.