Urban has been extremely candid about how and why the Big Ten has fallen behind the SEC in college football.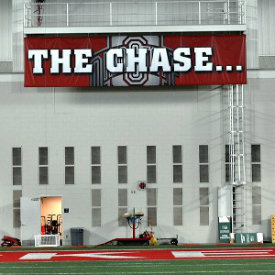 There is simply no sidestepping the fact that the SEC has dominated other conferences, using almost any metric you care to look at. 
Urban has had enough with excuses - let's remove our illusions about the Big Ten, accept the fact that the SEC is *currently* a better conference, and understand how to fix the problem. 
Rather than being content with winning Big Ten Championships, Urban's staff created "The Chase" as the theme for the 2013. 
I have no desire to rehash others' arguments about when and why the SEC became a better conference, or make lame excuses about the weather to explain performances in bowl games. 
Instead, I want to take a look at what makes the Tide tick - what are their strengths and weaknesses? How do the Buckeyes match up?
In short, what are we chasing?
Make them Grind it out: 
Alabama led the country in fewest plays of 10+ yards given up. This isn't a perfect measure of defensive success, as Michigan's defense was best at limiting plays of 20+ yards (so obviously we should immediately discount this measure). 
Alabama has been known for its lock-down 3-4 defense, mixing cover-4, cover-1 robber, and zone blitzes to great effect. These defenses are known for limiting the run and shutting down big plays. 
Saban's defenses force opposing offenses to grind it out with long drives. Their slow grind score for 2012 was .18, meaning that they gave up just .18 points per play. That means that enemy offenses averaged 39 plays per touchdown scored. In comparison, the Buckeyes gave up an average up .32 points per play last season. 
Have an Efficient Offense: 
The Tide aren't particularly known for offensive fireworks like Oregon or Cam Newton's Auburn team, but their 2012 offense was extremely efficient with their drives.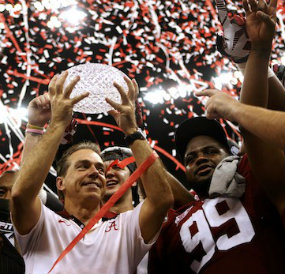 Alabama had few wasted plays, ending as 12th in the nation in scoring offense and with a quick strike score of .6. The quick strike score is the sister metric of the slow grind, measuring the average number of points an offense gains per play. 
While the Buckeyes made great strides from the 2011 horror show, they were still less efficient than the Tide, averaging .53 points per play. 
control the clock
No, I could not care less who wins the time of possession battle that commentators are so quick to talk about during games. 
I'm much more interested in tempo and efficiency. In an era when every team seems to be speeding up the game, Alabama's offense seems to move glacially slow. They had the slowest tempo in the country over the past few seasons, averaging just 2.02 plays per minute of possession.  
The Buckeyes don't need to adopt this pace in order to win. What's important is not the tempo itself, but how an offense is able to leverage tempo to either wear out an opposing defense, give their own defense a rest, limit defensive substitutions, or prevent opposing offenses from being on the field. 
Teams can win by either going no-huddle or slowing it down. It's far more important to leverage tempo and be efficient with every play. 
Be the most Disciplined team in the country
A large part of the reason Alabama was able to be so efficient with their offensive possessions is because they rarely turned the ball over. A.J. McCarron only threw three interceptions all season and the team finished 14th overall in turnover margin. Furthermore, they had 8 more takeaways than the Buckeyes did last season. 
Finally, Alabama averaged just 33 yards in penalties per game, which puts them right up there with the service academies. In contrast, the Buckeyes gave up nearly twice as many. 
What the Buckeyes Need to Do
Alabama isn't a flashy team. They have established their dominance through discipline, efficiency, and consistency. Ohio State does not need to adopt the same strategies as Alabama - in no way am I advocating a switch to a one-back, ball control offense or a 3-4 defense.
Instead, the success of the chase will at least be partly dependent upon whether the Buckeyes improve their discipline and efficiency.