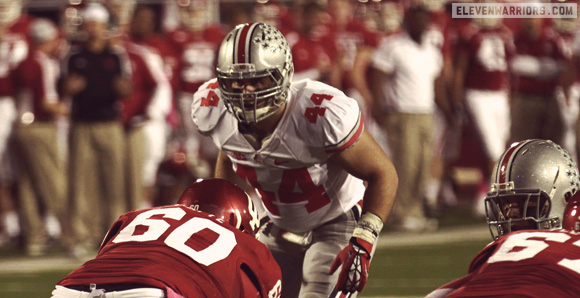 Tryouts have never been an issue for Zach Boren. The son of one of Michigan's all-time great defensive players and the younger brother of a Wolverine-turned-Buckeye, stardom has followed Boren throughout his football career.
At Pickerington, he was the defensive player of the year in the state, drawing scholarship offers from some of the best college programs in the country. Boren then became a starter on Day 1 at Ohio State. His four-year career included three and a half seasons at fullback with the final six games coming as the starting middle linebacker.
But now he's in the unfamiliar territory of fighting for a job on the football field. Undrafted in last month's NFL Draft, Boren signed as a free agent with the Houston Texans.
"It's hard. It's a grind 24/7," he said. "When I first came (to Ohio State), it was one of those things where you're a freshman and you want to show the older guys what you can do. You have to take that same attitude into making an NFL roster. You have to show up early, stay late and put in as much time as possible to learn the new system, and out on the field you need to be first in line and first to finish. You have to go 110 percent at all times."
That likely won't be an issue for Boren, an outsized personality that knows a hard day's work. When he arrived at Ohio State, some thought he was given a favor because his brother, Justin, transferred to the Buckeyes from Michigan. That doubt drove Boren to push harder than his peers and to play with a chip on his shoulder. It's a quality that still permeates from the former captain.
Boren's father, Mike, who currently ranks sixth all-time in tackles at Michigan, instilled that toughness in he and his brothers, which includes current Buckeye, Jacoby. Boren has proven he belongs before, he must do so again if he wants his first NFL paycheck.
"I always play with a chip on my shoulder and that gives me the personality I play with on the field."
"Going undrafted, people don't believe in you," Boren said. "You have to go in and fight. It's nothing I'm not used to. It's the way I always play. I always play with a chip on my shoulder and that gives me the personality I play with on the field."
Hearing your name announced on the stage at Radio City Music Hall is the dream of all draft eligible players. But as the seventh round was nearing an end, Boren actually found himself in a position where he was siding against a lifelong vision.
Prior to the draft, Boren and his agent, Mike McCartney, conducted a hastily organized research project of all 32 teams roster. They came to the conclusion that five offered better opportunities than the discarded 27 franchises. Above all, though, one team stuck out: the Houston Texans.
"We knew Houston was the best fit," Boren said. When they didn't draft a fullback and they needed one, they contacted my agent. We knew that was the right fit. I kind of agreed to the deal in the seventh round, before the draft even ended. They were in contact with my agent the whole time. It was a gentlemen's agreement."
The Texans have two fullbacks on their roster, nine-year pro Greg Jones and special teamer Tyler Clutts. Jones signed with Houston in March after spending his entire career in Jacksonville. He opened up holes for running backs Fred Taylor and Maurice Jones-Drew with the Jaguars, contributing to five 1,000-yard seasons and 37 100-yard rushing games. Jones is now responsible for clearing room for the reigning NFL rushing touchdown champion Arian Foster, who found paydirt 17 times last season.
Versatility and, in particular, the six games Boren spent at linebacker in 2012 could be his best friend in rookie minicamp and beyond. A selfless attitude should also be an asset. Boren has made it clear that he's eager to make a roster and make an impact from that point on.
"I'll do whatever they want me to do," he said. "Being versatile in college will help me on special teams, tackling in the open field. Every young guy plays special teams in the NFL. I'm excited. I know they need a bruiser fullback, so I'm excited about that. If they want me to play linebacker, I'll do that too."
It's clear, however, that offense is Boren's most desired landing spot. He, like Jones, is keen on blocking for Foster.
"It would a lot of fun," Boren said. "A great running back like that – the best in the league – he's going to make his fullback look a lot better. I'm excited to have him behind me. We'll see how that goes."
From the outset, setting the tempo is a goal for Boren, whether it's on the field are in the locker room. He's a natural born leader, and just because he's the low man on the totem pole doesn't mean he'll fade to the background.
If anything, Boren wants to make sure coaches notice him, not be the forgotten man in the fog of NFL training camp. After a career spent being an emotional leader, though, he knows it won't be the same at the next level.
"It's your time to go to work and shine."
"I think that'll be a hard thing, just trying to find your place," Boren said. "I know I'm going to be myself. I'm always a vocal guy, screaming and yelling on the field. I've always been a leader. I was like that when I got to Ohio State as a freshman. I'm going to keep that attitude because that's just the way I am. Hopefully it goes well. You have to learn your place with the veterans in the NFL."
It's not often that Boren is out of his comfort zone. He grew up in Central Ohio and before venturing a few miles from home to attend Ohio State. Now he's heading halfway across the country to a new frontier.
He'll have the former Buckeyes with him every step of the way, though. DeVier Posey is already on the Texans, and rookies Travis Howard and Orhian Johnson also signed undrafted free agent deals. Boren hasn't even met head coach Gary Kubiak yet. The only coach on the staff he's spoken to is running backs coach Chick Harris. It all gives Boren a sense of anxiety.
"I'm excited but nervous at the same time," he said. "I've been (at Ohio State) for four years. Coming to the facility I know everyone and you know what to expect. It's like being at home.
"Going to a new organization, it's nerve wracking at first because you don't know what to expect. It's a whole new building and you have to learn who everyone is. But at the same time it's exciting. It's a new challenge to face."
But Boren will keep the same hard-nosed attitude.
"It's your time to go to work and shine," he said. "When you get on a field, no matter what, you have to prove yourself. When people doubt you, it just adds extra motivation. You go a little harder and play a little nastier."