Hi, welcome back to another Wednesday afternoon where we'll chitty-chat about this and that. Today's conversation will be recruiting, featuring the questions and queries from those of you who make this site the juggernaut that it is.
The Ohio State juggernaut, as powerful as it is, has seen a bit of a lull in the recruiting game these past few weeks. The last Buckeye commitment was Kyle Berger in early April and since then the Buckeyes have been hard at work trying to reel in their next wave of future Buckeyes. 
While April was tepid and May is likely to be subdued as well, the summer is coming and with it comes Ohio State's bread-and-butter: camp season and unfettered unofficial visits where players from all over the country can come check out what Urban Meyer is building in Columbus first-hand.
This version of the #11WRecruitingMailbag will start with the position that has seen the biggest recruiting developments in the last seven days, the Ohio State quarterback position. 
Is the fact that Kyle Allen was offered a day earlier than Zack Darlington or Brandon Harris meaningful in any way?  Does the staff prefer Kyle to Zack or Brandon?  Are all the offers "committable" or is there a pecking order at work here? – WyoBuckeye
Which QB do you see us ending up with in the 2014 class?  Will it be a situation of who commits first? - Buckeye-In-SEC-Country
Here's what I know – and it's something I alluded to in Sunday's column – the Buckeye coaching staff does not offer scholarships to any player that they don't feel can help their program. There are no offers for "package deals", there are no reaches for "pipleline players," etc. This is a staff that is heart attack serious about recruiting and will not compromise their plan for any reason. Can you make a leap that Allen was offered "first" because he's the high school teammate of a Top 100 wide receiver? Sure, but that's inaccurate. Maybe Allen was offered first because he was recruited first and for the longest time? Sure, but also unlikely. Whether or not the offer to Allen was even first is up for debate, as there's some scuttlebutt that Harris was also offered on Wednesday, but it was not verified by him until Thursday. What becomes important after all is said and done is this: who commits first, not who was offered first. There will only be one quarterback in this class barring something unforeseen happening, so it becomes very important that the Buckeyes nab one of these three players who were offered last week.
As far as who I personally think ends up a Buckeye if it's in fact one of those three? Therein, as they say, lays the rub. If I had to (and I guess I kind of do, since I'm beholden to answering this question as I included it in the column) handicap the race, I'd say that Allen has the greatest odds of choosing Ohio State right now. He will be visiting Notre Dame soon and it's very likely that he will swing by Columbus on that same trip, that potential second visit to Ohio State is huge. Kyle would like to commit towards the end of June or very early July, and before the Notre Dame/Ohio State offers last week was leaning towards UCLA, but his recruitment got thrown for a loop. He's not done getting big offers, either. Don't be surprised when Alabama or others come calling.
Speaking of Alabama, Brandon Harris was offered by the Crimson Tide and Nick Saban yesterday, and while I think he's a great fit for the Buckeye offense, I just don't think you're likely to see him leave the south. If he visits Columbus, then all bets are off, but until then, look for Bama, Arkansas and Texas A&M to be the favorites for his services.
What about Zack Darlington? Well, he needs to visit Ohio State before anything can progress with his recruitment. I think that he's a player the coaches would really like to see at camp this summer, to get a better feel for him in person. Showing up to camp, competing, seeing the campus and the school would go a long way. Darlington's biggest strengths, his competitiveness and toughness are qualities the coaching staff is very fond of, but I think they need to see more from him at this point before they'd accept his commitment. 
On the incredibly awesome, albeit probably unlikely, chance that all of Knox, Prince, Jones, Elumenor, and Mavety want to commit to OSU, who does OSU take? – Triv
This is a very interesting and loaded question, but it's one that's almost impossible to answer in a completely satisfactory manner, but I'll give it a go anyhow. Ohio State wants to take five offensive lineman in the 2014 class, and they currently have Kyle Trout and Marcelys Jones in the bag. With Jamarco Jones' - who many consider Ohio State the leader for - pending decision (June 27th) the Buckeyes could have 60-percent of their line recruiting done. Now then, who would become the "last two" is a matter of who gets on campus and moves the fastest. Mavety and Eluemunor both intend to get decisions made relatively early this summer, while a guy like Demetrius Knox seems content to wait it out and make a January decision. Coach Meyer is personally involved in Eluemunor's recruitment and Mavety and Ed Warinner talk nearly every single day, so it appears those two have the inside track if they wanted to get on board sooner rather than later.
One player who doesn't get much attention in the offensive line situation, Pittsburgh's Alex Bookser, is a player I've been told is a key target for the Buckeyes as well. The Buckeyes will leave no stone unturned to find the players that best fit their philosphy. They want big and nasty and long and lean. I assume they'll get three that will fit the bill.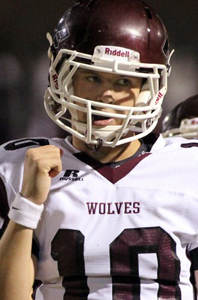 I am curious about the running back position. Right now OSU has a good stable of backs in Hyde, Hall, Smith, Dunn, Ball, Elliott, and Wilson (if he's considered a RB). With Parris Campbell in the class already as a RB/Athlete, do you think OSU takes another RB?  - TennBuckeye19
Long story short, no. I don't think that the Buckeyes will take another running back in this class, despite the fact that they are regularly offering them and pursuing them. They want players on campus, they want players to see what they have to offer, but at some point the reality sets in: there's only one ball.
As the Buckeyes enter the 2014 season, Bri'onte Dunn, Rod Smith, Warren Ball, Ezekiel Elliott and Dontre Wilson will still be in Columbus, and Parris Campbell will be heading to campus as well. I personally think Campbell ends up at wide receiver - or at least in a dual-role that will keep him from being in the backfield exclusively (much like Wilson, I think). There are a few running back options, like Havelock (N.C.) junior Derrell Scott and California's Joe Mixon, who would be "good enough" that you'd not turn them down if they wanted to commit, but it's much more likely the Buckeyes wait until the 2015 class, which is full of very talented tailbacks that already hold Buckeye offers. 
Any new information on the commitments of Dante Booker or Marshon Lattimore? – House804
Both of these players are still considered "Buckeye leans," although both remain quiet in their recruitments. These are two of the top players in the state and in the country, and while there's not many players that are "must gets" these days, I would place both of them in that category because of the perception that Urban Meyer's not holding Ohio on lockdown as the previous staff did. Booker has been to Notre Dame twice, and the Irish are making that battle more of a race than people would have thought, but Booker is a key target for the Buckeyes and another big head-to-head battle against Brian Kelly and the Irish.
Lattimore is a Ginn Academy/Glenville standout and that means two things: he's likely to end up donning the scarlet and gray and he's likely to wait until later in the recruiting process to decide. A player with offers from the who's who of college football, Lattimore will be a nice feather in the cap of Urban Meyer and his staff whether he plays offense or defense.
Where do we stand on WR's?  How many will we take?  – Buckeye-In-SEC-Country
After taking three pretty good wide receivers a year ago as well as Dontre Wilson, who will line up all over the field for Ohio State, one might think that the Buckeyes could take it easy this year at the position, but one would be wrong. The Buckeyes are very actively pursuing a number of wide receivers, most of which would be considered "outside" players, rather the slot/hybrid position that they filled with Jalin Marshall, Wilson, James Clark, etc. last year. 
How would you feel if Ohio State ended up with Saeed Blacknall, Derek Kief and Curtis Samuel at wide receiver along with Parris Campbell or the aforementioned Lattimore? Pretty good? That's a realistic group right now, and there's still the chance you could end up with Mark Andrews or Demarre Kitt in that mix as well. 
What sleepers in Ohio, or non-Ohio guys do you see camping at OSU this summer (similar to Lee and Gardner) and possibly earning an offer? – Otrain2416
Without being too flippant, this question is hard to answer because you just never know who's going to show up at camp. There are a number of very good players throughout the state of Ohio that if they decide to show up could garner some consideration for an offer. One of my favorite players in the state, Vayante Copeland will likely decide end of June, but does he show up at OSU the week before? He's a very under the radar speedster that can play multiple positions. Michigan has offered Kenton's Noah Furbush, a fast-rising prospect from Kenton and he's one to keep an eye on, along with Jalen Jelks from Arizona, at the defensive end position. Along the offensive line Jared McCray and Alex Dalton, from Minford and Troy respectively, are both interesting prospects if other targets fall through.
Cincinnati Winton Woods DT Daniel Cage has been a name that's been bantered around previously, and he could warrant a closer look as scholarship openings reveal themselves, as could another player from the Queen City, Nilijah Ballew. Canton McKinley's Jamal Davis, a speedy outside linebacker who impressed last year at Ohio State's camp could show up and open eyes again if the Buckeyes strike out on other linebacker targets. Darius West from Lima Central Catholic is a fantastic safety prospect, but I don't imagine he'll attend camp again, the Buckeyes know full well what he can do, but just may not have room for him. 
Bottom line? There's a lot of great talent in Ohio and throughout the country, but the Buckeyes can't take them all.