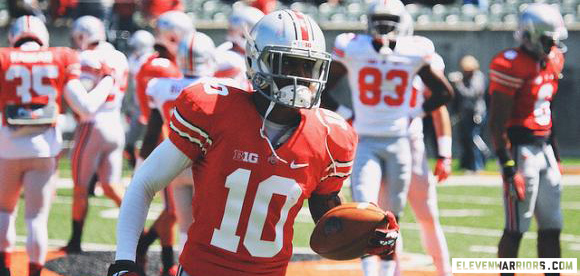 Recruiting has become a sport inside a sport. In the Midwest and Deep South, tracking blue-chip prospects is a weekly venture. It takes a special coach to process in-season strategy and recruiting all together. But Urban Meyer has mastered that craft, signing top-five classes for what seems like every year in the past decade.
Once again, when Signing Day came along in February, Meyer inked a (five) star-studded group of future Buckeyes. A handful are considered to be elite playmakers that could make an immediate impact this fall. But as Meyer and offensive coordinator Tom Herman said during spring practice, they're concentrating on the guys that are already present.
One current member is wide receiver Corey "Philly" Brown. And after a 60-catch season, he – and the coaches – is looking for an even bigger impact during his senior season.
"We were not near as good as what we needed to be, so they knew coming into this winter what they had to do," said wide receivers coach Zach Smith about his position group. "There was not a lot of explaining, planning or motivating because they knew what they had to do. They have to finish out the rest of the spring strong, and then this summer has to be the best summer in the history of Ohio State football for my group."
Smith has been particularly hard on Brown. When the receiver earned second-team All-Big Ten honors last fall, Smith didn't see reason to celebrate.
"That's like finishing second place in a race," he said. "It's great. They thought you were almost the best receiver in the conference."
The target and ceiling has vaulted for the 2013 season. Brown will play primarily at flanker this season instead of alternating between the slot and out on the edge. It frees Brown up to be more operational and gives a handful of other playmakers the ability to create instant offense.
Jordan Hall is expected to take a bulk of the snaps at H-back with Dontre Wilson and Jalin Marshall sprinkling in some plays. But Brown remains the most reliable option for Braxton Miller in the passing game.
In the spring game, Brown finished with five receptions for 25 yards and a touchdown. It was the capper to the spring that Meyer was craving.
"Philly Brown is turning into a legitimate All-Big Ten candidate at wide receiver for us, which we need," he said.
"When we get clicking there's nobody that can stop us. That's guaranteed."
The offseason work Brown put in was the main contributing factor in his ever-evolving game. Smith lamented Brown's inability to make every play presented to him. According to Smith, Brown only had a 90 percent success rate. Perfection is expected when your uniform is scarlet and gray.
Now that Brown has completed a season in Meyer's offense, the senior understands what's needed and what skills need to be utilized.
"I focused in the offseason on getting more of the downfield routes and trying to get the quick screens and all that little stuff," Brown said. "Having to come off of read-routes for linebackers, it's made me a more physical player because I'm used to dealing with a linebacker, a defense end and a safety. Now that I'm out wide, I have to deal with somebody that's my size or smaller. I think it's easier."
When the Buckeyes regrouped on March 5 after more than three months apart due to a one-year postseason ban, Smith noticed that Brown had a different attitude. The mentality had shifted into extending plays, something that Brown struggled with. It was highlighted at Michigan State when he caught 12 passes but finished with just 84 yards. The seven-yard per catch average left Meyer underwhelmed.
"It's definitely motivating," Smith said of the put-downs. "I could just put quotes from newspapers on the wall and just hang them there. I didn't even have to refer to them. It was motivating and it helped us improve as much as we did and also see what we needed to do last year that we are doing this year."
When Brown puts on his prognosticating cap, he envisions Ohio State owning the top offense in the country. That isn't a farfetched prediction when you consider Meyer's track record and the amount of talent the Buckeyes possess on the offensive side of the ball. But Brown's words were strong.
"When we get clicking there's nobody that can stop us," he said. "That's guaranteed."
Said fellow receiver Evan Spencer: "We're out to strive to be the best receiving group as a whole in the country."
Brown's comments may sound brash and come off as bombastic, but he's just pumping his team up, as any leader would do. A 12-0 record didn't just happen in 2012. Listen to Meyer speak and it becomes obvious what the top factor was: leadership.
The stories about the Class of 2012 are numerous and fabled. Might Brown have a leading role in the tale of 2013?  
"He has the ability to just instantly turn the level of energy up on the sideline," Smith said. "He'll look at me on the sideline and he'll say, 'Coach, watch this, I'm going to turn it up.' And then he'll make one play and just get up excited. All of a sudden you have 50 dudes on offense just out of their mind with energy. That's something that we need more consistently out of him. When you have that power and that capability, you have to use it for the good of the team."
It's something current high school seniors don't have the know-how to do – no matter how highly rated the recruit.