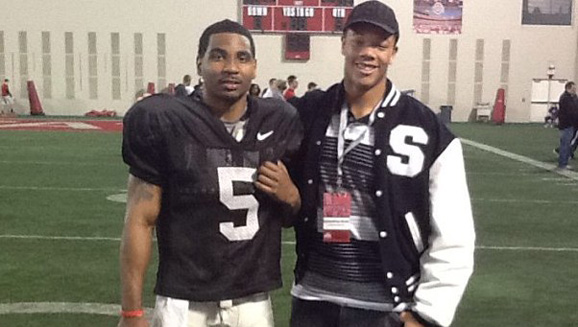 Four-star offensive tackle Demetrius Knox, the nation's top-ranked prep guard according to Rivals, decommitted from the Texas Longhorns on Monday, according to reports out of Austin.
#Top247 OL Demetrius Knox told Hookem.com and 247Sports a short while ago that he has indeed de-committed from the #Longhorns

— Jeff Howe (@JeffHowe247) April 22, 2013
You may recall that Knox took a visit to Ohio State, posing for a photo with Braxton Miller while in Columbus, in late March. Knox posted the photo of Miller to his Instagram with the caption "My favorite college football player. Made my day."
Knox took the trip despite Longhorn coach Mack Brown's new no-visit policy for Texas commits. A native of Springfield, Ohio, Knox was scheduled to be in the Buckeye state to visit family over the weekend. We're not sure if trip went ahead as scheduled, but if it did, you can draw your own conclusions.
In related news, Knox has deactivated his Twitter account. Shortly after making his surprise March visit to Ohio State, Longhorn fans took to social media express their anger at Knox.