"I'm not the greatest; I'm the double greatest. Not only do I knock 'em out, I pick the round."
During his boxing career, Muhammad Ali was never shy about his ability to dominate his competition. Among athletes, he's hardly alone in flaunting such bravado. Just take a look at Kobe Bryant's Twitter account, where a recent tweet used some variation of the word "dominate" six times1 — and he's currently on crutches.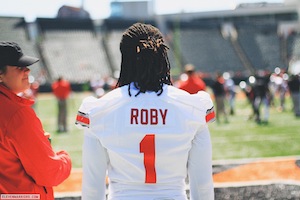 Even the humble ones who are quick to praise their teammates, God, or their country, and the ones who could do without the constant attention from media and fans, are confident enough when the stakes are high to throw a game-winning touchdown pass or hit a game-winning shot.
To a certain degree, sports fans will forgive, perhaps delight in, that kind of self-assured swagger, so long as the athletes back it up on the field, court, ring, or other corresponding playing surface. When Devin Gardner compared himself to Colin Kaepernick, the 49ers quarterback who led his team to a Super Bowl appearance, the collective reaction was, "slow your roll, kid." Sure, they were both surprising starters in the second half of last season, but Gardner's 3-2 record under center for Michigan is just one of many reasons he's not so much as Kaepernick Lite, especially at this point in his collegiate career.
To my knowledge, Bradley Roby hasn't likened himself to, say, Seahawks cornerback Richard Sherman, and yet, it wouldn't surprise me if he had. But Roby could get away with it, even if, like Gardner's claim, it would have been hyperbole. 
A three-star recruit who originally committed as a wide receiver to SEC-in-name-only Vanderbilt, Roby could have entered the NFL Draft taking place next week and probably would have been the first Buckeye off the board. Instead, the Thorpe Award semifinalist — and a front-runner for the same award this coming season — opted to return to Ohio State for his redshirt junior year.
Not only does he want a national championship, but he also knows he has room for improvement. As he said recently, "I told a guy a long time ago that I was going to be one of the best corners to ever play here, and I don't feel like I've accomplished that yet."
Even the athletes with otherworldly skills realize that they can always get better. 
Still, Roby has never had a problem toting his ability. Though he didn't play in the spring game — as a precaution, according to Kerry Coombs — he matter-of-factly told BTN, "As the best player, I'm going to have to be the best leader."
He's not wrong with that assessment — the only defender who could challenge him for that title is Ryan Shazier — and has an ESPN first-team All-American selection, along with AP and Walter Camp second-team honors, to support him. As such, it's his duty to provide guidance for the younger players, just like Malcolm Jenkins and Shawn Springs had done for him in previous offseasons. 
The first time Roby really showed off his boldness was during his redshirt freshman season in 2011. A few days before a trip to Champaign, Roby described Illinois wide receiver A.J. Jenkins as "decent, but he's nothing special really." Two weeks prior, Jenkins set a school record with 12 catches for 268 yards, including three touchdowns. The following week, he slacked a little with only 182 yards on six catches, along with two scores. 
So it seemed nervy of a first-year player to call out the opposition like that, particularly one coming off two mighty impressive performances2 and who would become a first-round draft pick after the season. 
However, it was Roby who emerged from the showdown as the victor, and not just on the scoreboard. Despite Jenkins having, in fact, a "decent" day — 8 catches for 80 yards — the senior wasn't spectacular and more importantly, Roby kept him out of the end zone. And in a game where big plays were scarce and points were scarcer, it was Roby who came through with a key interception that set up an Ohio State touchdown in the second half.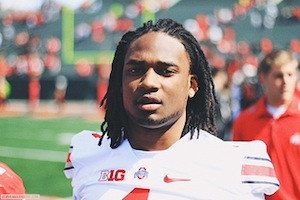 The 6-7 season wasn't much fun for Ohio State fans, but the promise of a better tomorrow was evident in young guys like Roby, who ended 2011 with three interceptions, 47 tackles, and the team's First-Year Defensive Player Award.
Raising expectations even higher for his sophomore season, Roby campaigned to switch his jersey from No. 25 to No 1. First, though, he had to convince new coach Urban Meyer that he was worthy. After proving to be in practice, Meyer signed off on the new number3, and Roby was ready to show who was No. 1.
Over 11 games — he missed the UAB game due injury — Roby tallied 19 passes defended, his 1.73 average being tops in the nation. Most of those came in the early part of the season; by November, quarterbacks avoided throwing his way because when they did, this tended to be the result.
He only had two interceptions all season, and both came against Nebraska. Remarkably, though, he predicted earlier that week what would happen.
Frustrated that he had zero picks during the first month of the season while his teammates in the secondary had been more successful in that regard, Roby vowed to grab his first interception of 2012. In fact, both he and his father dreamt that he'd get a pick-six that Saturday night. Sure enough, a Taylor Martinez mistake turned into a 41-yard Roby touchdown.
In October, Roby tweeted that he would never lose to Michigan again. The morning of The Game, he also took to Twitter to proclaim they were about to go 12-0, and he started talking trash to the Wolverines before kickoff. In the end, his boasts were validated once again, but he wasn't finished:
And when Alabama won their third national championship in four years, he wasn't impressed, guaranteeing that an SEC team wouldn't take home the 2013 title. Whether or not he's simply extremely confident or possesses The Shining, by returning for another year Roby will get a chance to put his money, figuratively speaking, where his mouth is. 
The crystal ball trophy isn't his only goal, of course. Most college football players dream of winning the Heisman one day and Roby is no different, even declaring, "I believe I can win it" before acknowledging that Braxton Miller is the most likely candidate on Ohio State's team. So instead, he's focused on the Thorpe Award and Bednarik Award.
"I feel like I'm getting ready for the best year I've ever had," he said last month. "I feel like this year is going to be amazing."
Given what we've seen from him so far, Roby can be counted on to back up those statements on the field.