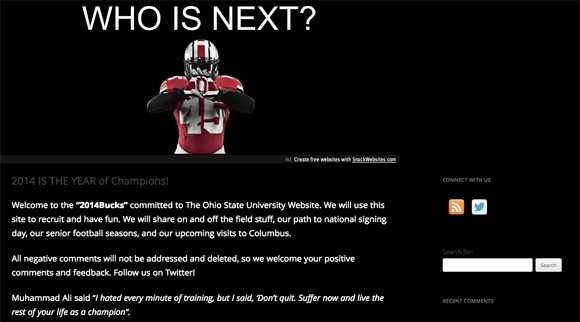 The next batch of Ohio State freshman football players, already seven strong, has been hard at work recruiting other future Buckeyes via Facebook and other channels. But their latest endeavor, the website 2014Bucks.com, takes things to a whole new level.
The project is the brainchild of Damon Webb's family, primarily Webb's mother Stephanie. The elder Damon Webb announced the launch of the site on Twitter Wednesday:
To all my tweeter followers and my Buckeye fam go ck out the page my wife created 2014bucks.com

— damon webb (@webbdamon) April 17, 2013
The site features Flash introductions to the seven commits in the class with other images and then goes on to spell out its mission statement:
Welcome to the "2014Bucks" committed to The Ohio State University Website. We will use this site to recruit and have fun. We will share on and off the field stuff, our path to national signing day, our senior football seasons, and our upcoming visits to Columbus.
Webb's mother told us that members of the recruiting class will run the site now that it's live.
A couple of things here. This is incredibly awesome and the first of its kind – that we're aware of, at least – and it should quell any jitters among Ohio State recruitniks worried about whether Webb's verbal is solid.
Carry on, Class of 2014. Fantastic work.