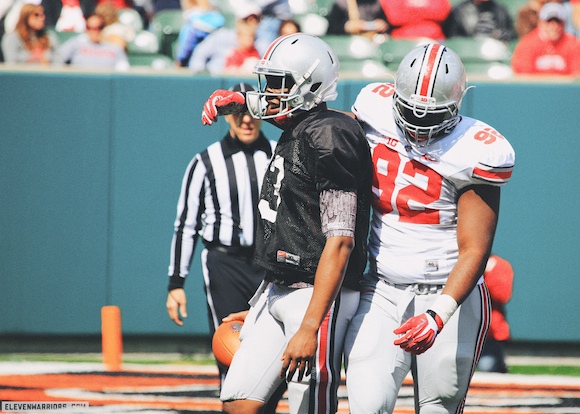 CINCINNATI – Few teams in the country could afford to lose its entire defensive line and still be considered a national title contender. But Ohio State is not most teams, and the replacements are not typical raw players.
Adolphus Washington and Noah Spence displayed that on Saturday during the Buckeyes' annual Scarlet and Gray game. They may have been on the losing side – Scarlet won, 31-14 – but the havoc-inducing duo was able to keep Braxton Miller grounded.
Washington and Spence combined for 8.5 tackles, seven of which were sacks. John Simon, Johnathan Hankins, Garrett Goebel and Nathan Williams are gone but not forgotten, though it's becoming easier to stop fretting about replacing their production.
"I just went out there and played football," Washington said. "I did what my coaches told me to do and it just happened that I got four sacks today."
It wasn't just the front four where the Buckeyes were tasked with finding new manufacturers; six of the front seven said sayonara. Urban Meyer has made it clear that springtime is used for competition and players heeded the call.
"In the fall we're trying to win a game," Meyer said. "In the spring we're trying to identify the depth chart, not taking into consideration the freshmen that will show up here in June. I want the mentality here at Ohio State to be that spring football is when you go earn a spot."
Junior linebacker Curtis Grant came into the spring aware that it was do or die. Once a promising recruit, ranked as high as second in the nation by some, he was a massive disappointment during his first two seasons. Now he's the starting middle linebacker for Ohio State.
Grant showed why Meyer and the coaching staff have renewed faith in him by tallying a game-high eight tackles Saturday, including a sack of Miller.
"He solidified (his starting spot) today. He's a fully engaged player this year," Meyer said.
In six weeks, what was once a major question mark has instead turned out to be a source of reliability. The projected starting line – Washington, Spence, Michael Bennett and Joel Hale – logged 10.5 tackles and seven sacks against a bulk of the first-team offense.
"I think we made great strides this spring. There were a lot of questions coming into this season, especially on the defense with guys like John Simon graduating," senior safety CJ Barnett said. "It was important to see guys like Adolphus Washington step up and make some plays."
"When the line is playing well, it makes my job easier. The defensive line is the most important part of the defense and we're going to go as far as they're going to go. When they get pressure and do what they have to do, it helps everyone on the backend."
---
PASSING GRADE: It didn't take long for Braxton Miller to get the fans out of their seats. One play to be exact.
On the first play of the game, Miller found Evan Spencer streaking down the middle of the field with nary a defender in the same area code. If not for Spencer stumbling, the final result would have been a 65-yard touchdown. Instead, the Scarlet team settled for a 49-yard gain.
By the end of the day, Miller had 217 yards through the air, two passing touchdowns, a rushing touchdown and one reception. The do-everything magician's skills were there for all to see.
The 37,643 fans in attendance were a more than willing audience.
"I just did what I had to in the passing game and got the ball in the hands of playmakers," Miller said. "(It was) pretty good, but I still have some things to work on and I made some mistakes."
This wasn't a day to harp on miscues, though. The possibilities garnered most of the attention. Miller set a school record last year for total yards in a season, and that was in just his first year in Meyer's up-tempo offense.
Wearing a black no-contact jersey and facing most of the first-team defense, Miller still managed to torment the opponents on Saturday – and that included the seven times he was sacked.
"I would be disappointed if we're not the best offense in the Big Ten," Meyer said.
The progress in Miller's game was evident from the opening snap. Spencer was not the intended target on the first play, but Miller went through his progressions and found the open receiver. There were multiple instances where Miller went to his checkdown receivers instead of forcing something. In 25 pass attempts, none included the threat of being intercepted.
"Fundamentally he's pretty good," Meyer said. "When it breaks down, that's when it starts to go. I thought today it was pretty good.
"He had a couple situations where it didn't look very good. But he's much improved, and we have to improve everyone around him. We've got to become legitimate with where we're at, and I think we have the people and some guys coming in June. We have our work cut out for us, but Braxton had a good spring."
"Those guys" include the likes of Dontre Wilson and Jalin Marshall, two of the most sought-after recruits from February. More additions to an ever-expanding arsenal.
The Buckeyes are quickly turning into the offense that Meyer wants. Miller is a lethal dual-threat quarterback in the Meyer mold and he's becoming a quarterback that can make difficult passes. Asked about his improvements from November to April 13, Miller did not shy away. He used the word "definitely" in saying he's a better overall quarterback.
"Just knowing the plays, how the plays develop, where the guys are going to be and I can just move around the pocket," he said. "I know where everybody is going to be. (Receivers) last year were just going out there and hoping they could get open. It was tough with the transition to the new offense. But this year it's night and day."
And that's why the fans will have trouble occupying themselves for the next four months.
---
RIGHT OR WRONG: As the sacks piled up for the Gray team, concern grew on the Scarlet sideline and in Meyer's head. The four returning starters on the offensive line are fine. But right tackle is the cause of Meyer and offensive line coach Ed Warinner's apprehension.
2013 Ohio State Spring Game
Taylor Decker and Chase Farris, the two players battling for the position, did not have impressive showings in the spring game. It capped a 15-practice period where neither distinguished himself.
"The one glaring weakness is that fifth spoke of the offensive line," Meyer said. "We have a legitimate concern who that player is. I feel good about four of the five starters. But unless we get that fixed, there goes the best offense in the Big Ten because you can't play with four linemen.
"One of those young guys has to step up, and they haven't this spring. They're showing signs., but to be the best offense in the Big Ten, you have to have five guys up front, which we had last year."
Reid Fragel completed his transformation into an All-Big Ten caliber lineman during fall camp and into the regular season last year. That's the hope again this season for Ohio State.
Warinner joked that right tackle is what makes it easy to wake up when the alarm sounds at 5:30 a.m. He'll have to continue setting it this summer.