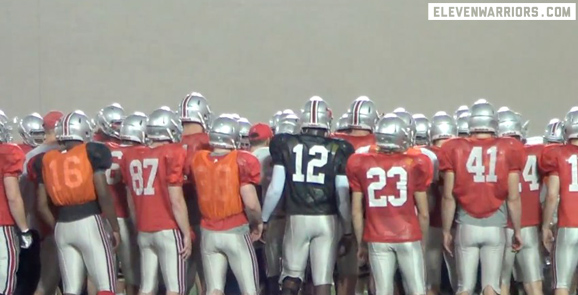 After much hoopla – and delay – the rosters for the 2013 LiFE Sports Spring Game have been announced.
Everett Withers will lead his Scarlet team against Ed Warinner's Gray team.
Key members of Scarlet: Braxton Miller, Evan Spencer, Jordan Hall, Devin Smith, Kenny Guiton, Bri'onte Dunn, Warren Ball, Jeff Heuerman, Nick Vannett, Jack Mewhort, Andrew Norwell, Marcus Hall, Tommy Schutt, Josh Perry, David Perkins and Drew Basil.
Key members of Gray: Bradley Roby, Christian Bryant, CJ Barnett, Noah Spence, Kenny Guiton, Cardale Jones, Curtis Grant, Drew Basil, Warren Ball, Adolphus Washington, Chris Fields, Michael Thomas, Michael Bennett, Carlos Hyde, Tyvis Powell and Doran Grant.
Rosters: Full Scarlet Roster | Full Gray Roster
Braxton Miller and Kenny Guiton will be wearing black no-contact jerseys. The other quarterbacks will be free to roam.
There will be no kickoffs with each possession starting at the 35-yard line. Punts will be fair caught and quarterbacks will be protected. Quarters will be 10 minutes.
The losing team usually walks back to the Woody Hayes Athletic Center from Ohio Stadium. Obviously, that isn't realistic this season, so for the second straight year the loser will clean the Buckeye Grove, south of the Horseshoe. 
The game will begin at 1:10 p.m. The game will be shown on tape delay at 7 p.m. Saturday on Big Ten Network. There is also a stream available at btn2go.com.
Scarlet Team
COACHES: Everett Withers (A-HC/Co-DC), Tom Herman (QBs/Co-OC), Mike Vrabel (DL), Tim Hinton (TE/FB), Matt Groom (GA) & Jason Osborn (GA)
| No. | Name | Pos. | Ht. | Wg. | Cl./Elg. | Hometown/High School (Last School) |
| --- | --- | --- | --- | --- | --- | --- |
| 3 | Corey Brown | SAF | 6-1 | 201 | 5th/Sr. | Monroeville, Pa./Gateway |
| 5 | Braxton Miller | QB | 6-2 | 215 | Jr./Jr. | Huber Heights, Ohio/Wayne |
| 5 | Camren Williams | LB | 6-1 | 231 | So./So. | West Roxbury, Mass./Catholic Memorial |
| 6 | Evan Spencer | WR | 6-2 | 206 | Jr./Jr | Vernon Hills, Ill./Vernon Hills |
| 7 | Jordan Hall | RB | 5-8 | 197 | 5th/Sr. | Jeannette, Pa./Jeannette |
| 9 | Devin Smith | WR | 6-1 | 198 | Jr./Jr | Massillon, Ohio/Washington |
| 10 | Corey Brown | WR | 6-0 | 187 | Sr./Sr. | Upper Darby, Pa./Cardinal O'Hara |
| 11 | Adam Griffin | CB | 5-8 | 183 | Sr./Jr. | Columbus, Ohio/DeSales |
| 13 | Eli Apple | CB | 6-1 | 188 | Fr./Fr. | Voorhees, N.J./Eastern |
| 13 | Kenny Guiton | QB | 6-3 | 208 | 5th/Sr. | Houston, Texas/Eisenhower |
| 14 | Jake Russell | P | 6-1 | 195 | So./So. | Twinsburg, Ohio/Twinsburg |
| 16 | J.T. Barrett | QB | 6-1 | 230 | Fr./Fr. | Wichita Falls, Texas/Rider |
| 16 | Cam Burrows | CB | 6-0 | 202 | Fr./Fr. | Trotwood, Ohio/Trotwood Madison |
| 18 | Kato Mitchell | WR | 6-0 | 186 | So./So. | Cleveland, Ohio/John Hay |
| 19 | Levi Ratliff | RB | 6-2 | 200 | So./So. | West Portsmouth, Ohio/Portsmouth West |
| 20 | Ron Tanner | SAF | 6-0 | 200 | Jr./So. | Columbus, Ohio/Eastmoor Academy |
| 21 | David Perkins | LB | 6-2 | 228 | So./So. | South Bend, Ind./ South Bend Washington |
| 21 | Jamie Wood | SAF | 6-1 | 210 | 5th/Sr. | Pickerington, Ohio/Pickerington Central |
| 23 | Tim Scott | K | 5-11 | 185 | Jr./Jr. | Norton, Ohio/Norton |
| 24 | Drew Basil | K/P | 6-2 | 210 | Sr./Sr. | Chillicothe, Ohio/Chillicothe |
| 25 | Bri'onte Dunn | RB | 6-0 | 222 | So./So. | Canton, Ohio/GlenOak |
| 25 | Kevin Niehoff | SAF | 6-3 | 200 | So./So. | Mason, Ohio/Mason |
| 28 | Warren Ball | RB | 6-1 | 222 | So./Fr. | Columbus, Ohio/St. Francis DeSales |
| 30 | Devan Bogard | SAF | 6-0 | 193 | So./So. | Cleveland, Ohio/Glenville |
| 33 | Nik Sarac | CB | 5-9 | 182 | Jr./So | Cleveland, Ohio/St. Ignatius |
| 35 | Franck Kangah | WR | 6-0 | 195 | So./So. | Euclid, Ohio/Euclid |
| 37 | Joshua Perry | LB | 6-4 | 243 | So./So. | Lewis Center, Ohio/Olentangy |
| 39 | Kyle Clinton | K | 6-1 | 216 | Sr./Jr. | Dublin, Ohio/Coffman |
| 42 | Luke Roberts | LB | 6-1 | 234 | So./So. | Lancaster, Ohio/Lancaster |
| 46 | Nick Snyder | LB | 6-1 | 200 | So./So. | Columbus, Ohio/Westerville South |
| 48 | Joe Burger | LB | 6-1 | 238 | So./So. | Cincinnati, Ohio/LaSalle |
| 50 | Jacoby Boren | C | 6-2 | 287 | So./So. | Pickerington, Ohio/Central |
| 50 | J.T. Moore | DL | 6-3 | 262 | Sr./Jr. | Youngstown, Ohio/Boardman |
| 56 | George Makridis | LS | 6-2 | 234 | 5th/Sr. | Warren, Ohio/Warren G. Harding |
| 57 | Chase Farris | OL | 6-4 | 300 | Jr./So. | Elyria, Ohio/Elyria |
| 59 | Tyquan Lewis | DL | 6-3 | 237 | Fr./Fr. | Tarboro, N.C./Tarboro |
| 67 | Ben St. John | OL | 6-3 | 290 | Sr./Jr. | Elmore, Ohio/Woodmore |
| 68 | Taylor Decker | OL | 6-7 | 315 | So./So. | Vandalia, Ohio/Butler |
| 72 | Chris Carter | DL | 6-4 | 341 | Jr./So. | Cleveland, Ohio/Kennedy |
| 73 | Antonio Underwood | OL | 6-3 | 301 | Jr./Jr. | Shaker Heights, Ohio/Shaker Heights |
| 74 | Jack Mewhort | OL | 6-7 | 308 | 5th/Sr. | Toledo, Ohio/St. John's |
| 78 | Andrew Norwell | OL | 6-6 | 319 | Sr./Sr. | Cincinnati, Ohio/Anderson |
| 79 | Marcus Hall | OL | 6-6 | 315 | 5th/Sr. | Cleveland, Ohio/Glenville |
| 81 | Nick Vannett | TE | 6-6 | 255 | Jr./So. | Westerville, Ohio/Central |
| 84 | Charles Kinzig | TE | 6-6 | 235 | Jr./Jr. | Gates Mills, Ohio/Notre Dame Cathedral |
| 86 | Jeff Heuerman | TE | 6-6 | 250 | Jr./Jr. | Naples, Fla./Barron Collier |
| 88 | Stacey Blunt | WR | 6-2 | 195 | Sr./Jr. | Powell, Ohio/Dublin Scioto (Air Force Academy) |
| 88 | Steve Miller | DL | 6-3 | 252 | Jr./Jr. | Canton, Ohio/McKinley |
| 90 | Tommy Schutt | DL | 6-2 | 303 | So./So. | Glen Ellyn, Ill./Glenbard |
| 91 | Chris Rock | DL | 6-5 | 270 | Jr./So. | Columbus, Ohio/DeSales |
| 93 | Tracy Sprinkle | DL | 6-3 | 255 | Fr./Fr. | Elyria, Ohio/Elyria |
| 94 | Rashad Frazier | DL | 6-4 | 271 | Jr./So. | Middletown, Ohio/Middletown |
| 96 | Claudius Mbemba | DL | 6-2 | 245 | Fr./Fr. | Lewis Center, Ohio (Olentangy |
Gray Team
COACHES: Ed Warinner (Co-OC/OL), Luke Fickell (Co-DC/LB), Kerry Coombs (CB/ST), Stan Drayton (RB), Zach Smith (WR), Shane Bowen (GA) & Drew Mehringer (GA)
| No. | Name | Pos. | Ht. | Wg. | Cl./Elg. | Hometown/High School (Last School) |
| --- | --- | --- | --- | --- | --- | --- |
| 1 | Bradley Roby | CB | 5-11 | 192 | Sr./Jr. | Suwanee, Ga./Peachtree Ridge |
| 2 | Christian Bryant | SAF | 5-10 | 192 | Sr./Sr. | Cleveland, Ohio/Glenville |
| 2 | Rod Smith | RB | 6-3 | 238 | Sr./Jr.. | Fort Wayne, Ind./Paul Harding |
| 4 | C.J. Barnett | SAF | 6-1 | 203 | 5th/Sr. | Dayton, Ohio/Northmont |
| 5 | Camren Williams | LB | 6-1 | 231 | So./So. | West Roxbury, Mass./Catholic Memorial |
| 8 | Noah Spence | DL | 6-3 | 247 | So./So. | Harrisburg, Pa./Bishop McDevitt |
| 10 | Ryan Shazier | LB | 6-2 | 222 | Jr./Jr. | Plantation, Fla./Plantation |
| 12 | Doran Grant | CB | 5-11 | 191 | Jr./Jr. | Akron, Ohio/St. Vincent-St. Mary |
| 12 | Cardale Jones | QB | 6-5 | 241 | So./Fr. | Cleveland, Ohio/Glendale & F.U.M.A. |
| 13 | Kenny Guiton | QB | 6-3 | 208 | 5th/Sr. | Houston, Texas/Eisenhower |
| 14 | Curtis Grant | LB | 6-3 | 241 | Jr./Jr. | Richmond, Va./Hermitage |
| 15 | Scott Hartley | P | 6-0 | 170 | Sr./Jr. | Pickerington/Pickerington North |
| 18 | Najee Murray | CB | 5-9 | 186 | So./So. | Steubenville, Ohio/Steubenville |
| 23 | Tyvis Powell | CB | 6-3 | 201 | So./Fr. | Bedford, Ohio/Bedford |
| 24 | Drew Basil | K/P | 6-2 | 210 | Sr./Sr. | Chillicothe, Ohio/Chillicothe |
| 26 | Armani Reeves | CB | 5-10 | 197 | So./So. | West Roxbury, Mass./Catholic Memorial |
| 28 | Warren Ball | RB | 6-1 | 222 | So./Fr. | Columbus, Ohio/St. Francis DeSales |
| 32 | Russell Doup | SAF | 6-2 | 195 | Sr./Jr. | Mt. Vernon, Ohio/Mt. Vernon |
| 32 | William Houston | FB | 5-10 | 264 | Fr./Fr. | Dublin, Ohio/Coffman |
| 33 | Frank Epitropoulos | WR | 6-1 | 200 | So./Fr. | Upper Arlington, Ohio/Upper Arlington |
| 34 | Carlos Hyde | RB | 6-0 | 242 | Sr./Sr. | Naples, Fla./Naples/FUMA |
| 34 | Jamal Marcus | DL | 6-2 | 230 | So./So. | Durham, N.C./Hillside |
| 38 | Craig Fada | LB | 6-0 | 226 | So./So. | Columbus,Ohio/Bishop Watterson |
| 41 | Bryce Haynes | LS | 6-4 | 220 | Jr./So. | Cumming, Ga./Pinecrest Academy |
| 46 | Devin Hill | RB | 5-10 | 226 | Jr./So. | Columbus, Ohio/Northland |
| 49 | Craig Cataline | LB | 6-1 | 235 | Sr./Jr. | Columbus, Ohio/Grandview Heights |
| 51 | Joel Hale | DL | 6-4 | 309 | Jr./Jr. | Greenwood, Ind./Center Grove |
| 55 | Tommy Brown | OL | 6-4 | 310 | Jr./So. | Akron, Ohio/Akron Firestone |
| 63 | Michael Bennett | DL | 6-3 | 285 | Jr./Jr. | Centerville, Ohio/Centerville |
| 64 | Ivon Blackman | OL | 6-3 | 320 | 5th/Sr. | Bedford, Ohio/Bedford |
| 65 | Pat Elflein | OL | 6-2 | 293 | So./Fr. | Pickerington, Ohio/North |
| 66 | Kyle Dodson | OL | 6-6 | 324 | So./Fr. | Cleveland, Ohio/Cleveland Heights |
| 69 | Eric Kramer | OL | 6-4 | 295 | Sr./Jr. | Cincinnati, Ohio/St. Xavier |
| 71 | Corey Linsley | C | 6-3 | 297 | 5th/Sr. | Youngstown, Ohio/Boardman |
| 76 | Darryl Baldwin | OL | 6-6 | 307 | Sr./Jr. | Solon, Ohio/Solon |
| 80 | Chris Fields | WR | 6-0 | 200 | 5th/Sr. | Painesville, Ohio/Painesville Harvey |
| 83 | Michael Thomas | WR | 6-2 | 199 | So./So. | Los Angeles, Calif./Woodland Hills Taft & FUMA |
| 85 | Devonte Butler | WR | 5-7 | 170 | Fr./Fr. | Columbus, Ohio/Eastmoor Academy |
| 87 | Peter Gwilym | WR | 6-1 | 199 | Jr./So. | Freeport, Maine/Cheverus |
| 88 | Ryan Ross | WR | 5-11 | 194 | Sr./Jr. | Akron, Ohio/Hoban |
| 89 | Blake Thomas | TE | 6-5 | 250 | So./Fr. | Cleveland, Ohio/St. Ignatius |
| 92 | Adolphus Washington | DL | 6-3 | 292 | So./So. | Cincinnati, Ohio/Taft |
| 97 | John Holman | DL | 6-2 | 264 | Jr./Jr. | Riverdale Ga./Union Grove (Mississippi Delta) |