Ohio State has gotten off to a strong start in adding offensive linemen and defenders to their 2014 recruiting class. But they are still lacking one thing in the class: Offensive playmakers.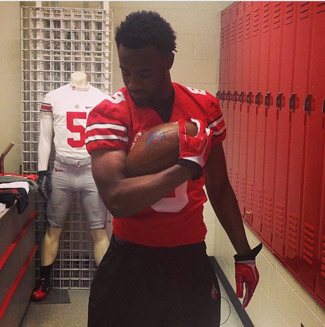 The Buckeyes hosted many top players on campus this past weekend. One of these elite players was Tyrone (GA) Sandy Creek wide receiver Demarre Kitt, who fits the bill of a playmaker on the offensive side of the ball.
At 6-2/180, Kitt boasts offers from the likes of Ohio State, Alabama, Auburn, Clemson, Florida, Georgia, Michigan, Notre Dame, Oregon, Tennessee, Texas, USC, Wisconsin, and many other big-name schools.
Kitt took his third trip to Columbus to check out the Ohio State campus Thursday through Sunday of last week. He definitely enjoyed his trip and now has the Buckeyes as his sole leader.
We caught up with Kitt to learn more about what he saw on his visit, which players/recruits he hung out with, and more.
Keep reading to learn more about about one of Ohio State's top targets in the 2014 class, Demarre Kitt.
You visited Ohio State last week. What did you get to do and see on the visit?
I got there on Thursday. I went to their practice and got a chance to talk to the coaches after practice. Friday, I really just chilled and looked around the campus. On Saturday I went to the scrimmage, got to talk to the coaches again, and hung out with some of the players. Then I left to go home on Sunday.
Which coaches did you talk to? What were they telling you?
I mostly talked to Coach Smith and Coach Meyer. They were telling me that they really want me to be a Buckeye. They also said I would have a chance at early playing time.
What did Coach Meyer tell you this weekend? Did he mention how many receivers they can take?
I had a really good talk with Coach Meyer this weekend. He told me I was one of their top targets at wide receiver and that they could probably take up to three or four receivers in my class.
Which players did you hang out with? What did they tell you?
I hung out with Jamal Marcus, Devan Bogard, Noah Spence, and Najee Murray. The were telling me that if I want to play professionally, Ohio State is the place to go because they send a lot of guys to the NFL.
Which recruits did you hang out with? What did you guys talk about?
I mainly hung out with my teammate, Chris Williams, Damon Webb, and Jabrill Peppers. Damon committed to OSU a few months ago and Jabrill is still going on with the process like I am.
What do you like most about OSU?
The thing I like about Ohio State is they have everything I'm looking for in a school.
Who is you leader after last weekend's visit?
Ohio State is on top right now. After that it's Tennessee, then Clemson.
When would you like to make your college decision?
I'm not sure when. I don't have a set time to decide or anything. I'll probably just decide when it feels right.
What will be the biggest factors in your decision?
Education, depth chart, the quarterback, and my relationships with the coaches.
---