Three weeks from today — on May 3 — Kelvin Ransey will turn 55 years old. Some of you are too young to remember Ransey, a basketball quarterback, topped with a mushroom cloud of an afro, who owned St. John Arena from the 1976-77 through 1979-80 seasons.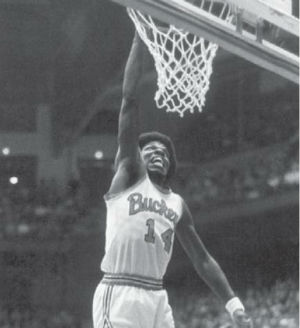 For some reason, Ransey's name is often overlooked when discussing the best basketball players in Ohio State history. If he was before your time, picture a smaller Jim Jackson with slightly better ball-handling skills.
Kelvin was a product of Macomber High School in his native Toledo. As a youngster, Ransey's love of the game took a while to kick in. Despite being talented, a lack of motivation led to being cut from teams in middle school — he wasn't into the trash-talking culture of basketball. But at Macomber he found his passion and became a dominant player in the City League.
Ransey took the Macmen to the state's regionals in his junior year, but Macomber fell to Elyria in an epic triple-overtime battle. The next year the squad lost a key player in John Flowers, who transferred to Sylvania, derailing a potential state championship run in 1975-76.
Despite the retirement of legendary coach Fred Taylor in 1976 after his worst season in Columbus (6-20), Ransey accepted a scholarship offer to Ohio State and enrolled that fall.
Freshman Year
Ransey was a savvy player, but he wasn't terribly big. He stood a smidge over 6-foot-1 and weighed less than 190 pounds. He became a freshman starter under first-year head coach Eldon Miller for what would be a pretty bad Ohio State team in 1976-77. His fellow starters included captain and point guard Larry Bolden, center Jim Ellinghausen, and forwards Terry Burris and Tony Hall.
The Buckeyes finished 9-18 that season (4-14 in the Big Ten) and had a particularly dreadful nine-game losing streak in conference play, falling by an average of 17 points in those contests. Ohio State finished dead last in the league, which was actually 10th back then.
He posted 10 points and four assists in his first collegiate game, a 69-66 win over Butler on Nov. 27, 1976. Two games later he scored 20 points for the first time in a loss to Virginia Tech. He posted a game-high 24 in a loss to Princeton in the Kodak Classic in Rochester, New York, and a game-high 21 in a loss at Northwestern. It was a rough first season, but Ransey excelled while often playing the less natural 2 position.
Ransey set a then-OSU freshman record with 327 points. He averaged 32 minutes, 13.1 points and 3.4 rebounds per contest. As a frosh, he led the Buckeyes in scoring average. He made 78% of his free throws, dished 69 assists against 51 turnovers, and totaled 21 steals and 10 blocks.
Sophomore Year
Kelvin really blossomed during his sophomore season, manning the point more often, and the team around him showed some growth as well. The 1977-78 Buckeyes won their first three games and eight of their first 10, en route to a 16-11 record (9-9 in the B1G) and a sixth-place finish in the conference. Ohio State was particularly tough at home, going 11-3 in St. John Arena.
Although Ransey's improvement was part of the reason the team improved, the addition of center Herb Williams to the lineup certainly didn't hurt. Jim Smith, Ken Page and co-captain Mike Cline rounded out the starting lineup.
Kelvin scored 22 points as Ohio State hung 108 on Stetson in an early season romp. In a home loss to Iowa, Ransey tallied 20 points, five boards and seven dimes. He exploded for 28 in a 91-77 home destruction of Purdue and backed it up with 21 in a loss to Indiana and 20 more in a tough 79-74 loss at Michigan State. Kelvin posted a double-double with 26 points and 10 assists in a 94-87 overtime win over Kevin McHale and No. 19 Minnesota. He closed the season with a game-high 24 points and five dimes in a win at Wisconsin.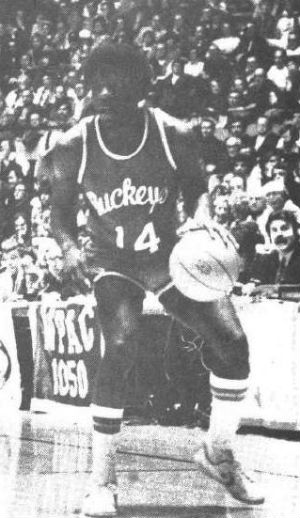 Ransey played 35 minutes per game, leading the team in scoring again with a 17.6-point average, to go with 3.7 rebounds and 5.1 assists per game. His 138 assists came against 79 turnovers, for a respectable 1.75 assist-to-turnover ratio. Ransey hit 49% of his shots and came up with 53 steals.
For his outstanding season, Ransey was named the team's MVP and was selected to the All-Big Ten team.
"I think Ransey and Ronnie Lester (Iowa) are probably the two best point guards in the conference," then-Michigan State coach Jud Heathcote told the Lantern in 1978.
Junior Year
Ransey, Williams and Smith were joined by Carter Scott and Todd Penn as starters during the 1978-79 season. Along with Smith, Ransey was named co-captain for a team that finished 19-12. The Buckeyes started conference play hot, winning the first eight games in B1G play. But Ohio State faltered to a 4-6 finish over the final 10 games, placing fourth in the conference.
In one of the more dramatic games of the season, Ransey tallied 26 points and eight assists as Ohio State erased a 17-point, second-half deficit against No. 1 Duke. The Buckeyes won in overtime, 90-84, in Madison Square Garden, as part of the ECAC Holiday Tournament on Dec. 29, 1978. Unfortunately, the thing most people remember from that night is this.
All Ransey did the next night against Rutgers was score a career-high 38 points, but Ohio State fell in triple-overtime, 97-96. This came just prior to Ohio State's eight-game conference winning streak.
He also scored 31 points in a win over Miami (OH), 24 each in wins against West Virginia, Wisconsin, and Iowa, and 33 in a 75-71 win over Purdue. Kelvin notched 25 in both a loss at Michigan State and a win at Northwestern. He was reaching the upper teens and low twenties in scoring almost every night.
The Buckeyes were invited to the NIT after the season, marking the first time Eldon Miller's OSU squad made a postseason tournament. Ohio State easily dispatched St. Joseph's in the first round, 80-66, behind Ransey's 18 points and seven assists. He scored 23 to lead Ohio State to a 79-72 win at Maryland, earning a trip to New York City. Once there, the Buckeyes fell to conference foe Indiana, 64-55, then lost again in the third-place game, 96-86, against Alabama. Ransey scored 25 in each of the final two losses, with 13 total assists.
Playing an exhausting 37.5 minutes per game, Kelvin averaged 21.4 points, 3.6 rebounds and 4.3 assists during his junior year, with a career-high 54 steals. He shot almost 55% from the field, scoring 664 points — leading Ohio State in scoring for the third consecutive season.
Ransey was named a third-team UPI All-American and was All-B1G for the second straight year.
One weird side note about the 1978-79 team is that it included eight appearances by Ohio State quarterback Art Schlichter, who averaged 1.7 points per game.
Senior Year
Returning as co-captain for the 1979-80 season — this time with Williams sharing the honors — Ransey found himself on a more balanced team, where he wasn't forced to do as much of the heavy lifting. Scott and Smith returned at guard and forward, respectively, and freshman Clark Kellogg worked his way into the starting rotation.
The Buckeyes won 12 of the first 13 games that year, en route to a 21-8 mark. Ohio State's 12-6 conference record was good for a second-place finish behind Indiana. The Buckeyes split with the Hoosiers that season, winning at home and falling in overtime in Bloomington in the last game.
Miller's first 20-win season in Columbus got Ohio State into the NCAA Tournament in Ransey's final year. The Buckeyes were the No. 4 seed in the West Region and opened up in Tempe, Arizona against Arizona State, naturally. The Buckeyes rose to the challenge of what was ostensibly a road tournament game and won, 89-75. Ohio State advanced to face No. 8 seed UCLA.
Ransey scored 29 points on 13/23 shooting against the Bruins in Tucson — the ninth-highest March Madness point total in school history. Unfortunately, he fouled out in the final minute of UCLA's 72-68 win, and the Buckeyes fell just shy of an Elite Eight appearance. Ransey's Ohio State career was over.
"I think Ransey and Ronnie Lester are probably the two best point guards in the conference." - MSU Head Coach Jud Heathcote, in 1978  With 16.2 points per game, Ransey finished second on the team in scoring behind Williams. He averaged 4.2 rebounds and 6.1 assists. His 177 assists was a single-season school record at the time. He shot 49% from the floor and 85% from the line in his final year, earning team MVP honors for the second time and All-B1G for the third straight year. He was a second-team consensus AP All-American, a second-team UPI All-American and second-team USBWA All-American.
Legacy
Ransey started 111 of 112 games at Ohio State. He had a streak of 80 straight games scoring in double figures. He never won a conference or postseason championship, but he was part of a pretty solid rebuilding job from Eldon Miller's first season at the helm, going from 10th place in the Big Ten as a freshman to a No. 10 final ranking in the 1980 AP poll as a senior.
"My best memory of playing at Ohio State is the fact that we built that program back up," Ransey told the Toledo Blade in a 2005 interview. "Eldon Miller did a great job of recruiting and he was a tremendous teacher of the game. It was like going from being nobody to, by my senior year, ranked as high as No. 2 in the nation."
Ransey is still the highest-scoring point guard in Ohio State history and was the highest-scoring guard of any kind until William Buford passed him last year. He ranks fifth on Ohio State's all-time scoring list, with 1,934 points, behind Dennis Hopson, Williams, Jerry Lucas, and Buford. His career scoring average of 17.8 is 12th in school history. He stands behind only Williams in career field goals made, with 827, drilling 282 of those his junior year — the third most in one year by a Buckeye.
He is third in career assists (516), passed by only Jamar Butler and Aaron Craft in the 33 years since he left Columbus. He led the Buckeyes in scoring three times (1976-77 through 1978-79), and in steals and assists three times as well (1977-78 through 1979-80).
In six postseason games (NIT and NCAA), Ransey averaged 24 points and five assists, and scored no fewer than 18 points in any tournament game.
A three-time All-B1G selection and two-time team MVP and captain, Kelvin was inducted into the Ohio State Athletics Hall of Fame in 1986.
The League
Kelvin was selected fourth overall by the Chicago Bulls in the 1980 NBA Draft, but he would never play for Chicago. The Bulls swapped him to Portland in exchange for a first-round draft pick and Ransey's conference foe Lester, who had led Iowa to the Final Four in March. The Trailblazers had taken Lester with the No. 10 overall pick. Heathcote apparently wasn't the only one who thought Ransey and Lester were the Big Ten's best guards.
Only Joe Barry Carroll (Golden State), Darrell Griffith (Utah), and Kevin McHale (Boston) were picked higher than Kelvin Ransey in 1980. To illustrate just how much times have changed, Ransey signed a four-year deal with Portland worth $1.4 million. Top draft picks today probably spend more than that on Christmas.
Ransey quickly worked his way into the starting lineup and excelled there, finishing second to Griffith by just one vote in NBA Rookie of the Year voting in 1981. He averaged 15.2 points and 6.9 assists per game in his first season, and his 555 assists were a franchise single-season record. Ransey also helped guide Portland into the playoffs.
His numbers improved in his second year to 16.1 points and 7.1 assists per game, but the Trailblazers missed the postseason. Despite his solid backcourt play with Jim Paxson, the Blazers traded Kelvin to Dallas for Wayne Cooper and a draft pick that ended up becoming Terry Porter. Even in just two short years, Ransey made his mark in the Pacific Northwest. In 2009, The Oregonian named Kelvin No. 29 on the Blazers' all-time Top 40 list.
"If they would have built around us, I felt they could have had a championship-caliber team in a couple of years," Ransey told The Oregonian. "But for some reason, they felt the need to trade me. I never did understand it, to this day."
The trade affected Ransey's perception of the game. His minutes and his numbers dwindled in Dallas. He dropped from more than 31 minutes per game in 1981-82 to just 21 per outing with the Mavericks in 1982-83. He averaged 11.1 points and 3.7 assists. After the season, Dallas sent Ransey to the New Jersey Nets in a trade.
New Jersey apparently really wanted Ransey. In addition to giving Dallas their team captain, Clarence "Foots" Walker, the Nets gave the Mavs a second-round pick in 1984 and a first-round selection in 1985. He spent three seasons in New Jersey, but the Nets didn't get their expected return on investment. Ransey's scoring average dropped below double digits to 9.5 per game in 1983-84 and fell slightly the next two years. His six assists per game in 1983-84 nearly doubled what he'd had in Dallas, but that too fell off. The Nets made the playoffs all three years he was in New Jersey, but didn't win a series.
Ransey had lost his passion for basketball, but he'd found his true calling and retired from the NBA at age 27 to pursue more spiritual endeavors.
Life After Hoops
Kelvin returned to Toledo after the 1985-86 NBA season and become a preacher. He remained in his hometown until 2000, when he left to take over a congregation in Tupelo, Mississippi, not far from where his parents grew up. He was heavily influenced by his father, who was a church deacon.
He continues to pastor today, helping people get clean and sober, and being a positive influence in the community.