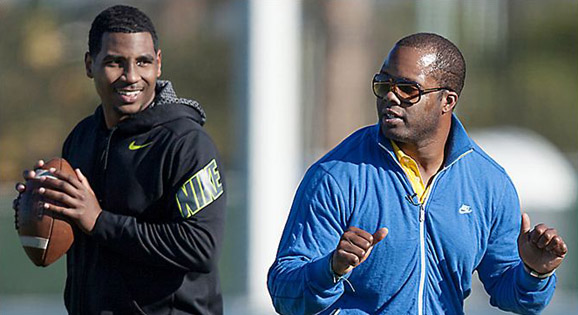 In the four-month buildup to the NFL draft, many hopefuls flock to large sports academies in Florida and the Arizona desert. Football factories have been constructed in the exotic locales with plush weight rooms and top of the line instructors. 
But when it comes to the sport's most valuable position – quarterback – a different destination is at the top of the list: San Diego. And more specifically, Mission Beach. It is there on a two-mile long sandbar where the NFL's next crop of quarterbacks is trained by guru George Whitfield, Jr.
It's also where Braxton Miller spent his holiday break this winter.
No, Miller is not leaving for the NFL. Instead, he felt a private lesson with the guy who's tutored Ben Roethlisberger, Philip Rivers, Donovan McNabb, Cam Newton and Andrew Luck, among others, was more important than lounging on the couch watching bowl games.
Whitfield, a native of Massillon, runs Whitfield Athletix, a five-employee outfit when you include the two interns. The 35-year-old played collegiately under Jim Tressel at Youngstown State before transferring to Tiffin. He is third all-time in passing yards and touchdowns for the Dragons.
Whitfield spent two seasons at Iowa as a graduate assistant, in 2001 and 2002, and then bounced around the Arena League as a quarterback from 2003 to 2007. But he actually got his start with quarterback lessons in 2004. He's enjoyed a meteoric rise ever since.
His techniques are unconventional – they include footwork drills in the Pacific Ocean – but the results cannot be disputed. From Pro Bowlers to Heisman Trophy winners to high schoolers, Whitfield's fingerprints are at every level of the game. 
Whitfield recently talked to Eleven Warriors about Miller's skillset and potential for greatness, as well as his own affinity for the state of Ohio. 
Eleven Warriors: When Braxton Miller came to San Diego, what did you see on Day 1 and how much did it differ from the quarterback that returned to Columbus, Ohio, five days later?
George Whitfield: When he came, I saw one of the best, most talented college football players in the country. He's just a natural talent. He's also a very self-aware individual. I use the term "tuned in." He is very tuned in. He takes in what you're saying and is an active learner. I was impressed by that. He wanted to know the front and back of everything. Once you start getting guys like that, the sky is the limit.
The other two guys I've had like that are Andrew Luck and Cam Newton. They're Type A personalities that want to know and see everything. I really admired that about Braxton. He came out there with a game plan and was patient enough and diligent enough to draw in as much as he could. He kept saying, "This is going to impact the season. This is going to get us closer to that crystal." He kept talking about the crystal.
11W: When you get twentysomething college kids that tuned in, mature and eager to learn, does it surprise you?
"The other two guys I've had like that are Andrew Luck and Cam Newton. They're Type A personalities that want to know and see everything. I really admired that about Braxton."
GW: Yes, because not all of them are like that. They're always good guys and they're going to give you their best effort. I've been on the ground with Super Bowl champions, Heisman Trophy winners and No. 1 draft picks, and they're going to give you their best. But there are some that come in absolutely tuned in. Johnny Manziel was the same way.
With Braxton, it was great dialogue. It's like a classroom on the field. He didn't just throw routes. We walked through half of what he did in San Diego on film at quarter speed. We'd rewind it and go back over it and I'd tell him to teach my interns what I just showed him. He'd go through that and we'd go over it again.
We'd quicken our pace in the afternoon. We may go two reps and then we'd look at the video on an iPad and start breaking it down. He'd go right back out there and do it all over again. Once he had everything lined up, we'd go test it on the beach. We worked on footwork, weight transition, how to plant and drive forward in that soft sand. If your base isn't real strong, you'll fall forward. Those kinds of things really are what training was. I equate it more to engineering than a workout.
11W: There are three prongs that get a lot of attention from you – footwork, throwing motion and throwing on the move. All three of those are important for all quarterbacks, obviously. But it seems like they're magnified with Braxton.
He said he wanted to work on his mechanics more than anything this offseason, and then footwork and throwing on the run are very important to his game. Urban Meyer has called Braxton an athlete playing quarterback, stating that he wants the opposite.
What strides have you seen from Braxton in those areas?
GW: I think Coach Meyer is going to get exactly what he wants. The biggest imagery that I share with those kids when they land in San Diego is that Superman type of capability. You're talking about four guys – Cam Newton, Johnny Manziel, Logan Thomas and Braxton Miller. They really do have superhuman traits. I try to use that imagery.
If mechanics and fundamentals are clothing, you want to wear a three-piece suit. You want to be that short, that measured, that consistent and that clean all day. You don't really see people getting snagged wearing a three-piece suit. When you set on that trail on that type of thing, you want everything consistent –  you don't want any wasted footwork. It almost changes your mindset. If you're wearing sweatpants, you're in one mindset. If you're in a brand new suit, that puts you in another mindset.
Being in that position is supposed to supply power to the other 10 players. The sharper you are, the more you can generate for the rest of that huddle. It's important for you to have full ownership and accountability. When you talk about an athlete at quarterback and quarterbacks that are athletes, I've seen some athletes that play quarterbacks. I don't know if Braxton has ever been that. I think he's in a natural growth at becoming a better quarterback.
11W: What kind of chemistry did you see between Braxton and Michael Thomas? I know he accompanied Braxton to San Diego and caught passes from him during the week. Thomas is someone Ohio State is expecting a lot out of this season. Did you see growth with those two?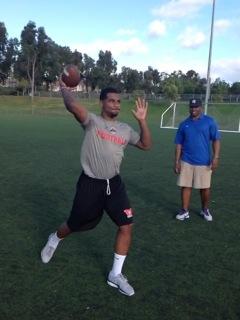 GW: Oh yeah. You could see growth through a couple different things. One, they're like brothers. If one is changing out of his cleats he may head halfway up the field and wait for the other one to catch up. It's a pretty cool thing. They're bonded as strong as can be.
I like Mike. Long strider, great hands. You could see him make plays. He's a big, long target. He knows that his ability to assert himself this season is big for the Buckeyes. I'm excited to see him play.
Both those guys are first class guys. They represent themselves and Ohio State well.
11W: The teaching of "chaos mechanics" is an interesting thing. Explain how that became a focal point in your philosophy, especially for a guy like Braxton who's mobile. How vital is it for him to develop and break down the pressure?
GW: It didn't really hit me until I was around Ben Roethlisberger. Just from studying himself with him and being out in training, he did so much stuff off script. There was so much conflict in the pocket, and then you watch him do some things and remedy it on his own. I kept thinking to myself, I just watched him and we're doing lab training, where you make drop X and made throw X. The game isn't like that. Those are blueprints, but you have to be able to work when those blueprints get knocked off the table. You still have to execute. That inspired me a lot.
The movie Moneyball hit. The genesis of Moneyball is let the games and the actual data dictate your approach. So I talked to some front office guys, scouts and coaches, and two AFC East teams did a study of pocket-passing analytics. Both teams found that 60 percent of the time the quarterback had to make some sort of adjustment or escape before getting a throw off. Only 40 percent of the time did he take the designated drop and make a clean attempt at a throw.
If that happens behind millionaire offensive linemen being coached by millionaire coaches in billionaire leagues, you don't get any higher than that. Two in five plays.
The first thing we do with elementary-aged kids is start them throwing on the run. I don't care about his three-step drop. You can really improve his football quality of life if you can teach that little guy how to throw on the run.
There are going to be five or six plays a game when there is a direct conflict with the quarterback. How do you deal with it? We try to build in a protocol. We call it matador escapability. Just like matadors do when bulls get about a foot away, they make one subtle, decisive move. The bull keeps moving and you're still right there.
You have to have the same posture and ability and calmness to make a throw running full speed sideways back upfield. Manziel did that last year at Alabama. He fumbled, picked up the ball, ran around and threw a touchdown pass. A lot of games come down to that – which quarterback was able to successfully handle a successful defense. When the defense won, can you beat the success of the defense?
With Braxton, the kid is so smart already. But when there is conflict you have to understand there are more options than hopping on your motorcycle and moving on out of it. Once you learn to sidestep and extend plays, just understand the mechanics of the defense's rush, as soon as the secondary feels like the quarterback is under duress, someone is going to stop and assume the play is done, and opportunity springs eternal.
It's not so much about making people miss; it's about handling and maneuvering around threats without leaving the pocket and making good deliveries with players bearing down on you.
We look at it like playing in Guatemala. Can you make deliveries in a Guatemalan jungle?
11W: The stuff in the ocean, how did you ever think of including that in drills? That was one of the things Braxton spoke about specifically being a huge help.
GW: I honestly never had the idea of going out in the sand until high school coaches in the San Diego area insisted on us helping their quarterbacks get stronger in the legs, quicker in drops and more agile. You're talking about 14-, 15- and 16-year-old kids, so it was going to be tough for them. You can't put them in a weight room and just have them do squats.
I thought about the sand, so I took a group out there. It constantly robs you of your footwork and your base. Whatever effort you put in, the sand zaps it. It takes at least half your effort away. If you can make a three-step drop and run around in soft sand up to your ankles, then good. When you go back on the football field, you're stronger and more confident.
"I remember going to games as a kid, watching Script Ohio. I tell people out here, it doesn't matter what part of the state you're from, we're all Buckeyes."
One random day, I watched a surfer lose his surfboard and run through knee-deep water for 50 yards. I thought, 'That must suck.' So I tested it myself and tried to figure out when it might be applicable. A month later I took some high school quarterbacks out there and told them to trudge through it and power through the water. You have a constant current coming in moving against you at all times. You have to have total ownership of your drop at all times or else you're going to fall.
I thought Braxton did great. It took him two minutes to get a feel for what we were trying to do. He did drops in the ocean for 30-35 minutes. Just like any competitor, he tried to push himself. It was just him against the water. The adversary is constant.
11W: You've lived in Southern California for a while now, but you played under Jim Tressel at Youngstown State and then played at Tiffin. How important is the state of Ohio to you?
GW: I love it. I love it. When Braxton's dad called me, it was an honor. My uncle David (Whitfield) was on the 1968 national championship team. I remember going to games as a kid, watching Script Ohio. I tell people out here, it doesn't matter what part of the state you're from, we're all Buckeyes. To get a chance to contribute to that, even though I didn't wear scarlet and gray, is awesome.
My family was more excited about Braxton coming out than the NFL guys I work with. When a Buckeye comes out, you hear from your family and friends. It's extremely special.