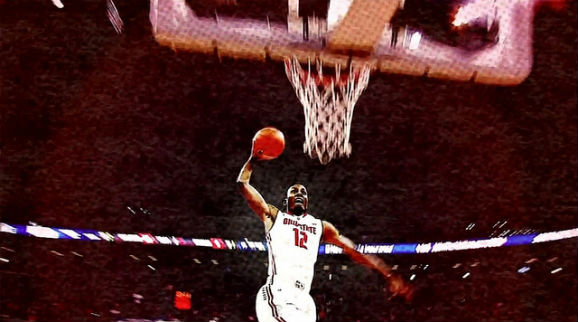 The 2012-13 Ohio State basketball season has come and gone, and by just about any metrics you want to use, it was a pretty successful one.
We began the season with our usual high hopes, which were fueled in part by a No. 4 national ranking. There were ups and downs, with most of the downs occurring against the top tier of competition, such as Duke, Kansas and the other top B1G squads.
The final downer came in the Elite Eight against a team playing its best basketball of the season and Wichita State still required the Buckeyes to lay ALL OF THE BRICKS to squeak out a four-point win. While many of us (yes, myself included) believe Louisville was lying in wait to level many atrocities upon our Bucks, there's no way to ever know what might have been. Perhaps the Cardinals would have gone übercold in Atlanta.
But when you consider what many thought the ceiling would be back on Feb. 17, an Elite Eight appearance is nothing to scoff at. This team grew up in a lot of ways. It simply didn't have the margin of error it needed to have an off night against top competition.
In order to file our postmortem on the 2012-13 season, I've rounded up Sarah and Chris to discuss what was, what is, and what will be. This occurs in our award-winning* roundtable format. Ed. – OK, the awards are really just gold stars from our moms, but we're counting them!
On with the Qs. Let's see what the As are. Feel free to weigh in with your own As below in the comments. After all, this is the salon of the 21st century.
What are your overall impressions of the 2012-13 Ohio State basketball season? Are you satisfied? Happy? Disappointed?
Sarah: I would say I'm simultaneously proud of how the team turned their season around and bummed with how it ended. So prummed?
In mid-February, I was downright disgusted with this team and the lack of effort or desire they showed in Madison. But that wasn't the real 2012-13 Buckeyes.
The other week, I read an interview with Justified showrunner Graham Yost, who said, "when characters are really backed into a corner, you see who they are." He may have been talking about Constable Bob, but I think it applies to Ohio State, too. At the do-or-die moment of the regular season, they managed to put up a fight and played much more to their potential. The team that gritted out 11 wins, including a B1G tournament title? That was the real 2012-13 Buckeyes.
I still think they should have made the Final Four, but coming up just short shouldn't take away from what this team was able to accomplish. That last game pretty much encompassed their season — a frustrating first half, followed by a determined rally that wasn't quite enough. Overall, that's still a successful year.
Chris: Actually, satisfied is probably the best word for how I feel about the season. It was a winding road to get there but when you look at the body of work, it's hard to be anything but satisfied with reaching the Elite Eight and seeing the team really grow as they won 11 of the last 12 games. I thought Thad and staff did an incredible job over the last few months, putting Ohio State, even without Deshaun Thomas, in position to make a run at a conference championship and another deep run in the Dance next season.
Michael: I'll go with Sarah's "prummed" description. This group of players represented the university well and were fun to watch (although simultaneously frustrating at times). A Final Four would have been nice, but that's just me being greedy in my typical "Ohio State should win all the things" way. Even during Ohio State's slump in B1G play, I felt this team was capable of reaching the Sweet 16, with maybe an Elite Eight ceiling. This came to be, but I can still lament the cold Saturday night from the arc.
What were the best things to come out of this season?
Sarah: The last month and a half really brought about improved play from a number of different guys, and hopefully that will carry over into next season. Matta is already expecting big things from Sam Thompson and Shannon Scott, as long as they put in the work during the offseason.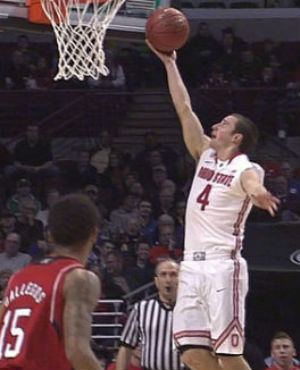 I also think we saw a renewed appreciation for Matta. Sometimes it can be easy to forget how spoiled we are compared to just 10 years ago. Our 2003 selves would hate us for complaining about barely missing out on a Final Four.
Matta took a team that wasn't his most talented and got them to come together at the right time, and even if they didn't go quite as far as they could, they at least never quit and the team figured out what they could do. With most of the players coming back next season, that could pay dividends.
Chris: I thought it was a pretty fun ride watching Deshaun carry the team for a large stretch of the season, and then finally get some help as the Buckeyes went on the winning streak. I have nothing but respect for Deshaun as a player and a person and watching his evolution as a player and person was pretty cool.
Watching Aaron Craft and Shannon Scott completely change the complexion of games with their defensive efforts also excites me for next year. I know everyone is worried about the offense but if those two are ball-hawking in tandem for increased minutes, combined with Thad's typical ability to get a team to truly commit at the defensive end of the floor, Ohio State won't need to score more than 60 points on most nights to win. That definitely excites me.
Having touched on those two, I think the best things to come out of this year are how Q matured down the stretch and performed in tournament, along with the glimpses Sam Thompson showed as an offensive player. I think Ross can now finally taste greatness and the tourney success could be a major springboard into him working his ass off – on his overall game – this summer, which could be scary. As for Thompson, he doesn't have the same offensive ceiling but if he can continue to smooth out that jumper, he should find it easier to reach the rim off the bounce, which would make him a very dangerous 2nd or 3rd option on a team that knows it will have to share the ball in order to score points.
Michael: I think the best thing was winning the B1G tournament. A close second is the development of Sam Thompson, LaQuinton Ross and Shannon Scott. Thompson and Ross have shown an ability to dominate for at least half a ball game. Hopefully they'll reach the next level in 2013-14. Scott's defensive wizardry was pretty astounding, and pairing him with Craft is the ultimate achievement for a basketball sommelier like Matta. If Scott becomes a scoring threat in the 8-10 PPG range, this will be the B1G's best backcourt next season.
What were the worst things to come out of this season?
Sarah: Michigan having a shot to win the national championship.
Also there was a very deja vu ending to the season — cold shooting and an inability to drive to the basket. If just a couple more buckets fall, the season isn't over yet. Again. The only thing missing is Ned Ryerson popping out. It's such a gutpunch way to say goodbye to college basketball every year.
Chris: Amir's lack of growth is the easy answer here. To see him show only tiny flashes of being the pissed off rebounder and shot blocker this team so desperately needed amidst all the minutes he played soft, essentially allowing defenders to take the ball away from him, was mind-numbingly frustrating because he showed what he could do if only he played the game as passionately as Craft. 
The silver medal goes to Lenzelle Smith Jr. I think he's a great kid and a great competitor but it looked almost like he lost his identity, or maybe it's more appropriate to say he kind of lost touch with what his role was, as Scott began to eat at his minutes. It's almost like he began pressing to do too much, forcing things at the offensive end because he knew that was the skill-set advantage in comparison to Shannon and subsequently his best chance to stay on the floor.   
Michael: The worst thing to me was the way both games in the Mitten State ended. Scott's ill-advised Hail Mary in East Lansing and the foul(s) that wasn't/weren't called at the end of the game while in Ann Arbor, where Craft was abused like the Sisters treated Andy Dufresne in The Shawshank Redemption. I feel like those endings were the difference between one trophy and two this season.
What are your top concerns entering 2013-14?
Sarah: LaQuinton Ross certainly had a breakout tournament, but can he be the consistent scorer that Deshaun was, and can anyone else help on a regular basis?
Ohio State also needs more production out of the five-spot, both on offense and defense. In the last couple of games, Amir showed a toughness he lacked most of the year, but he needs to develop more into a threat down low. Basically, he has got to start playing like the promising talent he was when he was named a McDonald's All-American rather than the incomprehensible Grimace-like creature with disturbing hands we saw too often.
Chris: I'm most concerned about Amir and just how much he will develop over the summer. Ohio State has won a ton of games during Thad's tenure without a truly impactful center but next year's squad could really benefit from having Amir at least improve his defense in the paint. If he can be more effective altering shots off dribble drives and help keep the Bucks from being outrebounded by more than five or six against legit teams, anything he gives them offensively would be a bonus.
Lenzelle hitting a plateau, or arguably even regressing a bit, is another chief concern though I think Ohio State will have enough depth either way with Scott and Kameron Williams in the backcourt rotation.
What I think is the biggest need, which doubles as a giant concern, is whether or not Craft can develop a jumper that defenses respect from 18 feet or so. He doesn't need to be a dead-eye bomber but if he can't give Ohio State enough points from outside the paint, that will only put more pressure on Ross than he'll already shoulder in what will be his first season where it is demanded that he score solid double-digit points on a consistent basis.
Michael: Like the others, my biggest concern for next year is the pivot. Amir Williams has feet where his hands should be, which restricts his usefulness on the offensive end. He must spend some time getting stronger and learning how to catch. When there's no threat of the "roll" player catching the pass, a pick and roll is useless, and Shannon Scott is outstanding at running the pick and roll. On the defensive end, he's more likely than not to have two fouls by the under-16 television timeout. That must change. Trey McDonald offers little more than energy off the bench at this point and his development would be most welcome.
What are the biggest positives entering 2013-14?
Sarah: Ohio State's winning streak began once they started clamping down on the defensive end and embracing that as their identity. Next year they will once again be a very strong defensive team and much to Matta's delight, will have some veteran leadership for the first time since David Lighty's 12th year.
The last third of the season should have given a few guys a confidence boost; Ross, Thompson, and Scott haven't hit their ceiling yet and could all be on the cusp of becoming special players who will infuriate opponents, though maybe not on a Craftian level.
Chris: Craft's leadership is the biggest positive. A close second is how Ross performed in the tournament and after that, I'd say the fact that Thompson could be on the cusp of putting it all together, becoming far and away Ohio State's most improved player.
Michael: It has to be the big Q, as in Q Ross, and his newfound confidence. I think he'll be pretty murderous to defend next year.
Call your shot. Who wins the B1G regular season next year? Who wins the B1G tournament?
Sarah: Caveat: I have no idea who the incoming recruits are for the other B1G teams and besides, presumably, Deshaun Thomas, Trey Burke, and Tim Hardaway Jr., I'm not even sure who won't be back next season.
So long as none of the Spartans leave early for the draft, I'll pick Michigan State to win the B1G. They tied with Ohio State for second place and Adreian Payne could potentially dominate next season. With him, Appling, and Gary Harris, that's a solid nucleus returning (?) for Izzo.
But Sparty never seems to do all that well in the conference tournament. Ohio State, however, usually at least makes it to the finals. But I won't jinx them by predicting back-to-back titles. Instead, I'll go with a wildcard: Iowa, who arguably should have made the NCAA Tournament and could be pretty dangerous next season. Assuming most of their players aren't graduating or don't become innocent bystanders to AIRBHG. 
Chris: Ohio State sweeps. 
Michael: As Sarah mentioned, it's tough to tell until we know exactly who will stay and go, and incoming frosh are always a big question. I think Sparty will be hard to top for the regular season crown. Ohio State, Michigan, Indiana, and Wisconsin will likely be among the favorites again, but Illinois and Iowa will get better and make the B1G grind even more grindy. I like Matta in the tourney, based on history.