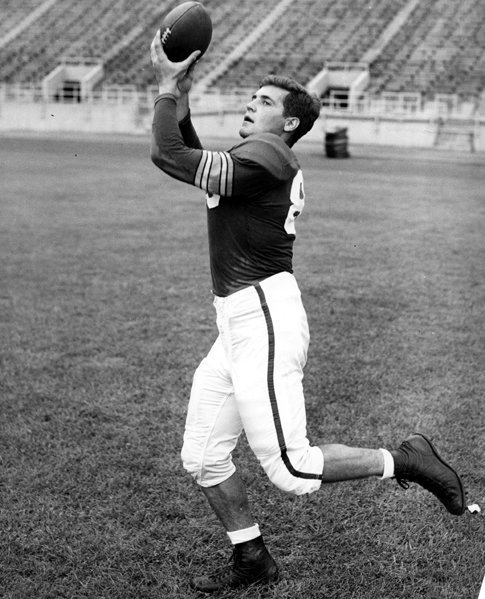 Pending approval from the Board of Trustees, a $13.5MM gift to establish the Jameson Crane Sports Medicine Institute - and fund early childhood and foreign language initiatives at Ohio State - will soon become reality.
The majority of the three-pronged gift will honor Jameson Crane, a former Ohio State football team member (pictured above) 1947 graduate of Ohio State and chairman emeritus of the Crane Group, a family-owned, private holding and management company based in Columbus.

"Our family is intrinsically tied to Ohio State, and we are thrilled to be able to make this contribution to enhance the great work of sports medicine at Ohio State, the College of Education and Human Ecology, and the College of Arts and Sciences," said Jameson Crane. "I get a great measure of happiness seeing an impact like this made in my lifetime, and am grateful beyond measure to the three generations of my family who have banded together to make this dream donation a reality. Columbus has been a very supportive community to the Crane family, and we feel a strong obligation to give back. I hope our heartfelt contribution will benefit this community in a significant way."
Largest, best-in-class state-of-the-art facility? Check.
 The 140,000 square foot facility will provide new, expanded space for Ohio State's sports medicine collaborative and innovative programs of health care, education, training and medical research. Plans for the structure include physicians' offices, large scale human performance labs, sophisticated imaging facilities, computer modeling and biodynamics laboratories, full range physical therapy and rehabilitation areas, and state-of-the-art surgical suites designed for observation and training.
And speaking of check, how did this generous gift materialize?
The gift supports the ongoing work of the university's But for Ohio State campaign. Last October, Ohio State announced the launch of a $2.5 billion university-wide fundraising campaign that supports funding for five priority areas: placing students first, elevating faculty and academic enterprise, creating modern learning environments, emboldening our research agenda, and driving high-impact innovation.
Gordon Gee takes a lot of shots for his expense accounts, occasional word-smithing failures and neckline haberdashery - but in terms of being a high-performing salesman for his employer: He's the guy who goes on those fancy awards trips every years.