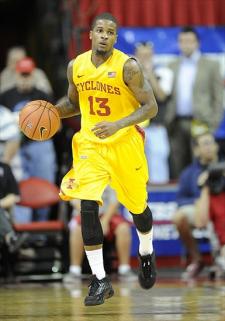 There are no easy games from here on out. If a team advances to the second round of the NCAA Tournament, there's a reason: they're good.
Ohio State is already aware of the test that awaits them on Sunday. Iowa State has gone toe-to-toe with the nation's elite this season and is coming off a thrashing of No. 7 seed Notre Dame.
The Cyclones stand between the Buckeyes and history. Ohio State has never advanced to the Sweet 16 four consecutive years, but that's what will happen if Iowa State is defeated. Thad Matta's nine years in Columbus have involved countless firsts for the historic program. In a region filled with upsets, though, the Buckeyes are staying focused on what is occurring inside UD Arena.
"All we've talked about this week with our guys is the two games in Dayton," Matta said. "Hopefully on the bus ride home, we're saying, 'OK, this is the next opponent, and these are the four teams that are there.'"
This is the third time Ohio State has appeared in Dayton during the Matta era. In the previous two trips, it failed to reach the Sweet 16. But this Ohio State team is much better than those two.
The Buckeyes are in an entirely different world defensively than the 2006 and 2009 teams were, and Deshaun Thomas provides a scoring element that wasn't present in the past.
"I think as a team, we're all doing our roles now," said point guard Shannon Scott. "We're not trying to do one-on-one basketball now. We're all playing together, and that's really helped us out a lot. Coach Matta talked to us about this – playing our game – and we know what we've got to do to win."
It will take a mixture of hard-nosed Big Ten defense and guarding the perimeter. Iowa State can play multiple styles, whether it's banging down low or going behind the three-point line.
Ohio State has been tasked with stopping similar style teams this season. Assistant coach Jeff Boals described the Cyclones as a mixture between Indiana and Michigan State.
"We know that Iowa State is a tough, physical basketball team," sophomore guard Sam Thompson said. "I know they're experienced and they've been here before. We think the rigors of the Big Ten season have prepared us well for a physical game, and we feel if we match their intensity, good things will happen for us."
Opponent
There are teams that enjoy shooting 3s, and then there's Iowa State. The Cyclones lead the country with 9.7 made 3s per game and have made 10 or more in 19 games. 
Iowa State spreads the court and attacks from every angle. It can also score in the paint, with the 4 and 5 capable of making shots from long range. In a blowout win over the Irish, Iowa State kept the ball inside the perimeter much of the game. To beat Ohio State, though, points must come in bunches.
Almost half the Cyclones' shot attempts come from three-point range. A percentage nearing that with a similar conversion rate is the recipe for an upset.
"The Iona game probably helped us," Matta said. "Iowa State is bigger and stronger. They have guys that can score inside as well. It's a do-both kind of game. You have to guard the 3, guard the basketball, give support and, most definitely, rebound the ball."
The Buckeyes will be the best defensive team Iowa State has faced all season. Aaron Craft and Shannon Scott have keyed a nine-game win streak with the starting point being defense. Turnovers are Ohio State's best friends, and it can create them in myriad ways.
"I think Aaron Craft is as dominant a defensive player at the guard spot maybe that I've ever seen," Iowa State head coach Fred Hoiberg said. "He just poses so many problems as far as creating turnovers which lead to run-outs which lead to baskets. We've got to take great care of the basketball."
During the Buckeyes' win streak, no team has made double-digit 3s in a game. The primary scouting report on Iowa State says be aware of the three-point shot. But in the win over Notre Dame, freshman big man Georges Niang scored a career-high 19 points. The Irish had little answer for the Cyclones offensively.
Niang has proven to be one of the top freshmen in the country. He's converted on more than 50 percent of his shots from the field and befuddled opponents all season.
"He's a great player," said Buckeyes forward Deshaun Thomas. "He plays hard and is learning the game. He doesn't play above the rim, but he gets the job done."
Where Thomas becomes an issue for Iowa State is on offense. But Chris Babb, an All-Big 12 defender, has been there, done that. He's been responsible for guarding the best player on opposing teams much of the season.
"It's going to be a complete team effort," Niang said. "It seems like he can score from anywhere on the floor. He can shoot the ball, he can score inside and he's really physical on the boards. So it's going to take a full team effort on the boards and playing good defense to stop him."
Buckeye Breakdown
The affection for Sam Thompson's dunking abilities has been a two-year process for Buckeye Nation. The highlight of his countless signature moves at the rim may have come in the first half of Ohio State's first-round win over Iona.
Scott lobbed a pass near Thompson, who rose high above the basket to throw down a powerful one-handed jam. Thompson has been rumored to have a 46-inch vertical, and every last bit of that became apparent.
It put the clamps on an Iona run, restoring order and lifting the Buckeyes to victory.
"The way Sam threw it down, it really changed the game," Scott said. "All five guys on the court really pick up their defense when you get a dunk like that. Whenever he does that, we really pick it up."
Thompson would finish the night with career highs in points and rebounds – 20 and 10. Most of those points came on dunks that were worthy of an appearance on SportsCenter's Top 10 plays.
Get Smart
OSU is 5-0 all-time vs Iowa State, including a 1-0 record in the NCAA Tournament.
OSU is 17-2 in the state of Ohio this year.
A victory would mark OSU's 14th appearance in the Sweet 16.
Jim Nantz and Clark Kellogg have the call.
Matta showed his team clips of 15 seeds beating 2 seeds early in the week to ingrain into their minds that an upset was possible. LaQuinton Ross then showed the team an inflammatory NY Post article that hinted at Iona guaranteeing victory. The words weren't exact, but it drove home the point to the Buckeyes.
The athleticism of Thompson was part of Ohio State's rebuttal; so too was a defensive effort Iona was unfamiliar with. Is Iowa State in store for the same rude awakening?
"We are playing a team that beat a higher seed now, but that's not a surprise anymore," Scott said. "That's what happens all the time in this tournament. If we're not ready, we could be next."
The 1, 3, 4 and 5 seeds have all lost in the West Region. The Buckeyes have done their best at avoiding talk about the plethora of upsets occurring in their region. But there comes a time when it is inescapable.
The teams that have exited with heads hung low were slated to be possible opponents. Ohio State would be forgiven if it's glanced at the bracket and seen a clear, easy path for a return trip to the Final Four.
"You don't go to the Final Four last season without knowing it is game by game," Matta said. "If we don't play well tomorrow, it is irrelevant with who is beating who because we aren't playing anymore. I think these guys are mature enough to understand that."
| # | Name | YR | HT/WT | PTS | REB | ASST | P | # | Name | YR | HT/WT | PTS | REB | ASST |
| --- | --- | --- | --- | --- | --- | --- | --- | --- | --- | --- | --- | --- | --- | --- |
| 4 | A. Craft | JR | 6-2/190 | 9.7 | 3.5 | 4.7 | G | 13 | K. Lucious | SR | 5-11/170 | 9.8 | 1.9 | 5.6 |
| 32 | L. Smith Jr. | JR | 6-4/205 | 9.5 | 4.9 | 1.5 | G | 2 | C. Babb | SR | 6-5/225 | 9.2 | 3.4 | 2.3 |
| 12 | S. Thompson | SO | 6-7/190 | 7.8 | 3.4 | 1.0 | F | 21 | W. Clyburn | SR | 6-7/210 | 14.9 | 6.9 | 2.1 |
| 1 | D. Thomas | JR | 6-7/225 | 19.6 | 6.1 | 1.3 | F | 3 | M. Ejim | JR | 6-6/230 | 11.3 | 9.3 | 1.4 |
| 23 | A. Williams | SO | 6-11/250 | 3.7 | 3.9 | 0.1 | C | 31 | G. Niang | FR | 6-7/245 | 12.2 | 4.5 | 1.8 |