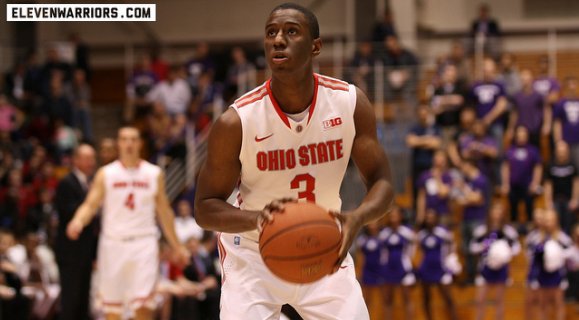 Okay, so the headline might be overcooking it if you're looking at the entire season, but there's no mistaking the impact Shannon Scott has had on Ohio State's resurgence. 
Seemingly dead in the water after suffering a 71-49 shellacking at the hands of the Wisconsin Badgers back on February 17, the Buckeyes have now peeled off six straight wins. The last five came in regular season play, vaulting OSU to a 13-5 record, a 2nd place finish in the league, and a #2 seed in the B1G tournament while the sixth victory, yesterday's 71-50 blowout of Nebraska, set up this afternoon's tournament semifinal matchup against Michigan State. 
While factors such as the improved play of Aaron Craft, and to a lesser extent Sam Thompson, have also had a hand in the late-season push, Scott's breakout stretch has been every bit as important, if not more so.
Passing the eye test with flying colors amidst Ohio State's current season-turning winning streak, I wanted to see just how well Scott's numbers during the impressive run stack up against his output in the first 13 league games.  
Sitting at a middling 8-5 in the B1G standings following the crushing loss at Wisconsin, Scott's numbers were decidedly meh:
SHANNON SCOTT'S STATS THROUGH 13 B1G GAMES

| MPG | FG% | FT% | RPG | APG | APM | SPG | SPM | PPG | PPM |
| --- | --- | --- | --- | --- | --- | --- | --- | --- | --- |
| 18.5 | 30% | 55% | 2.4 | 3.1 | .17 | .92 | .05 | 2.6 | .14 |
The numbers through the first 13 conference games illustrate exactly what your eyes witnessed: Scott couldn't throw the ball in the ocean but he could drive and dish, creating a solid amount of assists for a player averaging only 18.5 minutes per contest and even though he wasn't generating a ton of steals, he applied solid ball pressure.
Even with the mediocre cumulative numbers, especially when lining up a shot, he did show some flashes such as the three-assist, three-steal and three-rebound effort in the blowout loss to Illinois followed by an aggressive eight-assist, six-rebound effort in a 10-point road win over Purdue. 
When the competition ratcheted up, however, Scott hit a wall. He coughed it up three times against four assists in a three-point win over Michigan followed by another three-turnover effort, this time against Michigan State, that also featured a boneheaded play at the end of regulation which killed Ohio State's chance at a possible upset in East Lansing. Combined, in 41 minutes, Scott turned it over six times and missed five of seven shots. 
Three days later against Iowa, Scott turned it over twice more and and missed four of six shots in 18 minutes to give him a three-game statline reading 4/13 from the floor with eight turnovers. 
The result was diminished floor time as Thad lost confidence in his sophomore guard. Receiving almost 22 minutes per game in league play to that point, Scott averaged just 13 minutes over the next five outings, making very little impact along the way.
It looked like things might be turning around as Scott was the benefactor of Thad employing a small lineup against a banged-up Northwestern outfit. Playing a then season-high 26 minutes, Shannon responded with seven rebounds, five assists, a steal, a block and five points on 2/4 shooting as the Buckeyes outlasted the Wildcats in Evanston. 
Unfortunately, the honeymoon was short-lived when Scott missed three of four shots, turned it over once and failed to record a dime in 19 minutes of action in the embarrassing defeat in Madison. 
Basically, while it was easy to get excited about the defensive attitude he brought to the floor and his ability to beat his man off the bounce, his inability to finish at the rim, in addition to a freakishly heavy jumper, posed a serious problem for the Buckeyes, who were already struggling to generate points from the perimeter spots. And that left Deshaun Thomas carrying too much of the offensive burden.  
But then, with the season at a crossroads and Matta searching for answers, he began to more frequently employ a smaller, faster lineup that saw Scott gobble up increased minutes while partnering with Craft to turn up the heat on opposing backcourts. 
The numbers don't lie: 
SHANNON SCOTT'S STATS OVER THE LAST SIX B1G GAMES

| MPG | FG% | FT% | RPG | APG | APM | SPG | SPM | PPG | PPM |
| --- | --- | --- | --- | --- | --- | --- | --- | --- | --- |
| 23.8 | 52% | 65% | 3.0 | 4.0 | .17 | 2.8 | .12 | 6.5 | .27 |
Before even digging into game specifics, Scott's slash line during the winning streak compared to the previous 13 games makes a strong statement. 
The sophomore is shooting it at a 52% clip over the six games, a sharp contrast to his 30% accuracy in prior conference play while maintaining a strong assists per minute mark and more than doubling his steals per minute. 
To start the streak, Scott reached double figures with 11 points along with five dimes and three blocks in a thrashing of Minnesota, showing his ability to thrive in transition both offensively and at the defensive end of the floor.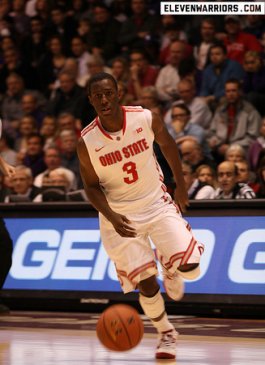 His output was modest in the payback of Michigan State, though he did pick up a couple swipes, and four nights later, he was a difference maker in a 10-point win over Northwestern. Scott was all over the floor defensively, picking up four steals and he was just as slippery at the offensive end, totaling eight assists.  
The real show came five nights later in Bloomington when the Buckeyes spoiled Senior Night with a nation-noticing 67-58 upset of the Hoosiers. Scott did a little bit of everything – eight points, three assists and three rebounds – but it was his four steals that best spoke of his impact. Scott and Craft absolutely stifled the Indiana backcourt. Oladipo turned it over four times and was held to seven points and Yogi Ferrell missed seven of ten shots plus committed a couple turnovers. The night illustrated what kind of influence a pair of stud ball-pressure guards can have on a game. Further, it showed just how dangerous this team can be when Craft, Thompson and Scott are all contributing in various ways in support of Deshaun's scoring. 
In the regular season finale, Scott once again teamed with Craft to create disruption on defense, totaling nine rebounds and two steals including the midair theft and behind-the-back pass in one motion in what amounted to a glorious hockey assist. Offensively, Scott did work with seven points and three assists, though he did cough it up four times.
Finally, last night in the United Center, Scott offered more of the same, registering two steals and three boards while adding seven points and four assists on 3/3 shooting in 20 mostly game-changing minutes. He keyed a 12-0 spurt that gave Ohio State the lead for good midway through the first half, confidently stroking a jumper late in the shot clock before splashing a triple. At the other end of the floor, he converted a steal into a fast break layup for Craft and later snagged a Ravenel strip and started another breakout that culminated in a pair of free throws for Thomas to cap the run. 
With Scott and Craft harassing opposing guards and giving Ohio State's offense some spark, especially off dribble penetration, coupled with Thompson's improving overall game and the sporadic scoring of Lenzelle Smith Jr., the Buckeyes aren't forced to be as reliant on Thomas. That's the beauty of this current streak. Multiple guys have played at a higher level in numerous facets of their respective games, paced by Scott, showing just how good Ohio State can be when almost everyone is clicking in support of Deshaun.
The streak is back on the line again this afternoon as the Buckeyes square off against Michigan State for a spot in the B1G final plus an increasingly likely #2 seed in the NCAA tournament. If Scott can work in tandem with Craft once more to lead what is currently a strong-performing supporting cast, Ohio State will move that much closer toward positioning themselves for another shot at a B1G title and a deep run in the Dance.