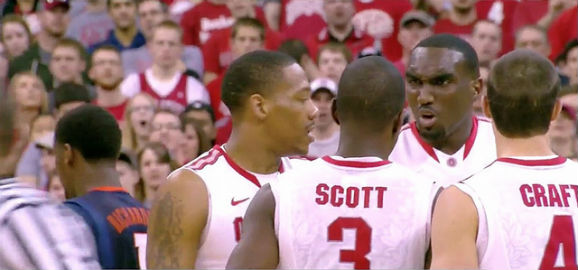 We've reached the end of the regular season and are about to enter the lose-and-go-home portion of the 2012-13 college basketball season. So now we know.
Michigan is still coughing up chunks of that Sunday matchup against Indiana upon which it choked so hard. No Wolverine showed the requisite onions to put the Hoosiers away by drilling a couple of simple freebies and Indiana made them pay.
Had the Sun & Blue managed to hold on, the Buckeyes would have snagged our final top ranking by virtue of Tuesday's huge road win and the longest current winning streak in the conference. But alas, this is why you can never count on anything good coming out of Michigan.
As we look toward the B1G shooty hoops tournament in Chicago, Ohio State and Iowa seem to be playing their best basketball. Indiana may be able to ride its final regular season game into the postseason, and Wisconsin's big shot on Sunday has to have the Badgers feeling good.
Meanwhile, Minnesota and the Illini are trending downward and Northwestern is playing the league's worst ball.
Here is the full tournament bracket.
There are no ties this week. Here are your final B1G power rankings:
1. INDIANA (26-5, 14-4)
We sent Kyle to cover the No. 2 Hoosiers against No. 14 Ohio State on Tuesday and I'm sure he couldn't wait to tell you about it. Victor Oladipo was held to seven points and Indiana to 40% shooting on its home floor as the Buckeyes walked out of Bloomington with a 67-58 upset win. Cody Zeller scored 17 points but grabbed only four rebounds as the Buckeyes won the glass, 37-32.
Indiana gave up 16 points on its 12 turnovers, counteracting a 40% night from the arc (6/15). The Hoosiers got only seven points off their bench to Ohio State's 20.
Zeller scored 25 points to lead all scorers, including some big buckets in the final minute, to power Indiana's 72-71 victory in Ann Arbor Sunday. But it's more accurate to say that No. 7 Michigan vomited up a game it had all but won.
Oladipo played like the national player of the year with his 14 points and 13 rebounds, but his disruptive defense was even more impressive. He bothered Trey Burke all game long.
Indiana's 47-26 advantage on the glass was impressive, and its 19-10 edge on the offensive end more so. The Hoosiers rebounded half their missed field goal attempts in the first half. It kept them in the game during a prolonged stretch in which Tom Crean inexplicably sat Zeller, Oladipo and Yogi Ferrell at the same time.
Indiana has the top seed in the B1G tourney and will meet the Minnesota-Illinois winner at 11 a.m. on Friday.
2. OHIO STATE (23-7, 13-5)
The No. 14 Buckeyes got their first road win ever against a top five Indiana team Tuesday night, thanks in great part to 18 points and eight rebounds from Deshaun Thomas, and 15 points, four rebounds, four assists and four steals from Aaron Craft. The rosy-cheeked one took, and made, some big shots down the stretch, often going through Oladipo to do it.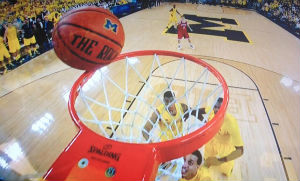 Sam Thompson chipped in a smooth nine points — all in the first half — and five rebounds. Despite having Amir Williams, Thompson and Evan Ravenel all in foul trouble, the Buckeyes played stifling, swarming defense to frustrate the Hoosiers.
Shannon Scott joined Craft in the four-steal club, and it was the Buckeyes who owned the transition game, not Indiana. Ohio State won the fast-break points, 14-2.
It was Ohio State's fourth straight win since the debacle in Madison on Feb. 17.
The Buckeyes made it five in a row to close the regular season behind Deshaun's 19 points and Aaron Craft's stellar all-around play (14 points, four rebounds, six assists, three steals), beating Illinois 68-55.
A 12-2 run before halftime proved decisive in the end. Ohio State won in almost every aspect: points in the paint (22-16), points off turnovers (15-12), and second-chance points (11-6), although the Illini had more fast-break points (13-6).
Thad Matta improved to 9-0 in regular season finales at Ohio State and 13-0 overall. Evan Ravenel scored seven with five boards in his final home game.
The Buckeyes finish with the same record as last year's conference co-champion team and will take on the Purdue-Nebraska winner on Friday at 6:30 p.m. A win Friday would most likely mean a third meeting with Sparty.
3. MICHIGAN STATE (24-7, 13-5)
Sparty stopped its swoon at the right time, picking up two wins in the final week of the regular season.
After scoring 18 total points in consecutive losses to Indiana, Ohio State, and Michigan, Keith Appling led the Spartans with 19 and five boards in a 58-43 rout of Wisconsin Thursday at the Izzone. Appling scored 14 of his points in the decisive second half.
Gary Harris scored 11 points and Adreian Payne fell one point shy of a double-double (11 rebounds).
The Spartans shot just 37% from the floor and 20% from distance, but both numbers were better than their counterparts from Madison. The offensive efficiency would have made James Naismith cry.
Appling scored 16 more points with four rebounds, and Harris (12), Payne (11), and Derrick Nix (11) also reached double figures Sunday in a 71-61 win over Northwestern at the Breslin Center.
Michigan State forced only seven turnovers but ultimately did enough to claim a second-place tie with Ohio State.
The Spartans are the No. 3 seed and will get the Iowa-Northwestern winner in Friday's late game.
4. WISCONSIN (21-10, 12-6)
The Badgers finally bowed out of the B1G title hunt Thursday in East Lansing. With an uncharacteristic 16 turnovers, 29% overall shooting and 17% (4/23) from the arc, it was a game to forget for Wisconsin. The Badgers finished with more turnovers than made field goals (15).
Bo Ryan's bunch failed to score for a seven-minute stretch early in the second half and the game was effectively over. Ben Brust led the scoring with just 10 points. Ryan Evans finished with nine points and 11 rebounds.
Traevon Jackson's triple at the buzzer broke hearts all over Happy Valley and gave Wisconsin a 63-60 win at Penn State. Jackson paced the Badgers with 15 points, adding five rebounds and four assists. Sam Dekker scored 14 off the bench. Ben Brust (13) and Jared Berggren (12) also reached doubles.
Wisconsin hit four more threes than Penn State, including the final one by Jackson. It's essentially the only statistical difference between the teams.
The Badgers are the No. 4 seed in the B1G tourney and get the Michigan-Penn State winner in Friday's second game. That winner likely gets Indiana in the semifinals.
5. MICHIGAN (25-6, 12-6)
Trey Burke posted 26 points, seven assists, five rebounds and three steals in a complete night's work, leading Michigan to an 80-75 comeback win over Purdue in West Lafayette Wednesday night. The Wolverines avoided the upset bug by overcoming a 12-point deficit over the final 12:04.
Nik Stauskas added 17 points and Tim Hardaway Jr. scored 16 to go with five boards. Michigan turned the ball over just five times to Purdue's 13 and outscored the Boilers, 50-41, after halftime to keep its conference title hopes alive. Burke was clutch down the stretch, scoring his team's final seven points — all from the stripe.
We all saw Michigan urinate away a five-point lead in the final minute, missing three of four free throws — including the front end of two one-and-ones — and Burke's would-be winning layup, as well as the ensuing missed tap-in. It infuriated three fan bases and cost Matta's team a fourth consecutive B1G title, but it's hard to be too upset when Michigan loses.
Burke led his team with 20 points, but was extremely inefficient (7/20 shooting, four turnovers) and was too selfish down the stretch. He missed the front end of a one-and-one shortly after Hardaway had done the same, and his layup in the dying seconds wouldn't fall.
Missed layups killed Michigan, with Jordan Morgan botching a few and Mitch McGary missing an uncontested one deep into the second half. Burke missed a few as well, but was picked up by teammates on offensive put-backs.
Wolverines not named Burke combined for only two turnovers. Glenn Robinson III scored 13 and Nik Stauskas added 12, with Hardaway notching 11. The Michigan bench was outscored, 15-7, and the 7/13 (54%) from the stripe was deadly, particularly late.
TTUN thus gets a date with Penn State on Thursday, which seems a just punishment. As does a slide to fifth, especially considering Wisconsin's win over Michigan in their head-to-head meeting.
6. IOWA (20-11, 9-9)
Roy Devyn Marble scored a game-high 21 points, with six rebounds and four assists to lead Iowa's 63-55 victory over Illinois Tuesday night in Carver-Hawkeye Arena. Josh Oglesby added 10 points off the bench for the scrappy Hawkeyes, who held the Illini to just 29% shooting.
Iowa tied a school record with its 12 blocked shots in the game, and played selfless ball, assisting on 15 of 21 made field goals.
Aaron White scored 19 points to lead all Hawkeyes in Saturday's 74-60 thrashing of Nebrasketball at Carver-Hawkeye Arena. He also posted six rebounds and three assists.
Melsahn Basabe registered a double-double on 11 points and 13 boards for an Iowa squad that shot a filthy 57% from the floor. The Hawkeyes overwhelmed the Huskers inside, with a 37-16 rebounding advantage.
Iowa won six of its last eight regular season games, with one of the two L's coming at Indiana and the other coming at, surprisingly, Nebraska.
The Hawkeyes will be happy drawing sinking Northwestern in the first round of the B1G tournament on Thursday.
7. ILLINOIS (21-11, 8-10)
Brandon Paul scored 18 points and D.J. Richardson added 13, but the rest of the team managed just 24 as the Fighting Illini fell in Iowa City. Illinois hit only 10/17 from the stripe (59%), which didn't help.
The Illini bench got owned, 20-9, and made 18 field goals while getting 12 attempts swatted. A 9/29 night from the arc contributed to the Illini's frustrations.
As usual, Paul saved his best for Ohio State, but even his 21 points weren't enough for Illinois to overcome the Buckeyes on the road. Paul also grabbed five rebounds before fouling out late. Richardson scored 10.
The Schott was quiet with the students on spring break, but it didn't help the Illini, who scored only 24 points in the first half. Illinois hit only 35% from the field and 28% from the arc.
The Illini will play Minnesota at 11 a.m. in the early 8-9 game Thursday.
8. MINNESOTA (20-11, 8-10)
The Golden Gophers blew their shot at a winning conference record with a 53-51 upset loss at Nebraska Wednesday. It was Minnesota's seventh consecutive B1G road loss after winning at Illinois on Jan. 9.
Trevor Mbakwe led Minnesota with 15 points and six rebounds. Andre Hollins scored 14 and also grabbed six boards. Rodney Williams and Austin Hollins combined for zero points and a 0/9 shooting night.
The Gophers will look back on their 10/20 performance from the line with regret.
Minnesota made it eight consecutive road losses on Saturday, falling at Purdue, 89-73. The Gophers didn't get it done on defense, allowing 54% shooting.
Andre Hollins did his part with 24 points, nine assists and four rebounds. Rodney Williams helped with 13 points and six boards. But clearly the Gophers lack an edge away from Williams Arena.
Minnesota will play away from Minneapolis again on Thursday, going up against Illinois. If the Gophers win they get the Hoosiers.
9. PURDUE (15-16, 8-10)
Terone Johnson's 32 points and seven rebounds simply weren't enough to overcome Burke and Michigan on Wednesday. Rapheal Davis chipped in 15 points and nine boards, and Sandi Marcius scored 13 with five rebounds off the bench.
Purdue lost its 10th B1G game for the first time since Matt Painter's first season in West Lafayette in 2005-06. The Boilers outrebounded Michigan, 38-25 (12-6 on offense), but couldn't get stops or force turnovers.
Davis and D.J. Byrd scored 18 points each in the win over Minnesota. Byrd was 4/8 from the arc and his team was 7/15 from distance overall (47%). A.J. Hammons and Ronnie Johnson chipped in 14 each and the Boilers enjoyed a 13-8 advantage in turnovers.
Purdue will take on Nebrasketball Thursday at 6:30, with the winner advancing to play the Buckeyes on Friday.
10. NEBRASKA (14-17, 5-13)
Nebrasketball closed the Bob Devaney Sports Center with a win, thanks to Brandon Ubel's 15 points, six rebounds and four assists. Dylan Talley chipped in 12 points. The win clinched the No. 10 seed in the B1G tourney.
The Cornhuskers led by five with seconds to play and then threw Minnesota a lifeline. Andre Hollins scored in the paint to cut the lead to three and then Nebraska took a five-second violation on the ensuing inbound play after the timeout.
Rather than foul immediately, the Huskers allowed Maverick Ahanmisi to jack a three. It missed, and all of Nebraska celebrated.
Cornhusker Nation was not as elated with the season finale at Iowa. Ray Gallegos scored a game-high 22 in the loss and Talley helped with 11. The duo accounted for more than half the team's points.
Next up for Nebraska is a date with the Boilermakers Thursday evening in Chicago.
11. PENN STATE (10-20, 2-16)
Jermaine Marshall and D.J. Newbill scored 18 points each to lead Penn State's 66-59 road win at Northwestern Thursday. Sasa Borovnjak added 15 points and grabbed 10 rebounds. The Nittany Lions overcame 16 turnovers (seven by Newbill alone) and zero bench points to win their first road game in conference play.
Penn State shot 49% and held the Wildcats to 35% shooting. The Nitts started and finished strong, scoring the game's first 12 points and 13 of the final 18.
Newbill's hoop with five seconds to play in regulation was the biggest of his 22 points, tying the game against Wisconsin at 60. Unfortunately for the Nitts, Traevon Jackson happened. If not for the possession arrow favoring Wisconsin, the Lions would have had the last look instead of Jackson.
Marshall scored a game-high 23 and snatched five boards. Penn State players not named Marshall or Newbill combined for 15 points.
Penn State's record isn't as good as Northwestern's, but it finished the regular season playing much better basketball than the injury-plagued Wildcats and beat them on the road in the final week of the season.
The Nitts are the 12 seed and will square off with Michigan on Thursday, so they know it's a team they can beat.
12. NORTHWESTERN (13-18, 4-14)
The Wildcats lost their seventh straight game in Thursday's home loss to Penn State on Senior Night. Alex Marcotullio's 22 points could do nothing to save Northwestern, which was outrebounded, 30-19, and had only two fewer turnovers (15) than made field goals (17).
Reggie Hearn provided 11 points, five rebounds and four assists. About the only thing Northwestern did well was shoot free throws, going 17/19 (89.5%). The Wildcats may be the 11th seed in the B1G tourney, but they finished the season playing the league's worst basketball.
Although the Wildcats hung around on Sunday night, they did so against a Sparty team that had little to play for after its Mitten State conference mates let Indiana sneak out of Ann Arbor with the outright title.
Kale Abrahamson scored 16 points and Marcotullio and Tre Demps added 11 each, but Northwestern could not compete in the paint, allowing 66% shooting.
Northwestern lost its eighth consecutive game and 10th in the last 11, finishing as the conference's coldest team.
The Wildcats square off with Iowa in Thursday's late game.
NEW FRIENDS
Maryland (20-11, 8-10)
North Carolina denied Maryland a winning ACC record with its 79-68 win in College Park on Wednesday. The Terps were a horrible 3/23 from the arc, so maybe fewer long-range bombs were in order. Maryland fell again on Sunday, 61-58, in overtime at Virginia. The Terrapins shot 33%
Maryland dropped three of its last four games to finish on par with Minnesota or Purdue if compared with the B1G. The Terps get Wake Forest in the ACC tourney opener.
Rutgers (14-15, 5-13)
The Scarlet Knights squandered a 10-point halftime lead and got blown out, 39-23, after the break, en route to a 60-54 home loss to No. 15 Marquette Tuesday. It was the fifth straight loss for Rutgers and the 11th in the last 12 games. The Knights finished with a rare road victory to snap the losing streak, winning 56-51 at Seton Hall.
Rutgers finishes the season as about the 10th or 11th best team in the B1G and will face DePaul in the Big East tournament.