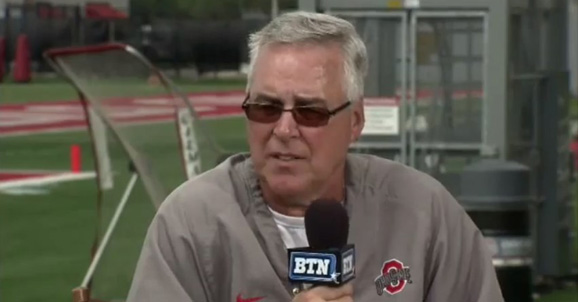 A rumor began to circulate this morning that former Ohio State defensive coordinator Jim Heacock may return to join Urban Meyer's staff in some manner. News first appeared courtesy of a plugged-in member of the BuckeyeSports.com message boards, and soon found its way to other places, including our own forum and Twitter.
We reached out to a couple of sources and have confirmed that discussions between Heacock and Ohio State are ongoing, but nothing is final yet. Ohio State declined to confirm the talks when reached for comment.
Heacock served on Ohio State staffs under John Cooper and Jim Tressel, first as the defensive line coach from 1996–2004 and then as defensive coordinator from 2005–2012 before retiring when he was not retained when Urban Meyer took over the program.
Meyer and Heacock do go back – it was Heacock, while serving as the head coach for Illinois State, that gave a young Urban Meyer his first real coaching job in 1988, when Meyer assumed the role of OLB coach of the Redbirds.
It goes without saying that Heacock would be a tremendous asset to any staff. His work ethic is legendary and his chops as a defensive strategist are unquestioned.
If Heacock does join the staff, expect it to be in a quality control capacity. That may sound weird given his résumé, but Nick Saban is in the process of filling similar positions with seasoned vets, and if there's anything we know about Urban Meyer, it's that he always has one eye on Saban.