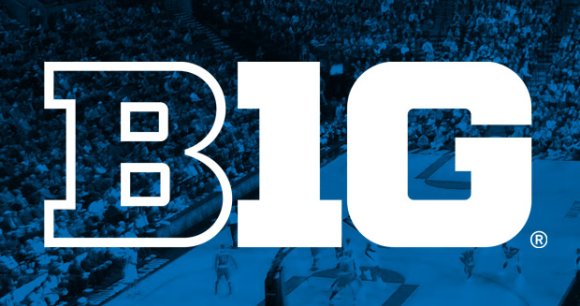 With the men's basketball All-B1G selection show slated for Monday night at 7:00 PM, we thought we'd beat the conference to the punch and announce the respective winners of this year's Dubbies, as selected by Kyle, Michael and yours truly. 
We incorporated the usual categories in addition to a few unique awards just to spice things up a bit. Interestingly, despite the impressive depth of solid teams within the B1G, and the roller coaster ride the Buckeyes took us on this season, our secret ballots are strikingly more similar than I anticipated. 
With the semantics out of the way, let's get to it. 
1st and 2nd ALL-B1G TEAMS
Even with the amount of talent spread across the league, I found it interesting that our individual first-team ballots were identical and our second-team ballots showed just slight variation:
11W All-B1G 1st and 2nd Teams

| Unanimous 1st team | kyle 2nd team | michael 2nd team | chris 2nd team |
| --- | --- | --- | --- |
| Trey Burke | Tim Hardaway Jr. | Tim Hardaway Jr. | Tim Hardaway Jr. |
| Aaron Craft | Aaron White | Gary Harris | Gary Harris |
| Victor Oladipo | Jared Berggren | D.J. Newbill | Jared Berggren |
| Deshaun Thomas | Adreian Payne | Adreian Payne | Adreian Payne |
| Cody Zeller | Trevor Mbakwe | Trevor Mbakwe | Trevor Mbakwe |
I'm not sure any of the first-team spots are all that debatable. I suppose it could be argued that a tad of homerism might be in play when it comes to Craft but as I scan the other names out there, nobody jumps off the page as a likely replacement. If I was forced to subtract Craft from the team, I'd go big and add Adreian Payne. Even in a bit of a frustrating league season, Craft still managed to rank 3rd in assists per game (4.2), 7th in free throw shooting (80.4%), 1st in steals (2.2) and 3rd in assists-to-turnover ratio (2.1). 
The variations in our respective second-team selections come in the form of Jared Berggren, Aaron White, D.J. Newbill and Gary Harris. Newbill's case is bolstered when you notice he's the fourth-leading scorer in conference at 16.1 points per game and 4th in assists at 4.1 per contest, but I just couldn't get past the fact no opposing defense really had to worry if Newbill went off because the rest of the team is so awful. Kyle and I really liked Berggren's versatility and toughness and Michael and I are definitely on the Gary Harris bandwagon. The kid really gave Sparty something they were sorely lacking with his 47% shooting from distance, providing Payne and Derrick Nix more room to operate in the post. 
B1G PLAYER OF THE YEAR
This is one that as of a week ago might have come out differently. Instead, thanks largely to Indiana's – and Victor Oladipo's late slide – coinciding with Trey Burke's late-season charge, Burke swept our ballots.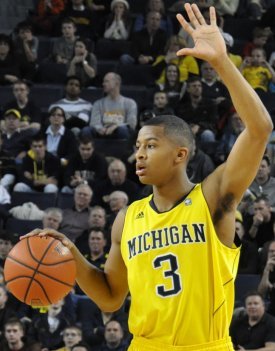 Kyle: Trey Burke has been the Big Ten's top player the entire season and arguably the best in the country. Just imagine where Michigan would be without him. He can do it on offense and defense, as evidenced in the win over Michigan State. Victor Oladipo is a fine player, but he has a habit of disappearing at times. In wins and losses, Burke is always Michigan's guiding light.
Michael: I hate to say it, but Trey Burke was the man this season. He wasn't always efficient, but then again, he wasn't always playing against Aaron Craft. Burke becomes the entirety of the Michigan offense when the game is on the line. And even though everyone knows this is the case, this season he usually delivered. I assume that missed trey at the end in Columbus was his shout-out to his hometown.
Chris: I really had a hard time deciding on a clear selection. As loaded as the league is with talent, and even though our first-team selections were unanimous, I'm not convinced any player really seized the award.
Deshaun was in the race for a while but the high-volume shooter has failed to reach 20 points in each of Ohio State's last five games and saw his field goal percentage dip as the grind of the season wore on. Oladipo, despite failing to even reach double figures in two of his last five outings, came away as my runner-up. He's an electric offensive player and can play some impressive defense, but ranking 12th in league play with 13.9 points per game isn't enough to capture the hardware.
In the end, I landed on Burke by default. As he goes, Michigan goes, similar to Deshaun yet Burke is playing on a team that features four freshmen in the top seven of their rotation. Down the stretch, Burke has scored 20+ in four of his last five games and the way he took over in the final seconds against Michigan State last Sunday was mighty impressive.  
B1G COACH OF THE YEAR
There's no question the B1G is loaded with talented coaches and many of them had outstanding seasons. As expected, we did not come to a consistent conclusion when handing out the B1G Coach of the Year. Depending on which side of the bed we woke up on, we could make a case for no fewer than four guys.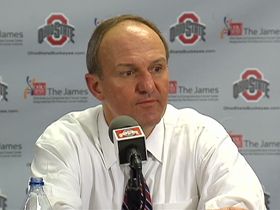 Kyle: Geez, how do you hand this award out? There are probably six or seven coaches deserving of the honor, including Matta. It's hard to give it to Tom Crean or John Beilein considering Indiana and Michigan were ranked so highly in the preseason. The same goes for Matta, but it's clear as day Ohio State had too many expectations heaped on them. The coaching job Matta has done in the past three weeks alone could win him the award.
I'm going with Iowa's Fran McCaffery, though. The Hawkeyes have improved every season he's been at the helm, and it looks like this year will end in the program's first NCAA Tournament bid since 2006. In the toughest league in the country, that's a job well done. Look out for Iowa in the next couple years.
Michael: Thad Matta. Is it the homer in me? Maybe, but so what? This season has been one of the best in terms of coaching since Matta arrived at Ohio State. He has no post players to speak of, four sophomores logging significant minutes, and his only senior is a reserve. He's winning games with one scorer and a whole lot of defense.
Chris: My initial reaction was to go with Beilein if for no other reason than the noted fact that so many freshmen log key minutes on a team that sits at 25-5 overall with a chance to share the B1G regular season crown. With Beilein crossed off, I flirted with Thad because it feels like a minor miracle that this team has a legit shot at a fourth straight regular season crown. On the other hand, though the preseason expectations were too high, the lack of development from guys like Amir and LaQuinton is tough to overlook. 
With that, I figured I'd go with my favorite coach in the league, Tom Izzo. The man takes on all comers and as I look at the roster, it's pretty impressive that he was able to generate a 23-7 overall mark including 12-5 in the league. I personally see his point guard as a huge albatross despite the 12.3 ppg, Nix is big but just so-so and Branden Dawson has yet to make the leap, leaving the emerging Payne and Harris to serve as the go-to guys down the stretch. But just as I was almost set on taking Izzo, I just couldn't overlook the fact they've lost three of their last four.
So, after all that, I'm back to Thad as my least definitive pick of all the awards. 
BIG FRESHMAN OF THE YEAR
Unlike the difficulty we faced in naming a Coach of the Year, identifying the Freshman of the Year was a layup. 
Kyle: Gary Harris has been one of the best freshmen of the season. Michigan State entered the season with some question marks, but Harris has been one guy to answer a lot of them. He's quickly developed into Michigan State's best scoring option and is lethal from beyond the arc. Not to mention, he can play pretty solid defense. As freshmen tend to do, Harris has gotten better throughout the season. But one difference is he hasn't really had that period where his growth is stunted.
Michael: For my money, it's Gary Harris. And this has been a great year for B1G freshmen (Stauskas, Ferrell, Dekker, McGary, Robinson, Hammons, Abrahamson, Clemmons, Gesell, Shields, etc.). Without Harris, Sparty isn't even in the conversation in the B1G race all year.
Chris: Even though the B1G is loaded with outstanding freshmen, this one is a no-brainer: Gary Harris.
B1G GAME OF THE YEAR (NON-OSU)
Kyle: Michigan at Wisconsin. The Ben Brust 3 at the buzzer will be played for years to come in Madison. It provided an improbable end to regulation of a great game. Early starts on Saturday are the best. You roll out of bed and immediately get to watch a high-level college basketball game. This one certainly didn't disappoint. It seemed like every time down the court there was a lead change. Then Hardaway hit what was thought to be a dagger at the top of the key. But Brust had other ideas. Michigan had no chance in overtime.
Michael: Michigan at Wisconsin. There have been so many great games you could pick here. TTUN-Sparty last week was a great game, and the two Indiana-Sparty games were excellent. I'll ultimately settle for Wisconsin's amazing overtime home win over Michigan with Ben Brust breaking Wolverine hearts on that tying shot from just inside half-court.
Chris: Michigan at Penn State. Keeping in theme, I also chose a Michigan loss and while it's hard to argue with the beauty of watching Michigan lose in overtime after a near-half-court shot at the buzzer forced the extra session, my favorite game took place in State College. Having lost 19 straight conference games, Penn State picked up their first league win in almost 54 weeks via a season-high 84 points as Michigan allowed the Lions to shoot 50% from behind the arc while turning it over 15 times and shooting an abysmal 25% from distance. So lovely. 
OHIO STATE'S B1G GAME OF THE YEAR
Kyle: The Buckeyes' win at Indiana ranks up there with one of the best wins of any team all season. To not have a marquee road win and then to do it at Assembly Hall on Senior Night is quite a feat. The way it was done just adds to it. Great defense, lots of steals, completely containing Zeller, Oladipo and Watford after they torched Ohio State a few weeks before. It made for incredible theater and one of Thad Matta's best wins in nine seasons at Ohio State.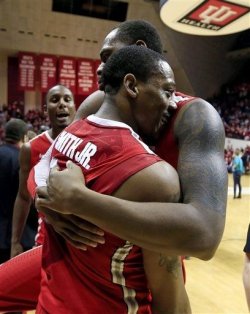 Michael: The best game may have been the home win over Michigan, while Ohio State's best performance may have come earlier this week at Indiana. Both made me feel all tingly inside. Is that an overshare?
Chris: Clearly, the win over Michigan and at Indiana were absolutely amazing games. Taking down Michigan State was also delicious. That said, I'm going to go a different direction.
I'm taking Ohio State's embarrassing 71-49 loss at Wisconsin because it is shaping up to be the turning point of the season. Since the lopsided defeat in which the Buckeyes essentially quit while shooting 37% and allowing the Badgers to shoot 53%, they have been a different team. They went on what is currently a four-game winning streak – blowing out Minnesota at home, outlasting Sparty in a classic B1G tussle, going on a late run to beat Northwestern by 10 before the incredible road win to spoil Indiana's Senior Night – and thrust themselves back into the conference title race. Without that pride-stripping defeat at the hands of the Badgers, it's hard to see this team waking up and catching fire. 
oHIO STATE'S MOST IMPROVED PLAYER
Kyle: It would be interesting to see where this team would be without Shannon Scott's growth. Last season, he was almost a non-factor as Aaron Craft's backup. Scott would come in, run the offense and play defense. But there was nothing flashy that stuck out. He didn't really create all that much. This year, Scott has been a fast break machine and opened up holes in defenses for buckets galore. And let's not discredit his defense. Steals have also become a big part of his repertoire. If Craft leaves because of foul trouble or the two play together, there is no more fear in Buckeye Nation.
Michael: Shannon Scott has been amazing defensively. Despite his horrible free-throw shooting and suspect jump shot, he has also found ways (at times) to get his offensive game going. He's going to be scary if he ever reaches his ceiling. Sam Thompson has also improved dramatically, but he still disappears too often.
Chris: My compadres have already summed it up nicely. The only answer here is Scott. He and Craft have really found something at the defensive end of the floor during the recent surge and while Scott flat out can't shoot a lick yet, I love his penetration as long as he's looking to kick it out for a jumper or dump it off as the helpside defense rotates. As I discussed last Sunday, the duo of Craft and Scott could be a huge factor in the Dance as early-round opponents likely will not have faced such a ball-hawking defensive backcourt.  
OHIO STATE'S MOST DISAPPOINTING PLAYER
Kyle: It would be interesting to see where this team would be with Amir Williams' growth. Let's not forget this guy was a McDonald's All-American. At 6-foot-11, if Williams gave the Buckeyes a consistent big-man presence in the lane, this team would have spent the entire season in the top 10 and been branded as a Final Four team. Obviously, that hasn't been the case. He's not a guy that should be given up on. Williams is still just a sophomore. But a mean streak and more basketball awareness needs added to his game.
Michael: This has to be Amir Williams, right? I mean, nobody thought Amir would step right in and become Jared Sullinger, but it's puzzling how such a frame and so much talent can have so much difficulty finding any kind of game, especially after what we saw last year against Syracuse. Was that game a fluke or is there just something missing with Amir right now?
It's also a bit disappointing how inconsistent Lenzelle Smith Jr. is and how much he has struggled offensively at times. I, for one, expected Zelle to take a bigger step forward this year.
Chris: No doubt it has been frustrating to watch Williams but I'm going with LaQuinton Ross. With Williams, I don't put him at the top of my list if for no other reason than I thought he was probably the most likely to experience a slow maturation process and I knew he wasn't going to average more than six and six, even if he did take a big step forward.
I'm taking Ross because he was the guy projected to potentially fill the second-scorer void and not only has he not done that, but he has displayed a sluggish basketball IQ that you simply don't expect to see from a scoring wing and his handles are deficient. If he would've been able to average 13 or so a game with a few big bust-outs here and there, Thomas would have likely performed at a much more efficient level in terms of scoring and the scoring pressure on guys like Smith Jr. and Craft cold have been minimized. I still have high hopes for Ross – even this season – but I expected significantly more than we've seen thus far. 
WORST CONFERENCE OFFICIAL
Kyle: Easy decision here. Ted Valentine has been bad for years, but it seems like it's gotten worse in recent seasons. The guy is starting to become a caricature of himself. His performance during the Indiana game – for both teams – was probably the worst officiated game of the season. His calls were wrong a majority of the time and way late. Plus, he completely took over the game. It seemed like there was a 10-minute stretch where he was the only official blowing the whistle. On a side note, Gene Steratore, in my opinion, is the best official.
Michael: T.V. Teddy Valentine should absolutely not be employed as a basketball referee. Among the most egregious things that he missed was Mitch McGary clobbering Keith Appling, which happened right in front of him in the Michigan-Sparty game last week. I'm not sure how that call doesn't get made. He was three feet away from it! Here's a good look. 
Chris: Teddy V. is undoubtedly the most annoying official in the history of organized sport but when it comes to the worst zebra, my answer will be Mike Kitts until he's no longer employed. He's Jim Bain bad. 
BEST PLAY-BY-PLAY OR COLOR ANALYST
Kyle: It seems like Dan Dakich is a polarizing guy. People either love him or hate him. Sure, he might go off on some weird tangents at times, but he's generally very insightful. He was a great player, has been a successful coach and is now very in tune with things as a radio host. All that combined gives Dakich a lot of knowledge.
Michael: Usually with things like this it comes down to whoever annoys me the least. I thought Mike Tirico did a good job of calling Ohio State. Color analyst-wise, I'm biased but I like Jim Jackson and Clark Kellogg, and I think Sean Farnham is pretty good at what he does. If I have to pick one, give me JJ.
Chris: I agree with Kyle. I think Dakich is far and away the best out there. He's arrogant as all get out and has a tendency to over-analyze but he knows hoops, especially B1G hoops. As for a top newcomer on the B1G scene, I agree with Michael that Sean Farnham is solid. I think his rep will only grow in stature in the coming years.