All the skeptics who thought a power running back couldn't thrive in an Urban Meyer offense were proven completely wrong last season, as Carlos Hyde rumbled for 970 yards and 16 touchdowns on just 185 carries. That's an average of 5.2 yards per carry against defenses that were mostly designed to stop running plays and ignore passing plays.
And power backs don't get much more powerful than Carlos Hyde.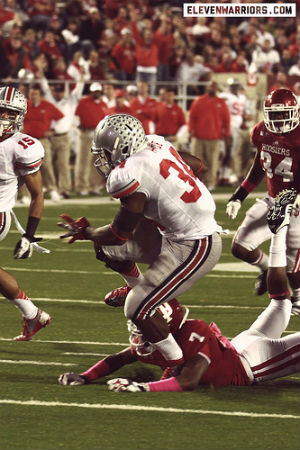 Hyde returns for his senior year after considering the option of turning pro after his successful junior year. Another campaign under Urban F. Meyer couldn't hurt. A potential championship run and a chance to boost his NFL Draft stock provided plenty of incentive for El Guapo to return to Columbus for one more go.
Alex introduced you to Carlos Hyde just over four years ago, back in February of 2009. He endeared himself to us immediately by saying, "I love trucking people that get in my way."  He also displayed plenty of confidence, telling Alex that Buckeye fans would soon find they had "a special player coming to run the ball for them."
How could you not love El Guapo? ¡Es imposible!
Hyde began his freshman campaign the way many OSU running backs do — as a little-used backup who primarily got his carries at garbage time. He came in with the 2010 class, along with fellow running backs Rod Smith and Jaamal Berry. He was down in the rushing pecking order behind sophomore Jordan Hall, junior Boom Herron, and senior Brandon Saine. He lugged the ball only 24 times as a frosh, gaining 141 yards for a nifty 5.9-yard average.
All Hell broke loose with the Buckeyes after that 2010 campaign, with Hyde losing his head coach and starting quarterback. But when the season started, he took on a bit more of the load with the end of Saine's eligibility and Herron's suspension. Along with the loss of Jim Tressel — father of Tresselball — and Terrelle Pryor, Hyde and the Ohio State offense were further hampered by offensive coordinator Jim Bollman's very presence uninventive play calling, the Scud missile stylings of quarterback Joe Bauserman, and the inexperience of his eventual replacement, freshman Braxton Miller.
His 2011 season under Luke Fickell got off to a promising start, due in part to suspensions of runners in front of him. Hall was nailed for receiving impermissible benefits at a charity event, while Herron got extra time tacked on in addition to his Tatgate punishment. Hyde toted the rock 106 times for 566 yards and six touchdowns in 2011 and caught 10 passes for 73 yards. 
With a larger role than expected in the opener, Hyde chugged for 93 yards on 19 carries in a deceptively smooth season-opening 42-0 annihilation of Akron. The sledding got a little tougher in a narrow Week 2 escape against Toledo, but Hyde still managed a respectable 76 yards on 20 carries, scoring twice. As Hall returned from suspension, Hyde's role shrunk over the next several games. Then the Buckeyes went to Lincoln to face Nebraska. He ran 13 times that night for 104 yards and scored twice, including a 63-yard TD. You'll cringe at the memory of the blown lead after Braxton's injury, but Carlos was solid.
Even though the Buckeyes lost, Hyde had arrived. But Boom was back the next week and Hyde slipped down the depth chart, carrying only three times in Ohio State's next two games. But against Indiana he emerged late in a lopsided game to rush 15 times for 105 yards — including a 47-yarder — and another score in a 34-20 win.
That performance against the Hoosiers proved to be the last gasp for the lost season. Hyde carried only 13 times for 53 yards over the final four games — all losses. The 6-7 season was mercifully over, Meyer took over as head coach, and Mickey Marotti arrived on campus to whip the Buckeyes into game shape.
The transition from the Tresselball and Zombie-Luke Fickell years was gradual for Hyde. He put up 82 yards and two touchdowns on 17 carries in the destruction of Miami to open 2012. Then disaster struck in Week 2, when Carlos injured his knee after seven carries and 27 yards against UCF. He was forced to miss the next two games against California and UAB with a sprained MCL.
Meyer worked Hyde back into the lineup slowly in his return at Michigan State. He managed 49 yards on 11 carries — not bad against a pretty stout defensive front. The Buckeyes were Braxton-heavy in that game, as the sophomore quarterback ran 23 times for 136 yards and completed 16/23 for 179 yards and this awesome touchdown to Devin Smith.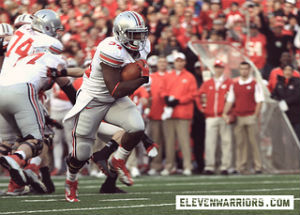 The following week the Cornhuskers came to Columbus, awakening the beast in Mr. Hyde. In 2011, Hyde had posted his career-best run of 63 yards. That number came into play again versus the Huskers, with the Buckeyes hanging that many points on Nebraska. Hyde was a large reason why, rushing for 140 yards and four touchdowns on 28 carries, earning B1G Co-Player of the Week honors.
The next week at Indiana, he ran amok for a career-high 156 yards and another score on 22 carries — a 7.1 average — in a 52-49 road win that you remember because the Hoosiers significantly shortened the margin of victory at garbage time. Hyde also caught two passes for 27 yards and a touchdown in Bloomington. He followed with 19 carries for 91 yards and a touchdown in a win over Purdue, but the next week Penn State did a nice job bottling him up for only 55 yards on 22 carries — his worst full-game performance of the season.
Over the next two weeks, Hyde averaged only 17 carries, gaining 137 and three touchdowns in a 52-22 thumping of Illinois, and 87 yards and two scores in an overtime win at Wisconsin. He only carried 15 times in Madison, which may have contributed in part to Ohio State's offensive struggles, but he did power in for the game-winning touchdown.
Meyer and Tom Herman learned from the Wisconsin game, feeding Hyde 26 times in the season finale against Michigan. El Guapo rewarded the coaching staff for its faith in him, racking up 146 yards and a three-yard touchdown. Hyde was a one-man closer in the game's waning minutes, ramming through the Michigan front seven for first down after first down with the Wolverines helpless to stop him despite the knowledge he was coming.
It was a glorious finish to an excellent season for Hyde, but it ended 30 yards shy of the 1,000 mark. If not for the knee injury against Central Florida, he would easily have become the first running back to gain a grand under Meyer (although Braxton Miller did eclipse 1,000 yards from his quarterback position).
If Hyde stays healthy in his second season in the Meyer/Herman offense, behind an outstanding and experienced offensive line, he should be able to reach that mark in his senior season. More of the playbook will be unveiled in Year 2, and Meyer is eager to incorporate principles of the San Francisco 49ers offense. Ross told you on Tuesday about the new inside zone emphasis he saw in the first spring practice.
Meyer's power back worked out just fine in 2012, but he'll be looking to add more explosive plays in 2013. With new wrinkles, a more efficient Miller throwing the ball, and another year of experience, Hyde should be able to add more long runs, such as he had in 2011. So Hyde yo wife. Hyde yo kids. Carlos is coming.
As it's still only spring practice, I'll leave you with his pancake of Stan Drayton from last spring.