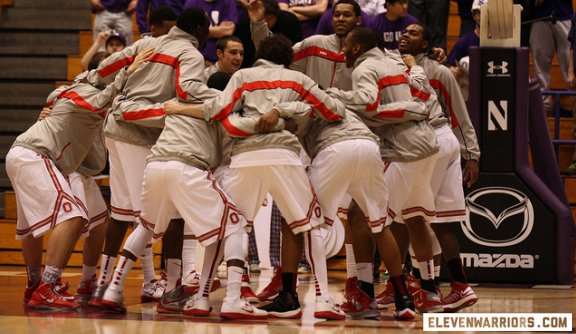 All season long, it's been far easier to dissect the flaws than gush about the strengths of Thad Matta's current squad, especially when bumping it up against the three previous editions of Ohio State hoops.
The bigs still fail to impress more often than not, a consistent complementary scorer has yet to be found and collectively, the offense doesn't consistently strike fear in anyone from the perimeter. Even at 21-7 overall and 11-5 in the incredibly rugged B1G, the Buckeyes too often put their deficiencies on display and through 28 games, haven't really closed the gap on any of the largest areas of concern.
Matta's success in Columbus has raised the bar and with that, this is undoubtedly Thad's least impressive group since the 2008-09 Buckeyes went 22-11 overall, 10-8 in the league and lost to #9 seed Siena in the first round of the Madness.
Over the next three seasons, Matta's teams won at least a share of all three regular season conference championships, captured the conference tournament crown twice, earned a #1, and two #2 seeds in the NCAA tournament and advanced all the way to the Final Four a season ago.
Despite their collective superiority over this year's basketball Buckeyes, and a nationally elite status all three seasons, two of those teams didn't live up to expectations in the Dance.
The 2009-10 Buckeyes went 29-8 and 14-4 in league play on the way to a conference title sweep and a #2 seed in the NCAA tournament. This team featured Turner, Diebler, Buford and Lighty but still got bounced in the round of 16 by a solid but lesser foe in #6 seed Tennessee to end the season on a sour note.
A year later, the loaded 2010-11 squad featuring Sullinger, Buford, Diebler, Lighty, Thomas and Craft steamrolled its way to a 34-3 record, sweeping the B1G crowns and earning a #1 seed in the East region. Matta's team would underachieve again, however, as they ran into a long and athletic Kentucky team that held Ohio State to 33% shooting, including the 2/16 stinker from The WB.
Last year, the Buckeyes broke through for the first time since the 2006-07 group led by Oden and Conley, reaching the Final Four on the heels of another B1G regular season crown, finishing with a 31-8 overall record and coming within three points of playing for an NCAA title.
So, while the three previous editions of OSU basketball sported a superior resume, only one of the teams managed to exceed expectations when it mattered most. In the same three-year span in which the Buckeyes were never seeded below #2, lesser seeds – aka lesser teams – did all kinds of crazy things. A #5 (Arizona '11), #6 (Tenn. '10) and a #7 seed (Fla. '11) all made the Elite Eight, an 11-seed VCU team advanced all the way to the 2011 Final Four and Butler, as both a #5 seed and an #8 seed, reached the title game in back-to-back seasons.
The point is that, while this year's team has some warts and could very likely meet an early demise in Big Dance, they could also play out of their minds and go on a very respectable run. The standby prophecies of needing strong guard play and a go-to scorer aren't without merit but just as important is whether or not the team, regardless of its supposed ceiling, is clicking on all cylinders when the specter of single-elimination, lose and your season – maybe your career – is over, and the chance for chaos increases.
Could Ohio State be just good enough to hang around, get some ridiculous and/or overachieving performances from a few guys and reach the Elite Eight or better? The odds are probably against it but that's why they play the games.
Thinking some Buckeye optimism might be a good thing ahead of Tuesday's trip to Bloomington, here are a few more why Ohio State could ultimately exceed expectations and respond to the challenge of March Madness.
A BATTLE-TESTED CORE
Despite the current shortcomings – aka hopefully just yet-to-be-developed skills – the roster still has a tournament-tested core.
Lenzelle, though he has struggled to play consistent basketball against the upper-echelon teams this year, went four double figures in three of five NCAA tournament games a year ago, scoring 17 against UC, 18 in the upset of #1 seed Syracuse and 10 in the Final Four loss to Kansas. And he was efficient doing it, shooting 52% overall and 45% from distance. If Smith Jr. can play that kind of ball this time around, it would be a huge plus for the Buckeyes.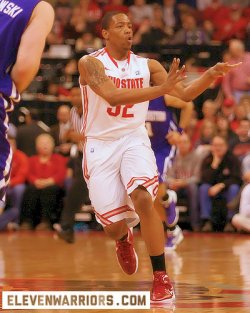 Aaron Craft also reached double figures in three of the five tourney games last year, including a masterful 17-point, 10-assist performance against Gonzaga. Overall, he shot a respectable 48% in the Dance and averaged 5.2 assists. And if teams are foolish enough to press him like Izzo did recently, Craft is smart enough to repeatedly drive the lane off high screen action. None of this even contemplates the impact he had at the defensive end of the floor, which I'll get to it a bit.
Finally, as you undoubtedly recall, Deshaun straight blew up in the tournament last year with the exception of his 3/14 shooting stinker in the Kansas loss. Removing that game from the equation, Thomas went for 31 against Loyola, 18 in the win over Gonzaga, 24 in the pride-stripping of the Bearcats and 14 in the win over the Orange.
Even with the Kansas dud, DT shot 47% for the tournament and pulled down an impressive 7.6 boards per game.
Bottom line, these three won't be overwhelmed by the big stage and if the trio can raise their respective games, Ohio State absolutely has a chance to shake things up.
Though the Buckeyes took some lumps this year, it's important to remember they also beat two then-top-five ranked teams for the first time in the same season. They were at home but the point remains the Buckeyes won't just curl up and die if things don't go well early in a game. Playing in the B1G this year could pay off come Madness time.
a lack of dominant higher seeds
It's still uncertain exactly where Ohio State will be seeded but as of Friday night, they were listed as a 5 seed in Lunardi's latest projection.
The squads listed as 1-4 seeds look like this:
LUNARDI'S TOP 16 SEEDS (THRU 3/1)

| #1 seeds | #2 seeds | #3 seeds | #4 seeds |
| --- | --- | --- | --- |
| Indiana | Duke | Florida | Marquette |
| Kansas | Louisville | New Mexico | Arizona |
| Gonzaga | Michigan State | Kansas State | Wisconsin |
| Miami | Georgetown | Michigan | Syracuse |
I still see Indiana and Kansas as my personal favorites. In addition to those, Miami could be a tough matchup but while I respect Gonzaga, I can't say I'd be scurred of taking them on if it came down to it.
Looking at the #2 seeds, Ohio State has already beaten Sparty and while they'd be classified as upsets to be sure, I don't see it as impossible for OSU to take down a Duke, Louisville or Georgetown if things broke right.
The #3 seeds don't exactly strike fear either. Ohio State hung with Michigan on the road and beat them at home. New Mexico? Okay. Let's play. Florida and K-State both have some weapons but in a one-game season, I feel like Ohio State could pull out a W against either of those teams provided Deshaun and Craft were playing up to their potential.
Ohio State already beat Wisconsin and the rest of the #4 seeds aren't world-beaters. I think it's safe to say most of those top 16 teams aren't without what could be fatal flaws. There just aren't any great teams in college this year.
THE CRAFT EFFECT
I touched on his bit of offensive success in last year's dance, but it's what he can do at the defensive end that is probably the most important in the tournament.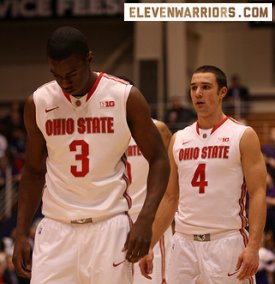 We already know he has the ability to take a team completely out of their offense, especially if the opponent doesn't have a strong ball-handler. Craft forced many a team, specifically Gonzaga and UC, to start their offense much further away from the three-point line than usual and that had a ripple effect on the rest of the offense. That is truly an underrated aspect of Craft's game, and one that really made a difference in last year's run to the Final Four.
Not only that, Craft's quick hands yielded a ridiculous 15 steals in five games, including six as he dominated the Bearcat backcourt. He had just one theft against Syracuse but picked up three steals each in the other three contests. When it comes down to it, Craft's defense is very tough to prepare for, especially if you haven't faced him all year.
What also seems to be improving of late is how Shannon Scott and Craft are working in tandem to really dog the opposing backcourt. Scott alone has nine steals in his last three outings while Craft has five.
Led by Craft, the perimeter ball pressure could be a factor in a run that exceeds expectations.
big-time player, big-time stage
Hopefully it won't work against him but there's no question Deshaun is aware he needs a huge NCAA tournament to help propel him up the NBA Draft board.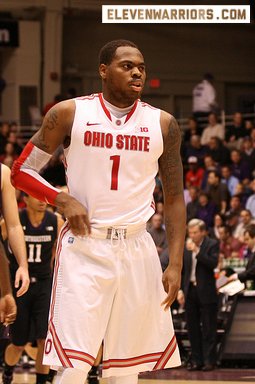 It became plausible that he'd turn pro after he went off in last year's dance. I already touched on the individual performances which helped him average 19.2 points per game along with the noted 7.6 boards. In fact, Deshaun led the Buckeyes in scoring and rebounding in three of the five games while Jared Sullinger only did it twice.
Thomas has been in a bit of a funk lately, shooting just 35% over his last three outings (17/48). From my vantage point, he's simply been too eager to jack up threes early in the shot clock, taking 20 of his 48 shots from distance.
Still, more often than not, he's been there when Ohio State needed him most. He's led the team in scoring in 12 of 16 conference games to date, plus both non-conference games against good teams. Other than the 11 points in a league play-low 29 minutes, Thomas has scored no fewer than 14 points in B1G action and has gone for 20+ in half of them.
In seven league games against ranked opponents, Thomas eclipsed the 20-point barrier four times and is averaging 21 points per game.
Obviously, how well Thomas plays in the Dance will be the chief factor in determining just how far Ohio State might advance. This fact isn't lost on him, nor is the noted notion he needs to blow up if he wants to see his draft stock rise.
His track record says he responds to the challenge more often than not so I'm excited for the opportunity to see if he can carry the team to unexpected postseason heights.
So, there you have it. I admit self-counseling was a huge reason for writing this piece as I am typically a realist that leans toward the negative but hopefully, all of you also receive an infusion of optimism as the Buckeyes march toward the Madness.