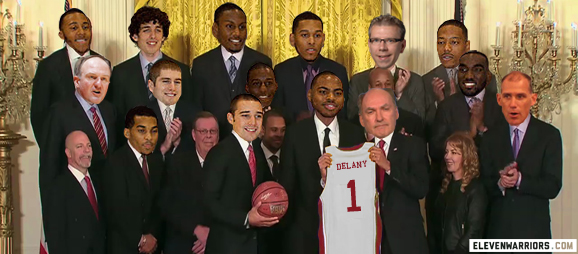 Trailing by two points with exactly seven minutes to play, the Buckeyes closed on an 11-2 run to win yet another B1G tournament title, 50-43, over the Wisconsin Badgers as Thad Matta improved to 50-12 in the month of March during his tenure at Ohio State. 
Deshaun Thomas led the charge with 17 points and Aaron Craft added nine. 
In the decisive 11-2 spurt, the Buckeyes got 5/6 free throw shooting from Thomas, a pair of clutch buckets by LaQuinton Ross and a Craft layup off a steal by Shannon Scott while harassing Wisconsin into 0/6 shooting with two turnovers. 
Both teams shot just 39% on the afternoon but Ohio State won the glass, 36-26, posting a dominant 13-4 edge in second-chance points. 
Craft was named the tournament's Most Outstanding Player and Thomas was awarded a spot on the 1st team. 
Ohio State took a 13-6 lead in the early going but Wisconsin responded with an 18-2 blitz featuring a couple bombs from distance and some isos of Ryan Evans on the block while holding the Buckeyes to 1/12 shooting with three turnovers to take a 24-15 lead with 3:22 left in the half.
It looked like things might be getting away from the Buckeyes but they countered with an 8-0 spurt to close the half, cutting the Badger margin to 24-23.
Deshaun, who had missed six of seven shots to that point, hit three of four during the run off an aggressive drive down the lane following a hella ball screen from Amir Williams, a flat-footed tip-in of a Craft miss, and a midrange jumper.
The late burst from Thomas gave him eight points at intermission. Sam Thompson added six (3/5 FG), Lenzelle Smith Jr. grabbed six boards and Craft, despite two turnovers, managed four points and four assists.
Ohio State shot a sketchy 37% in the opening 20 minutes, including 0/5 from downtown, but turned it over just three times. Wisconsin couldn't stretch their nine-point lead thanks largely to 2/10 shooting from distance.
The Buckeyes outscored Wisconsin, 27-19, in the second half, holding them to 1/8 from distance with five turnovers.