Good morning, all.
It's Wednesday, so you know what that means: I have the opportunity to report that yet another favored Big Ten team fell on the road. This time it's the number one ranked Indiana Hoosiers, who lost to the unranked Golden Gophers, 77-73.
At this point you honestly have to question whether any Big Ten team playing at home can really be considered an underdog – the parity and overall talent level in this league is incredible. 
The problem with being the top basketball conference is that it doesn't really mean as much if a Big Ten team doesn't win the national championship. 
I've shared Peter Tiernan's work (of Bracketscience.com and CBS) before in my Skull Sessions and this week he took a look at how KenPom's top 25 compared with the top-ranked teams from previous years: 
So if the 2013 quality curve holds its shape up to Selection Sunday, what can we expect? The top three teams -- Florida, Indiana and Louisville -- are solidly better than average. In fact, the Gators and Hoosiers are among the best of the last nine years.
So don't get too disheartened, Hoosier fans, because apparently winning conference games in 2013 is more difficult than being included among the top teams of the last nine years.  
In case you were wondering what Tiernan thought of this Buckeye squad, he noted that Ohio State is one of three additional teams that meet championship efficiency criteria, but lack all eight championship statistics (the Buckeyes meet seven). In particular, he praised the offense's recent performance in games against Minnesota and Michigan State. 
Finally, ESPN's Bracketology has the Buckeyes as a fifth seed, with Gonzaga, Michigan State, Arizona, and Kansas State ahead. 
 YOU MAY OFFICIALLY GET EXCITED. We've heard before that Braxton has been working with George Whitfield Jr., who is one of the top QB coaches in the country. Tim May recently caught up with Whitfield:
"Braxton has one of the biggest arms in college football," Whitfield said. "I know people see his speed and his playmaking ability. But I am talking about, he's got rare, rare arm talent."
This is good, as Braxton was just 61st on Chase Stuart's ranking of the best passing quarterbacks from last year using an Adjusted Net Yards Pet Attempt metric. Braxton's low ranking is due to his poor sack rate, which Stuart promised to expand upon in an article for later today. Check his website for more on Braxton's passing. 
What's also exciting is this little nugget that May tucked near the end of his article:
Doing a lot of the catching was Miller's teammate Michael Thomas, a sophomore-to-be receiver from Woodland Hills, Calif., with whom Miller stayed during his week on the coast. 
Many expected that Thomas would have a big freshman year after his breakout spring game performance, but he ended the year with just three catches for 22 yards. However, it's great to see Braxton develop a rapport with more than just Philly Brown and Devin Smith.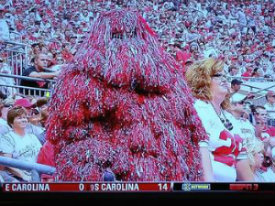 I CAN'T SHAKE HIM! The NCAA has recently approved the use of in-game tracking devices to be worn by football players in the Big 12, SEC, and Pac-12. 
The funny part here is that they have been approved without anyone really knowing what they will be used for. It's like someone just suggested, "hey, you know would make football cooler? If we made the athletes into cyborgs."
The real rationale is to 1. "eventually change how consumers receive information, updates and statistics on their phones, computers and video gaming devices," including "how much ground a player covered over a period of time, the angle a player used while running, and a player's vertical leap while catching a pass" or 2. something to do with player safety, though no one is really sure how that will work. 
 IT'S TIME TO UP THE ANTE. As Sarah linked in her Skull Session yesterday, Nick Saban recently took the opportunity to offer a scholarship to Dylan Moses.
There are many blue chippers in the class of 2014, but you won't find Moses' name on any 2014 recruiting database – at least not yet. Moses won't pop up on Rivals or 247 for at least two more years, as he is a member of the class of 2017. 
Grantland's Michael Weinreb thinks this isn't particularly great for college football and outlined a modest proposal for stopping offers to middle schoolers: 
I think maybe there's an easier solution to this notion of "recruiting creep," at least within the current system: If colleges insist on recruiting children, and said child is willing to commit to a school, why shouldn't the school be willing to commit to them?
That is, why not just let a kid who wants to commit early actually sign the dotted line right then and there? If the school really sees enough promise in a kid to offer them a scholarship in middle school, then lock him in to that commitment and force the school to honor the scholarship offer regardless of whether or not he fails to grow another inch in high school. 
There is actually some sound logic to this proposal that is almost taken from classic nuclear deterrence – there's simply no cost to a school offering a kid in 8th grade because the school can simply renege later in the recruiting process (coaching changes, making it a retroactively uncommitable offer, grayshirting). Locking both parties in early makes extending offers potentially very costly. 
This suggestion isn't a new one, however, as Andy Staples actually made this same argument five years ago. It's the more extreme version of the "early signing period" argument that sometimes pops up when people get sick of decommitments. I doubt we actually see this put into practice, however, as then we might just end up with increased college transfers instead.  
 THE LEFTOVERS. Did you have a favorite unnecessary penalty of the year? Some did... It's down to Denard and Texas A&M's Ryan Swope for the NCAA '14 cover... Well I didn't see this one coming... A Fulmer Cupdate... ICYMI – Braxton on the cover of SI... The Manziel loophole is closed... An interview with Tommy Craggs of Deadspin about their reporting of Te'o.