Mornin', Sunshine!
Last night I fell into the abyss of comments on two stories that were posted here, and the comments on the resulting plea from Management for everyone here to behave like adults. (That's simple enough, right?)
The commentary reminded me of my love/hate relationship with comments on here. I should clarify: the "hate" portion of "love/hate" doesn't come from me disagreeing with anyone's political beliefs, rather just that I hating reading an endless chain that leads me to wonder why people forget to be kind, simply because we're not interacting face to face.
Anyway, I digress. There's actually about a 10:1 ratio of love:hate — and this is where I intended to go with this — and that reminded me that I wanted to thank you all for a few things:
1. For making this such an enjoyable place to stop by every day. Particularly, one that gives me a little piece of where I consider to be my "home away from home", Columbus, OH. What's better than surrounding yourself with Buckeye Nation, even if it's 2,500 miles away?
2. For all your insightful interpretations of my dream last week. (Or, for those of you who were wondering why you were reading it, thank you for putting up with it. I'm sure you're wondering the same about this intro.)
3. For the comments yesterday (by GOBUCKS713, RIGGINS, and GAMETIME) that eventually evolved into BUCKEYENEER's idea of a Woody Hayes hologram (ala Tupac at Coachella) at the Mirror Lake jump each year. I've found that I'm easier to amuse as I get older, but: Best. Idea. Ever.
 ACADEMIC ALL-SWOON OF THE YEAR. Speaking of Buckeyes we love to love, your favorite rosy-cheeked hoops player, Aaron Craft, was named the Academic All-American of the Year by the College Sports Information Directors of America yesterday, making it the second year in a row that the Findlay native made the Academic All-America first team. His 2011-2012 selection made him the first OSU's men's basketball player in over 40 years to receive the honor.
You're not shocked though, right? In addition to averaging 9.2 points, 4.6 assists and 2 steals per game, Aaron Craft has also managed to maintain a 3.92 GPA as a nutrition (pre-med) major. How many of us could claim that, even without the pressures of playing Ohio State basketball and making the entire state of Ohio swoon every time you do... anything?
In a statement, Craft said he was humbled:
"[It is a great honor and] humbling to have the opportunity to represent the Ohio State University. I am thankful for all the support in helping me to improve in the classroom and on the court."
Though not Buckeye news, but equally newsworthy, Elena Delle Donne from Delaware received the women's Academic All-American of the Year honor. Admittedly, I don't watch women's basketball, but Delle Donne is a name I definitely remembered from this heartwarming story. It's nice to see such fine examples of human beings in college sports today, and be reminded of the things that are most important in life.
 B1GERS IN INDY. With the NFL Combine starting tomorrow, 32 Big Ten players, including seven from Ohio State, have packed up their tighties and headed to Indianapolis. In case you needed a quick refresher, those seven Buckeyes are:
Zach Boren, RB
Reid Fragel, OL
Johnathan Hankins, DL
Etienne Sabino, LB
John Simon, DL
Jake Stoneburner
Nathan Williams, DL
Adam Rittenberg, B1G Blogger for ESPN, took a look at B1G attendance at the combine in recent years, a study that unsurprisingly put the Buckeyes and the Badgers at the top. Rittenberg also pointed out that, despite their lack of prowess on the recruiting trail, the Iowa Hawkeyes have managed to produce a lot of NFL players. "The scouts love Kirk Ferentz and his program," Rittenberg said. Perhaps that is what they're paying him so much for?
The post also points out the low number of Wolverines that have been invited to the combine in recent years (six in the last three years, compared to Ohio State's 20), but mentions that the jump from Rich Rodriguez to Brady Hoke, and the effect it has had on recruiting, should turn that around in upcoming years. 
Illinois' got jabbed a bit, as Rittenberg pointed out that despite similar combine numbers as Michigan State, the Illini have managed to completely underachieve in comparison. 
Lastly, Northwestern got some Moneyball-esque love, as Rittenberg claims they are the B1G team that is getting the most of its talent, having won 23 games in three seasons, despite only sending one player to the combine.
While we're on the subject of Buckeyes at the combine, Branson Wright of the Plain Dealer had a nice mini-write up on Reid Fragel.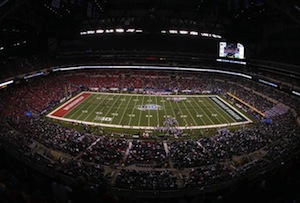 WINDY CITY PICKING UP STEAM. Moving on from Indianapolis, that is exactly what the B1G CCG should do.
The Big Ten Conference Championship Game has been awarded to Indianapolis through 2015, but then it is back up for grabs. Chicago wasn't exactly full prepared for the first bidding process back in 2011, but has since implementing quite a few changes since then, such as launching its own sports commission in 2011, as part of the city's official tourism organization. 
Sam Stark, the executive director of the Chicago Sports Commission, said the following:
"Just the synergy between the Big Ten and Chicago warrants a discussion about the event. The amount of alumni here in this market, it's an event that we need to look at. We'll first talk to the folks at [Soldier Field Management] and the Bears, and get their interest level. But on the surface, it certainly seems like an event that has a place in Chicago. This is our first effort as a sports commission to welcome in the Big Ten in a way that hasn't happened before. This will allow us to sit down with them afterward and get feedback. This will really be the starter on those kinds of discussions."
With Chicago getting its act together for the next bid process, there shouldn't be too much that Chicago can't provide that Indianapolis can, other than an indoor facility to play the game in. We'll see who's able to step things up enough, when the time comes.
 WTF, NCAA? I'm going to start this topic with full disclosure, admitting something that isn't so easy to admit on an Ohio State site. I do get that the NCAA is charged with a difficult task. With the understanding that their intent is to preserve the integrity of the student-athlete, we have to realize that it can not be easy to create rules that determine exactly where to draw these lines. 
That said, some of these stories of what is (or would be, in some cases) an NCAA violation, are getting flat out ridiculous, to the point where they're putting bagels and cream cheese to shame. Minnesota wrestler Joel Bauman, for example, who grew up with some obstacles in his life, and eventually used music as a way to spread motivation to others. Minnesota's interpretation of an NCAA rule has prompted them to ask Bauman to start marketing his music under an alias, should he want to continue to pursue music and keep his wrestling scholarship. Specifically, they've asked him to remove his name from his songs and his images from his videos.
Though he would really love to keep his scholarship, Bauman is pretty adamant that he doesn't want to continue creating music under an alias, claiming it would defeat the whole purpose of the motivational messages his trying to spread. Hopefully, for Bauman's sake and for many others, the line between student-athlete and professional can be better resolved over time.
 LINKS. LINKS. LINKS. This should not require an Oscars party to make... Because we could all use a pep talk... Read the caption, and appreciate the little things... Ooops, this was pretty funny... Geek-tastic... The second episode of JaMarcus Russell's "comeback" series.