When Jerry Lucas was busy leading Ohio State basketball's glory years, a new house cost $16,500, a gallon of gas was 31 cents and the Buckeyes played in a brand new venue – St. John Arena. Soon, historic St. John will be torn down, something Lucas calls "very sad."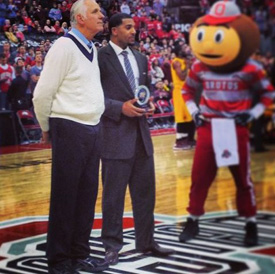 To say the times have changed would be a massive understatement. With changes in the world have come alterations to the game of basketball. But one truth remains – Ohio State hasn't won a national championship since Jerry Lucas was donning the Scarlet and Gray.
It's a mystifying fact when you consider Ohio State has been to six Final Fours, including three national championship games, since winning the school's only title in 1960. Not to mention, the Buckeyes have an all-time win percentage greater than 60 percent.
"I don't know if I'm a bad omen or not," Lucas said on Wednesday. "My high school team (Middletown) hasn't won a championship since I was there, my college team hasn't won a championship since I was there and my professional team (New York Knicks) hasn't won a championship since I was there.
"It's time to break all of those jinxes and get it started again."
The other basketball championship Lucas won during his career was a gold medal at the 1960 Rome Olympics, becoming the first basketball player to win championships at the high school, college, professional and Olympic level. Only two others have matched that feat. But the United States has continued winning golds at a rapid rate, so a jinx Lucas is not.
Lucas was a seven-time NBA All-Star and enjoyed one of the best careers in league history. He's a member of the Naismith Basketball Hall of Fame and was named one of the NBA's 50 greatest players of all-time.
But it all started in Middletown and Columbus. And that's why Lucas was home this week. 
First, there was a ceremony in his hometown with Sunset Park being renamed Jerry Lucas Court. It was at Sunset Park where the legend of Lucas was born.
"I spent 15 hours there every day," he said.
Lucas, who now lives in California, became a playground folk hero when he beat all comers, starting at a young age. When he was in high school, Lucas had no problem beating local college players. Another famous tactic was missing shots for hours – on purpose – so he could improve his rebounding skills and technique.
One of the state's greatest high school players ever, Lucas led Middletown on a 76-game win streak, still the longest in Ohio high school history, and consecutive state titles in 1956 and '57.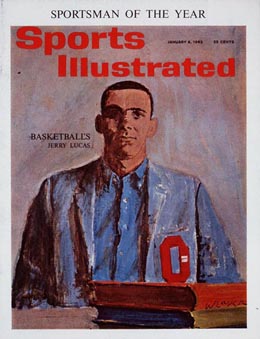 Then it was on to Ohio State. All Lucas did in Columbus was lead Ohio State to three straight national championship game appearances, becoming the gold standard and player all future Buckeyes would be judged against. He was twice the national player of the year and the NCAA Tournament's Most Outstanding Player, even in a losing effort in 1961.
Lucas averaged 26.3 points and 16.4 rebounds per game during the 1960 tournament.
"We were going through his stats the other day – geez, what a great player," Ohio State head coach Thad Matta said.
And that's why Lucas, 72, was back on campus. In conjunction with the 75th anniversary of the NCAA Tournament, he was named one of the 75 greatest players in the history of the postseason spectacle.
"It's a great honor," Lucas said. "To be selected among that group is something I'll always remember. To be rewarded like that is very gratifying."
Despite having been removed from Ohio State for more than 50 years, whenever Lucas returns he is warmly received. That was true once again on Wednesday, as the Value City Arena crowd showered him with adoration and loud applause.
"We had the most success of any team in the history of Ohio State," he pointed out. "I think fans understand and appreciate that.
"It was unique and special for many reasons. There were great people on that team. Most of the players were from small towns in Ohio. Very, very intelligent team. Our team GPA was 3.5 or 3.6. We knew and understood the game. We had an incredible coach. Everything was perfect. Everything meshed well and worked together properly. It was a very special team."
Much has changed in college basketball since Ohio State navigated the 1960 NCAA Tournament, winning by an average of 19.5 points. The tournament has swelled from 16 to 68 teams and become a mega event in the process.
The 1960 Final Four was shown on tape delay – mostly in black and white. The 2013 edition will be seen live around the world on flatscreen TVs, computers and smartphones in bright, vibrant colors. It also will be contested in a football stadium seating more than 70,000 people, rather than a decrepit basketball arena with a capacity under 13,000.
"You had to win the Big Ten just to get in," Lucas said. "Now you don't have to win anything. That's a tremendous difference. It generates far more interest than it did years ago, because more teams from more parts of the country are involved. More people get excited. The upsets that take place are exciting. It's a remarkable sporting event. Annually, it's the best sporting event in our nation."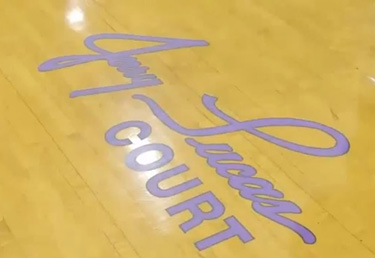 That event is worth billions to the NCAA. It is part of the reason we are entering the stage where compensating players has become a yearly topic. The NCAA is currently in the midst of a lawsuit filed by former UCLA standout Ed O'Bannon, the 1995 Final Four Most Outstanding Player, which contends the NCAA is unlawfully using players' likenesses in video games.
During Lucas' playing days, the money in college sports was nowhere near where it is today. College athletics was big at the time, but the marketing and, some would say, exploitation of athletes was a practice not well understood, nor was it a focus.
"They're an amateur, they ought to remain an amateur," Lucas said. "They aren't a pro. They shouldn't be paid, in my opinion. They're student-athletes. It should be students first and athletes second. I came to Ohio State on an academic scholarship. I didn't want an athletic scholarship. Things are changing, life changes, but I hope it remains the way things are and they don't receive money. I think that's important for amateurism."
Long an advocate for education, Lucas is of an old-school ilk when academics were on par and even more serious business than athletics. That has eroded in recent decades. After his career, Lucas became an educator and authored several books.
But even before his career ended, Lucas was already immersed among intellectuals – in NBA locker rooms no less.
"(The 1972-73 New York Knicks) team was no doubt the most intelligent team in the history of professional basketball," he said. "We had Phi Beta Kappas, Rhodes scholars, Ph.D.s. We had Phil Jackson who went on to be a tremendous coach. But more than IQ intelligence, we had basketball intelligence – understanding the game and how and why it should be played. That's obviously paramount in having success."
Basketball happens to be a team sport as well. It's turned into a superstar game, though there are still championships won as a team. But it has become increasingly rare. That wasn't the case in the '60s and '70s.
YouTubes of Olde
"I think there's a common denominator in all great teams – there's great players, great coaching, you understand the game and you play together as a unit." Lucas said. "A team is a team. Many times you see basketball teams that aren't really teams. There are one or two players that dominate and the other players are just hanging around. That's not how the game should be played."
And it's largely the philosophy of a Thad Matta-coached team. They're a close-knit bunch that plays hard, plays smart and carries strong defensive principles.
"Thad's done a great job," Lucas said. "He's a great recruiter, a great coach and an incredible success. It's going to continue because he knows what he's doing. They get excellent talent. The winning ways will continue."
And in California, one of their biggest supporters will be cheering them on. 
"I'm not really involved in Buckeye basketball at all. I'm a fan like everyone else," Lucas said, with a broad smile across his face.