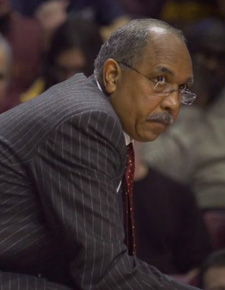 There aren't many teams in the country that are more down than Ohio State and Minnesota. Both teams were ranked in the top 10 this season, but have since plummeted. The Buckeyes are still No. 18, though their psyche is damaged. Minnesota, on the other hand, is in full-scale free fall mode. The Gophers are 3-7 in their past 10 games and are clinging to an NCAA Tournament bid.
Consecutive games against Ohio State and Indiana will either bring life back to a team that was 15-1 earlier this season, or push them over the edge. Along with Minnesota, the Buckeyes' week includes a game against Michigan State. It's clear the road doesn't get any easier for either team. The time to pull yourself up from the bootstraps is now.
"You've got to have ownership now," Ohio State head coach Thad Matta said. "You've got to have a level of playing at the level you need to play at every time you take the floor. Even last year, you go to the Final Four, two years ago 34-3, I was still trying to find the buttons to push all the way to the end."
With the regular season nearing its end, Matta and Minnesota's Tubby Smith are both trying to find the secret to getting their teams to that level. The Golden Gophers' latest loss may have been even more demoralizing than Ohio State's beatdown at Wisconsin. Minnesota led Iowa, 21-5, in the first half, but the Hawkeyes outscored Minnesota, 67-30, the rest of the way.
"It's about as disappointing a loss as I've had," Smith said.
If the next few weeks don't go as planned, the disappointment will be more impactful than just a loss. And it will resonate the entire offseason.
Opponent
When Smith arrived at Minnesota six years ago, he received a hero's welcome. The likeable and successful head coach had won a national championship at his previous stop – Kentucky – and been a winner at every coaching job he held.
But six years later, Smith has only two NCAA Tournament appearances at Minnesota, never advancing past the first round. Year after year, the Gophers seem to start strong and fade as the season progresses. It's indicative of poor coaching, though Smith's body of work says otherwise.
The loss on Sunday to Iowa was the topper and acted as a microcosm of the season for Minnesota.
"It's embarrassing," Smith said.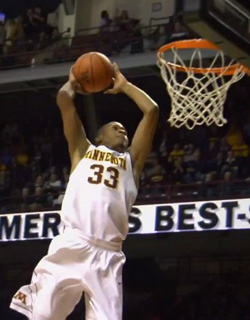 The moment has come for Minnesota – like Ohio State – to have a player stand before the team and deliver a message that is full of truth and motivation. For the Gophers, forward Trevor Mbakwe is that leader.
The sixth-year senior has had a rocky career at Minnesota, with injuries derailing an otherwise significant tenure. Now he's faced with another underwhelming season after lofty expectations. But those prospects were warranted after a 15-1 start, the lone loss coming to Duke.
Then the downhill tumble began. And coinciding with it is a lack of production from Mbakwe. First-half domination has given way to second-half stagnation. Mbakwe, once thought of as a first-round draft pick, has regressed.
"It's just a different team and a different role than I've had the last couple of years," he said. "Part of it is me just being more aggressive, finding ways to get open and finding ways for my teammates to get me the ball. It works both ways."
During the recent stumble – and for much of the season – point guard Andre Hollins also has become a contentious subject. He's athletic, can score and distribute, but he also is plenty capable of turning the ball over – a lot. That has developed into a trend.
Part of the foundation of the issue is Hollins is not a true point guard. Defensive pressure is a source of stress for him, making his matchup with Aaron Craft a reason to worry if you're Minnesota.
But even with Hollins' turnovers come his points – taking the good with the bad. He's the Gophers' leading scorer at 13.7 points per game, but that number has fallen consistently in recent weeks.
The 41-point output against Memphis in the Bahamas is long gone.
"The coaching staff talked to me that I need to be more aggressive sometimes, but also make the right decisions," Hollins said. "I'm evolving. There's certain times I need to be more aggressive. Sometimes I will take a dribble when I have a shot and it might not be there. So it's just recognizing when I have to shoot. When I'm open they want me to shoot and also create for my teammates."
Making matters worse is a shoulder injury to second-leading scorer Rodney Williams. The nagging problem could shelve him for Wednesday's game.
"He hadn't had any contact up until the game (Sunday)," Smith said. "In the game, he really struggled trying to raise his left arm. It looked like it was really bothering him. We need to get him better, because he's a big part of our team and our offense."
Right now, that offense is in neutral.
Buckeye Breakdown
A few weeks ago, this game was circled as one of the Big Ten's best. It still could be, but all the eyeballs are now focused on Columbus not because of a top-10 matchup. It's the fact that it represents a must-win for two teams that are reeling. With it being the only regular season game between the teams, it could have a major effect on Big Ten Tournament seeding and the tiebreaker.
Ohio State has built its program on defense during the Matta era. Suddenly, the level of play on the defensive end has dropped dramatically. It's been particularly poor in the past four games, as opponents have scored at will and had free rein at the three-point line. The latest loss, at Wisconsin, was "embarrassing," according to Matta and his players.
"We not only embarrassed ourselves, we embarrassed our coaching staff, our university, our school president and our fans," junior guard Lenzelle Smith Jr. said. "We embarrassed everybody. We didn't answer the call. We didn't do anything we're known to do. We abandoned everything."
Immediately following the game, Craft and Deshaun Thomas both said the team's mindset wasn't right, and it was an issue even before the game. They were never able to get it corrected and it showed after the Badgers had an 18-0 run to almost put the game out of reach in the first half.
Smith and Sam Thompson reiterated that same message on Tuesday. But the question is, how can a team still struggle with coming to play 25 games into the schedule?
The answer is being actively sought. Ohio State has held multiple team meetings since they arrived back on campus Sunday night. The Buckeyes have shown they can play with the best teams in the country, but their recent downturn is concerning. Time is running out to reach their potential.
Get Smart
Ohio State is 79-55 all-time vs Minnesota. OSU has won 5-straight and 6 of last 7.
Deshaun Thomas is 6 rebounds shy of the 1,000-point, 500-rebound club.
Kevin Kugler and Jim Jackson have the call.
"It goes back to conditioning our minds," Thompson said. "Every guy in the locker room knows that Coach Matta is a defensive coach and knows what our team expectations are on the defensive end. Whenever we go out and don't do it, it's a result of our minds not being where they need to be to win a basketball game."
Said Matta: "We have to get back to playing defense at the level we have to play defense at."
It's come to the point where spending hours scouting an opponent seems fruitless. Instead, Ohio State needs to concentrate on itself and worry about who's across from them later.
"You've got to go to work," Matta said. "Guys have to look at themselves and say, 'I have got a little more ownership at stake in this.' All of us (need to do that)."
The message seems to have been delivered loud and clear. Now it's going out on the court and producing. Ohio State has had rough patches before. The great teams with a strong mental approach get through it; the weak ones do not.
"It's not feeling sorry for ourselves, but knowing what we did was unacceptable," Thompson said.
---
| # | Name | YR | HT/WT | PTS | REB | ASST | P | # | Name | YR | HT/WT | PTS | REB | ASST |
| --- | --- | --- | --- | --- | --- | --- | --- | --- | --- | --- | --- | --- | --- | --- |
| 4 | A. Craft | JR | 6-2/190 | 9.3 | 3.7 | 4.4 | G | 1 | An. Hollins | SO | 6-1/200 | 13.7 | 3.2 | 3.4 |
| 32 | L. Smith Jr. | JR | 6-4/205 | 10.2 | 5.2 | 1.7 | G | 11 | Au. Hollins | JR | 6-4/185 | 11.3 | 3.4 | 2.7 |
| 12 | S. Thompson | SO | 6-7/190 | 7.1 | 3.3 | 1.1 | G | 20 | J. Coleman | SO | 6-4/200 | 9.4 | 4.1 | 1.7 |
| 1 | D. Thomas | JR | 6-7/225 | 20.1 | 6.2 | 1.5 | F | 33 | R. Williams | SR | 6-7/205 | 11.4 | 5.3 | 1.5 |
| 23 | A. Williams | S0 | 6-11/250 | 4.4 | 4.0 | 0.1 | C | 32 | T. Mbakwe | SR | 6-8/245 | 9.7 | 8.6 | 1.1 |