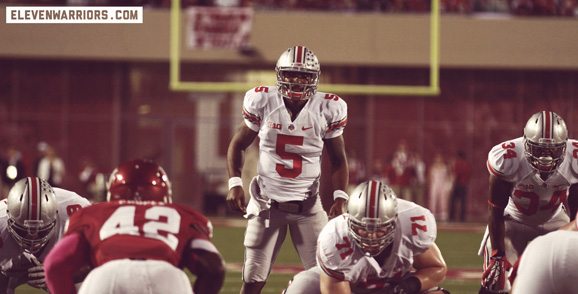 Three thousand three hundred and ten yards. A school record for total yards in a season. Twenty-seven touchdowns. That was just a start for Ohio State dual-threat quarterback Braxton Miller. There's plenty more in the offing. 
Heisman Trophy? Maybe, but Miller made it clear when he accepted the Chicago Tribune's Silver Football, given annually to the Big Ten's player of the year, that individual awards have little value to him. The trophy he most covets is crystal and goes to the best team.
"I'm just thankful for all the things I can do out there and receive awards like this," said Miller, who was cheered loudly by adoring Ohio State fans when he received his trophy at halftime of the Buckeyes' basketball game last Thursday versus Northwestern. "It's nice and it is a blessing, but we have bigger things in mind."
In just one season under Meyer, the numbers Miller put up has everyone associated with Ohio State frothing. The system fit the quarterback's talents like a glove – that much was known the day Meyer was hired. But the level of the immediate returns was also alarming to many.
Miller finished fifth in the Heisman voting thanks in part to more than 2,000 passing yards and 1,200-plus yards on the ground. That production combined with Meyer's coaching pedigree has led many to tab Ohio State as an early front-runner for the 2013 national championship.
Still, the maturation of Miller's skills is only in the beginning stages. That's why he took the initiative to learn under the guidance of quarterback guru George Whitfield Jr. His client list is a 'Who's Who' of quarterbacks – Ben Roethlisberger, Cam Newton, Andrew Luck, Johnny Manziel and on and on.
"I certainly didn't mind," said Ohio State offensive coordinator and quarterbacks coach Tom Herman, about Miller's lessons from Whitfield, also known as the 'quarterback whisperer.' "Without the bowl game and the practices, for him to take it upon himself to go out to California and try to hone his craft, I was fired up about it."
The goal of Miller's December trip to San Diego was to improve every facet of being a quarterback. But the area he is keying on during the offseason is mechanics.
"I had bad mechanics last year," Miller said. "I want to focus on it this year."
Poor mechanics or not, the slinging worked. Miller completed 58 percent of his passes, up from 54 percent during his freshman season. 
One of Whitfield's techniques involves teaching quarterbacks to develop "chaos mechanics." In other words, reacting positively when plays break down and pressure comes from all directions.
In a recent Sports Illustrated profile on Whitfield, who graduated from Massillon and played college football under Jim Tressel at Youngstown State before transferring to Tiffin, it was revealed that three areas in particular are Whitfield's specialty: footwork, throwing motion and throwing on the move. It just so happens each of those is vital to Miller's game.
"His good is really, really stinkin' good, and he just needs to continue working on the consistency of it, because he's capable of that."
Herman pointed out that Miller's footwork is in need of repair.
"When he's good, he's really good, and when he's bad, he's bad," Herman said. "We need him to be really good more often. His good is really, really stinkin' good, and he just needs to continue working on the consistency of it, because he's capable of that."
Miller showed last season that he can throw rather effectively when flushed from the pocket, but his throwing mechanics are in need of an overhaul.
During his tutelage under Whitfield, Miller participated in drills on the San Diego beaches and in the Pacific Ocean to improve pocket mobility.
"You've got to keep your composure and just keep your mind on your mechanics and it gets you through it," Miller said. "I'm just getting comfortable right now."
He's found his comfort zone inside the Woody Hayes Athletic Center. That's where you can find Miller and his wide receivers working on drills to improve timing, throwing, route running and the like. Ohio State's season may have ended a few days after Thanksgiving, but that doesn't mean it's been a vacation for the players.
Realizing the need to get better, Miller said the entire team began working toward the 2013 season on the Monday following the Michigan game, two days after the Buckeyes completed a perfect season. This is the second straight season Ohio State's bowl practices have been useless. A year ago, the team was transitioning staffs and this year they were banned from the postseason.
"We still have to get better," Herman said. "We may have been the most flawed undefeated team in the history of college football. That's a testament to the kids because they found a way to win every week, but we still have work to do. But it is exciting knowing what we accomplished last year, not even being close to potential of what we think we can be."
The hope is several incoming recruits can help tap into that potential. Despite a 12-0 record, Ohio State was far from a finished product last year, as Herman alluded to. But a top-ranked recruiting class included a handful of playmakers that could see playing time immediately – as in Aug. 31, when the Buckeyes play Buffalo.
But that group, which includes Dontre Wilson, Jalin Marshall and James Clark, isn't arriving on campus until this summer. So count Herman among those not banking on them at the present time.
"The main focus is development and improvement of the guys that are here," he said. "To say that we're going to depend on them is absolutely false. Having those guys is a luxury more than it is a necessity."
With Miller's third year as the starter approaching, he's also taken to becoming a leader. He's the one organizing workouts with fellow offensive players and providing pointers on how the unit can improve as a whole. Ohio State, for all its successes last season, had just the 101st-ranked passing offense.
"Every year you've got to be a leader and just push the team, and we've got to start up from what we did last year," Miller said.
Said Herman: "We can't be hands-on at all, so this is where you take the next step as a leader and make sure somehow, some way you guys are throwing and doing drills and all that stuff to make up for those (lost bowl practices)."
With his mind constantly working at 100 miles per hour, Herman is always thinking football and how to get a leg up on the competition. He and Meyer have already dissected every offensive play from last season looking for any snippet that could benefit the offense going forward. Needless to say, the no-contact period isn't easy for Herman. But the details he's hearing have been of the positive variety.
"From the reports I get, it's like what a very well-coached and well-run offense should be doing in the offseason," Herman said. "That means having the quarterback out there throwing the football around with all the skill guys and the offensive linemen doing drills.
"From what I understand, all of that is getting done."
In a few weeks, Herman will regain possession of his star quarterback and prized understudy. Then it will come time to get something else done – a national championship.