As the 2012-13 Ohio State basketball Buckeyes continue their struggle to meet the lofty expectations forged from the successes of Thad Matta's previous teams, the lack of development from players in the sophomore class, in particular, looms large over how the team has performed through 26 games.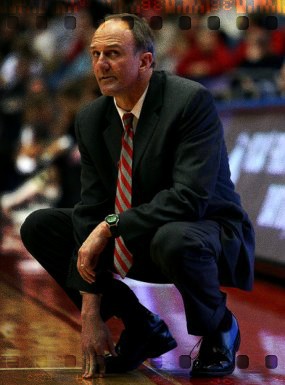 The Buckeyes currently sit at 19-7 overall and 9-5 in a rugged B1G conference and while that's certainly nothing to be embarrassed about, it would be naive, or unrealistic, to not evaluate and admit where things could have gone better to this point. 
That said, it would be ridiculous to assert that the up-and-down season is solely the responsibility of the sophomore class. Junior point guard Aaron Craft got off to a slow start and hasn't quite emerged into the complementary scorer that Thad so desperately needed. Remember back in November when Matta talked about his wishes to play Craft off the ball in hopes that he could help Deshaun Thomas carry some of the scoring load? Through 26 games, Craft is scoring 0.4 more points per game than he did a season ago, and he's shooting 39% as a junior compared to 50% in his sophomore campaign. 
Fellow junior Lenzelle Smith Jr., the player projected to take on the most increased responsibility this season, has actually lifted his points per game from 6.8 to 9.9 and is shooting roughly the same percentage, but his wild scoring inconsistency, i.e. relative no-shows against the upper-tier opponents on Ohio State's schedule, has done little to help Deshaun when it mattered most. 
Still, realizing the high expectations placed on the Buckeyes entering this season absolutely hinged on the sophomore class – made up of Sam Thompson, LaQuinton Ross, Shannon Scott, Amir Williams and Trey McDonald – expanding their individual talents and by extension, their roles on the team. 
After all, this group was ranked the 10th-best recruiting class in the 2011 cycle by Rivals and the individual players ranked anywhere from 43rd to 77th overall, save for McDonald, who was really a baseline body that Thad sought for depth.  
To this point in the season, while there's been some undeniable growth, the sophomores have also, collectively, failed to truly tighten up particular facets of their respective games. On some level, that is to be expected in that not every player will eventually reach the ceiling projected for him because such a process is far from science. What has made this season frustrating, at times, is that their individual deficiencies overlap to some degree, leaving Ohio State exposed in certain aspects such as the ability to score, especially via respectable field goal percentages. 
With the sophomore class playing such a large part in whether or not this season will be deemed successful, and more importantly, realizing their collective games will factor into how the 2013-14 and 2014-15 teams are remembered, I decided to take a look at how each player has grown from his freshman season to now, making a few subjective observations along the way. 
SAM THOMPSON
Out of Whitney Young HS in Chicago, Thompson was a Rivals four-star, tabbed as the 16th-best small forward in the land. A rangy 6'6", his athleticism was off the charts but the slasher also made a name for himself as a versatile player as he averaged 8.7 rebounds and 5.5 assists to go with 17.6 points as a senior. To this point in his sophomore season at Ohio State, his numbers stack up like this: 
SAM THOMPSON - OHIO STATE CAREER STATS

| YEAR | G | MIN | MPG | PPG | RPG | APG | FG% | 3FG% | FT% |
| --- | --- | --- | --- | --- | --- | --- | --- | --- | --- |
| FR | 39 | 413 | 10.6 | 2.1 | 1.1 | 0.7 | 49% | 7% | 55% |
| SO | 26 | 619 | 23.8 | 7.0 | 3.3 | 1.1 | 48% | 31% | 71% |
As a freshman, Thompson saw only spot duty, though he did play in every game. On a team with numerous scoring options in Sullinger, Thomas and Buford, and strong defenders in Smith Jr. and Craft, Thompson wasn't asked to do much of anything other than get his feet wet and excite the crowd with an athletic dunk here and there.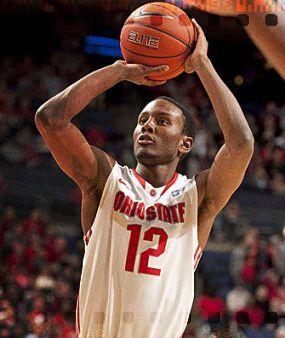 Thankfully, that's all Ohio State needed because his shot was decidedly busted. Even with a high volume of his 34 made field goals coming by way of dunks, Thompson still shot only 49% from the floor and missed 13 of his 14 three-point tries. Again, 49% is a decent number in a vacuum but not if you watched all 39 games. 
Coming into this season, the talk was whether or not Thompson could fend off Ross for a starting spot at the wing. Thompson was given the nod but I think it's reasonable to conclude a large reason was because of what Ross didn't do, more so than what Thompson did do. 
Thompson earned Thad's trust as a serviceable defender in comparison to Ross and while Thompson is still limited in what he contributes offensively, he's more predictable, and that rightfully counts for something in the eyes of the head coach. Still, Thompson's game is hampered by the lack of a consistent jump shot. He's shooting a decent 48% but again, factoring in how many of his field goals come via the dunk, the eye test says he continues to lack confidence in his jumper, as illustrated in his 31% shooting from distance (11/35). 
Credit Thompson though, in that as a true sophomore, he doesn't typically try to do more than he's currently capable of, and he gives off an even-keel aura that gives Matta the aforementioned confidence. 
Defensively, Thompson carries out his assignment more often that not but for a guy with a 46-inch vertical leap, I think it's fair to question if his wing counterpart (Smith Jr.), who is three inches shorter, should be averaging 1.7 more rebounds per game. Basically, at 6'7" with freakish athleticism, it feels like Thompson should more of an impact player on defense. 
In total, I see Sam slowly improving but on a team loaded with players showcasing the same deficiencies, Ohio State really needs Thompson to expand his offensive repertoire over the upcoming summer. 
LAQUINTON ROSS
Another four-star recruit, Ross played his final two years of high school ball in New Jersey upon leaving Mississippi following his sophomore season. As a senior, Ross averaged 25 points and 11 boards a night, good enough to rank as the 43rd-best overall player in the Rivals rankings. Ross lost virtually all of his freshman season after eligibility issues kept him from participating in Ohio State practices until nearly mid-December. Twenty-six games into his sophomore season, LaQuinton's career is a work in progress:
LAQUINTON ROSS - OHIO STATE CAREER STATS

| YEAR | G | MIN | MPG | PPG | RPG | APG | FG% | 3FG% | FT% |
| --- | --- | --- | --- | --- | --- | --- | --- | --- | --- |
| FR | 9 | 35 | 3.9 | 2.0 | 0.4 | 0.1 | 33% | 25% | 86% |
| SO | 26 | 451 | 17.3 | 7.7 | 3.3 | 1.1 | 46% | 36% | 77% |
The highest rated-incoming Buckeye, Ross lost virtually his entire freshman season after being labeled a non-qualifier by the NCAA in late September. He eventually got his house in order but wasn't able to return to the team until early December, meaning he missed all the team's official preseason practices, and eight games in which he would've likely seen his fair share of minutes as the Buckeyes demolished the likes of Wright State, Jackson State, North Florida, VMI, Valpo and Texas Pan-American. 
Instead, Ross didn't see the floor until his four-minute debut on December 22, Ohio State's 13th game of the season, the last of the nonconference slate.  
The missed time was a huge setback for Ross on many levels. First, he wasn't there when the staff implemented their defensive schemes and offensive sets in the intense practice sessions preceding actually playing games. Second, missing camp also inhibited his ability to begin adjusting to the speed of the college game, and focusing on his fundamentals, items that plague him to date.
Ross went on to play no more than seven minutes in any one game, appearing in just nine total, logging a lost-season-ish 39 minutes.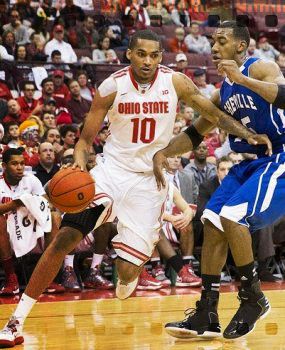 Despite the wasted year, hopes were still high thanks to kind words from NBA Buckeyes and others when discussing LaQuinton's ability to score during summer open gyms. 
Ross showed some flash early in his sophomore campaign, reaching double-figures in five of his first eight games, albeit against lousy competition, including 22 points on 8/12 shooting against Northern Kentucky. I remember writing, like many others, that we might be on the verge of finally seeing what the kid could do as he made a push for more minutes. 
Instead, Ross began to show his warts, things Matta was already obviously well aware of, and when the competition tightened, Ross went through a spell of quick hooks in between sequences that teased the flame of optimism. 
I continue to preach that while his game flows between exciting and torturous, his brainfarts must be taken in stride because he is only going to get better by playing as many minutes as possible. It's a no-brainer that minutes are the key to any player's growth but with Ross, it seems of special importance based on his key areas for improvement. 
Looking at those, one problematic area is his defense. Early on, he struggled with truly knowing his defensive role, to the point you could see him slowly thinking instead of reacting. Once he got more comfortable, he started pulling down some boards and being more visible on help side but was still highly susceptible to getting burnt by back-cutting teams like Northwestern and Wisconsin. 
Personally, I think he's a little better on defense than he gets credit for. If you extrapolate his minutes, he's a more active rebounder than Thompson and it does feel like he's improving as he continues his adjustment to the speed of big time college basketball. 
Two additional key deficiencies that work in tandem to hamper his emergence is the seemingly slow maturation of his basketball IQ and surprisingly loose handles for a kid that scored 25 points per game in high school. Those two problems have fed on themselves now that the book is out on these issues. With defenders pressing him, he sometimes struggles making quick decisions with the ball, and if he puts the ball on the deck, it's against heavy pressure, magnifying his raw ball-handling. 
Despite his enigmatic season, Ross still arguably has the highest ceiling of any of his fellow sophomores and it does appear he's the only one, as of this writing, with the ability to score 16+ points a game down the road. Further, whether the numbers up to now bolster this thought or not, I have far more confidence in Ross than any of his classmates when it comes to being a player that can stretch the defense based on his ability to score from distance.  
He's still raw. He's frustrating at times. He can appear aloof on the court. He also can be a guy that, if things finally click, evolves into the team's leading scorer over the next handful of years. I remain highly optimistic. Whether or not I'm not only making but also chugging the Kool-Aid remains to be seen.  
SHANNON SCOTT
Thad went down to Georgia to snag Scott, the 12th-best point guard prospect, and 53rd-best national prospect, according to Rivals. Scott had the pedigree, was a Jordan Brand All-American, among other various POY accolades, and developed a reputation as a winner as his high school team made it to three straight state championship games. After playing in 36 games as a freshman at Ohio State, Scott has seen his minutes virtually double this year and his season-by-season totals currently unfold as such:
SHANNON SCOTT - OHIO STATE CAREER STATS

| YEAR | G | MIN | MPG | PPG | RPG | APG | FG% | 3FG% | FT% |
| --- | --- | --- | --- | --- | --- | --- | --- | --- | --- |
| FR | 36 | 382 | 10.6 | 1.2 | 1.1 | 1.7 | 28% | 6% | 22% |
| SO | 26 | 520 | 20.0 | 5.0 | 2.5 | 3.8 | 41% | 41% | 63% |
As a freshman, Scott played in all but three games, showing an ability to consistently beat his man off the dribble-drive, typically with the purpose of dishing off, or kicking out, to an awaiting teammate. Just looking at assists per game, his freshman total of 1.7 doesn't stand out but if you dive deeper and look at his assists per minute, it's a different story. Scott averaged .157 assists per minute while Craft, who totaled a solid 4.6 assists per game, sported just a .144 assists per minute statline. 
Scott also proved a pretty solid defender in year one, able to physically hawk his own man, while actively looking to alter shots in defensive transition.  
Unfortunately, Scott was also a horrific shooter. He made just 28% of his field goal tries (20/71) and looked bad doing it. Absolutely no disrespect intended but it looked like he was shooting a medicine ball. The ball just looked heavy and hard coming out of his hands and beyond the struggles with his jumper, he also lacked touch at the rim. Even now, Scott occasionally blows by his man only to launch a hard layup with no chance of tickling twine.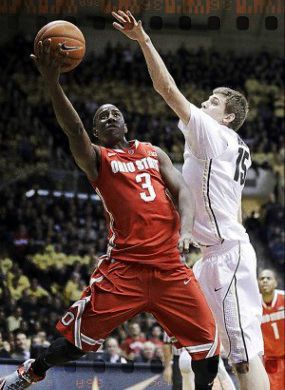 In year two, Scott is playing twice as many minutes and has really shown some positive flashes. One of his most valuable traits, especially with this particular collection of teammates, is the passion with which he plays. It seems like once a game he is forcefully blocking a shot, barking at an opponent, or flat out muscling up his defender on a dead-dribble. He plays to win. He still needs to harness it so he can avoid sequences in which he doesn't know when to step off the gas, like we witnessed when he panicked a little bit, unnecessarily racing up the court in East Lansing before hoisting a desperation three. 
In reality, on a team with a couple legit scorers, Scott's shooting woes could be hidden and his strengths better accentuated, just like we saw with Craft in his first two seasons. 
Thus far into his sophomore campaign, his overall shooting percentage is vastly improved, though 41% still isn't good enough for Scott or Matta. The accuracy from distance stood at 33% just three games ago but now stands at 41% after going 3/4 in the last three games. Those numbers are irrelevant however, as it's pretty clear Matta has little confidence in Scott's long jumper. 
Of all the perimeter players, Scott takes, by far, the lowest percentage of his shots from distance, at 19%. (Sam is next at 24%, Craft at 32%, Ross at 33% Deshaun at 36%, and finally Lenzelle at 46%, in case you're interested.)
Along with Ross, how Scott develops the rest of this year and into next season figures to be one of the two most important factors to watch in the near term. From my vantage point, they both have higher ceilings than Thompson when you consider their respective potential on offense and Scott throws in an aggressive defensive mentality taboot. 
AMIR WILLIAMS
A product of Country Day HS in Beverly Hills, Michigan, Amir Williams was named a McDonalds All-American after a senior season in which he tallied 18 points, 12 boards and over four blocks per game. He also finished 3rd in Michigan's Mr. Basketball voting. Reserved mostly for mop-up duty in his freshman year, Williams did show some flashes when called upon against elite teams after foul trouble made his minutes necessary. That said, through 26 games as a sophomore, Williams has shown glimpses of improvement but remains raw:
AMIR WILLIAMS - OHIO STATE CAREER STATS

| YEAR | G | MIN | MPG | PPG | RPG | BPG | FG% | FT% |
| --- | --- | --- | --- | --- | --- | --- | --- | --- |
| FR | 29 | 191 | 6.6 | 1.7 | 2.1 | 0.8 | 53% | 36% |
| S0 | 26 | 441 | 17.0 | 4.4 | 4.1 | 1.5 | 61% | 55% |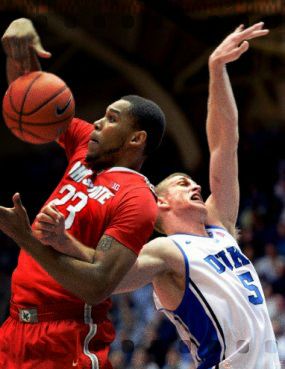 With Sullinger and Deshaun logging 30+ minutes a night during Amir's freshman year, he rarely saw the court, logging substantially less minutes than fellow sophs Thompson and Scott. 
As briefly noted, Williams stepped up when needed, playing 15 minutes of six-point, four-rebound, two-block basketball in relief of an injured Sullinger in an eight-point win at South Carolina. He also responded in the Elite Eight win over Syracuse with a huge nine minutes in the first half as Sullinger and Ravenel sat with foul trouble.
Coming into his sophomore campaign, he appeared to have the growth potential of Ken Johnson, relying on an emergence as a defensive presence while working on his hands and developing a go-to post move. 
Up to this point of year two, Matta is still waiting on Amir to improve his hands and overall feel for the game. He's easily lost in the offensive flow, often surprised when the ball comes his way either off a pass and defensively, and he struggles to secure and chin rebounds in addition to having a knack for picking up cheap fouls at the beginning of each half. Such mental blips have decreased his minutes because of foul trouble but overall, it feels like Amir has a longer leash than any of his still-developing young teammates. 
Even with his individual areas in need of improvement, it's important to remember that bigs often develop at a slower pace than wings, as their skills mature and grow into their body. 
Probably the second-most tantalizingly frustrating sophomore to watch, Amir's development while obviously important down the stretch, is even of greater importance to the success of next year's team. With Ravenel gone, and no incoming center, that leaves just Amir and McDonald to hold down the five spot. 
Even if scoring help arrives in the form of Marc Loving and Kam Williams, the Buckeyes will still need consistent defensive play in the post and on the backboards to be a factor in the conference. 
TREY MCDONALD
I won't take a long look at Trey. He's shown some value as a backup post presence but it could be a bit of a long shot that he'll log heavy minutes at some point. Not as a knock on the kid, because I love his hustle and frame, but I've wondered if his recent minutes aren't just as much a commentary on the play of Ravenel and Williams as they are a reward for Trey's play in practice. Looking at next year, it feels like McDonald can be a 10-15 minutes a game guy if he keeps improving. 
Considering the volume of sophomores on the roster and the impending early exit of Thomas, it's critical that at least two guys in this class finally take the next step and become dependable contributors. We said before the season started that it would tell us a lot about the talent level of this class and also the staff's ability to develop and polish its players. Progress is being made but I wouldn't be shocked if privately, Matta has at least a small level of anxiety, knowing he really needs a couple of scorers to emerge not only down the stretch but even more so next season. 
For now, I'll remain optimistic but the time is growing near for one or two of these players to really start putting it all it together.