Urban Meyer secured signatures from wide receivers James Clark, Jalin Marshall, Corey Smith, and Dontre Wilson in the 2013 recruiting class. That's an impressive group, but the staff would love to add a couple of more wide receivers in the 2014 class to bolster a promising corps and continue to pile on speed.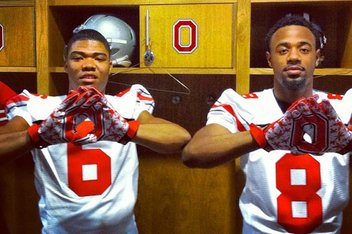 One receiver near the top of Urban's wish list for next year is Tyrone (GA) Sandy Creek's Demarre Kitt.
The 6-foot-1, 190-pound prospect, a consensus four-star, once thought Georgia was the place for him, issuing his commitment to Mark Richt early in the process. However, he decided to decommit from his home-state school in October to see what other programs had to offer.
Kitt took a trip to Columbus last spring, but the visit did not go as well as he would have liked due to much of the Buckeye coaching staff being on vacation at the time. The nation's 17th-ranked receiver kept Ohio State high on his list, though, and returned to Columbus last weekend. That visit went much better.
We caught up with Demarre to get the scoop on his visit, learn which schools are standing out, and more.
You took a visit to Ohio State last weekend. How did the visit go? 
The visit went really well. I had a great time and I got to see everything on Ohio State's campus. I also got to spend a lot of time with the coaches, including Coach Meyer. I went to the basketball game too. Even though they lost, the atmosphere at the game was great. My favorite part was getting to sit down with Coach Meyer and talk to him about the game of football and how they planned on using me if I decided to come to Ohio State. 
What did Coach Meyer tell you?
We talked about how I was his number one recruit at my position in my class. He also told me how they would use me playing at the "X" position in college. He told me I would have an opportunity to get on the field early.
Did you meet any other recruits on the visit?
Yeah, I got to meet [former Ohio State commit] Lawrence Marshall and a couple of other recruits. I already knew Todd Kelly Jr. so I spent a lot of time with him too.
Compare your first Ohio State visit to this one.
This visit was definitely the better one because the coaches were there and were able to show me everything. On the first visit, the coaches weren't there so I really only got to see the facilities.
How often do you talk to OSU coaches?
I probably talk to an Ohio State coach every day or every other day. I talk to Coach Meyer, Coach Smith, Coach Withers, and Coach Herman.
Which schools are your favorites right now? What do you like about those schools?
My favorites are Ohio State, Clemson, and also Oregon, but I haven't visited yet. I like the coaches from all of those schools and I like how they run their offense.
Which schools would you like to visit this winter/spring?
Tennessee, Auburn, Texas A&M, Oregon, and maybe a few others. I will also be visiting Ohio State and Clemson again in a couple of months.
When would you like to make your college decision? Will you be enrolling early?
I will make my decision right around the first game of my senior year or sometime during the season. I am trying and want to graduate high school early to be able to enroll in college in the winter.
What will be the biggest factors in your decision? Will distance be a factor?
The biggest factor is just wherever I feel the most comfortable. Distance will not play any role in my decision.
---