It was a rough day for Thad Matta and the Ohio State basketball Buckeyes yesterday, as they fell to the Indiana Hoosiers, 81-68, in front of a sold-out crowd at Value City Arena.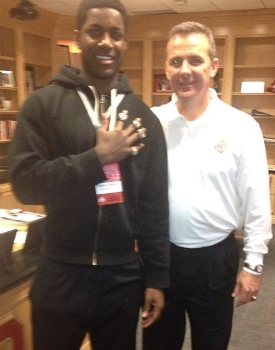 Fortunately for Ohio State fans, all was not lost though, as Urban Meyer used a big basketball weekend to his advantage to host a slew of talented prospects and netted the verbal pledges of one two three new prospects for the class of 2014.
OT Kyle Trout, DE Lawrence Marshall, and ATH Parris Campbell became the newest Buckeyes, joining DB Damon Webb and OL/DL Marcelys Jones to give the OSU staff five pledges for the, not even a week after the 2013 class signed on the dotted line.
Trout's commitment was expected since being offered a few weeks ago, but the pledges of Marshall and Campbell came as somewhat of a surprise. Nonetheless, they give Meyer a huge head start on the new recruiting cycle and put my prediction of "over eight" 2014 commits by April 1 as a pretty safe bet.
With news of the class more than doubling in size yesterday, we felt it was a good time to break down the newest members of Buckeye Nation to give you some insight into what their skill sets are, as well as the impact they may make when the arrive in Columbus.
Join us after the jump to see what Kyle Trout, Lawrence Marshall, and Parris Campbell can offer the Scarlet and Gray.
Kyle Trout, OT, Lancaster (OH)
While Marcelys Jones is likely going to play either offensive guard or defensive tackle at Ohio State, Kyle Trout (6-6/285) was recruited by the Buckeyes as a left tackle and has a chance to make an early impact when he arrives in Columbus.
Lancaster head coach Rob Carpenter has seen many great players come through his program, but he has high praises for Trout. He says his latest star has the potential to be better than former Ohio State OL Jim Cordle, who was a multi-year starter in Columbus at multiple positions, and has been a member of the New York Giants since 2010. Trout is ranked as the nation's 12th-best offensive tackle according to the 247 Composite and has earned consensus four-star status. He is the top offensive lineman in the state, according to 11W staff evaluations, and the best part is he has a lot of room to get better.
If Trout's great frame, long arms, and ability to play every snap to the whistle weren't enough, the local product's athleticism is what sold Ohio State. Luke Fickell was lobbying for an offer to go to Trout for a long time, but it wasn't until Ed Warinner saw how well the big guy moved on his feet during one of Lancaster's basketball games that the OSU offensive line coach pushed Meyer to extend a scholarship.
That offer came following a visit to campus on January 26 and although it took Kyle a couple of weeks to act on it, he finally decided to pull the trigger and commit to the staff yesterday over offers from Michigan State, West Virginia, Cincinnati, Illinois, Pittsburgh, Purdue, and others.
Trout is an excellent catch for the Buckeyes and he is a player they pursued very hard over the last month. He was told by the coaches that they think he can enter the two-deep as a true freshman and with a chance he can enroll early next winter, he'd be in prime position to do so, especially considering four of five starters on the offensive line are departing after next season.
Lawrence Marshall, DE, Southfield (MI)
Shortly after Trout went public with his commitment, word began to leak that more verbal pledges could be on the way after prospects met with the staff early in the morning. 
It didn't take long for commit number two to emerge, as word spread quickly that Southfield (MI) DE Lawrence Marshall would be the fourth member in Ohio State's recruiting class of 2014.
Rated as a four-star prospect and the 16th best weakside end in the nation by the 247 Composite, the 6-3/225 Marshall is a pass-rushing machine off the edge. He fits the perfect mold of what OSU is looking for in the LEO position, a hybrid player who lines up as a defensive end, but can also drop back into coverage like a linebacker at times.
Noah Spence and Steve Miller will likely take over for Nathan Williams at the LEO spot in 2013, but securing the commitment of Marshall ensures a plethora of talent will continue to flow down the line for the Buckeyes to utilize as they look to build a national championship caliber defense.
The best part about landing Marshall may not even be gaining his talents. The Detroit area native grew up a fan of Michigan, and had offers from the Wolverines and Michigan State, spurning his home state programs and further helping the Buckeyes to "plan the flag" in the state up north after locking down Detroit Cass Tech DB Damon Webb earlier this year.
Marshall definitely needs to hit the weight room to fill out his frame and will certainly have to expand his coverage skills to play LEO, but he gives Urban Meyer a fast, athletic, and aggressive lineman to add to his collection of Silver Bullets.
Parris Campbell, ATH, Akron (OH) St. Vincent-St. Mary
It was reported a few weeks ago that Parris Campbell was offered a scholarship from Ohio State, but it turned out those reports were a bit premature. The Bucks definitely had interest in the St. Vincent-St. Mary star after watching him go for 156 yards on 14 carries with 3 touchdowns in the state title game, but they wanted to get him on campus first before extending a scholarship.
That visit came yesterday and sure enough, so did the offer. As fast as that offer came, it got accepted even faster. The longtime Buckeye fan always dreamed of playing in the Horseshoe and he knew if Urban Meyer ever gave him that chance that it wouldn't take long for him to jump on it.
The 6-0/180 speedster plays mostly running back for the Irish, but is being recruited by OSU as an athlete. This past year he recorded over 1,300 yards and 28 touchdowns on the ground and also caught 13 passes out of the backfield. In college he could end up staying as a back, moving to wide receiver, or even playing defensive back, but one thing that's for sure is Campbell will bring speed to Columbus.
A two-time state track champion, it was only a matter of time before the Akron native blew up on the recruiting scene. Luckily for Buckeye fans, the coaches were in attendance for his state championship performance, and as I mentioned a few weeks back, he was someone who grabbed their attention and kept it since that game.
He had offers from Michigan State and Tennessee before committing to the Bucks, and while he's not currently rated by the recruiting services yet, it is expected he will be a four-star athlete when he gets camp exposure this summer.
I am a huge fan of this kid and think he has tremendous potential to excel at the next level. They will definitely have to peg down a position for him when he arrives on campus, but have plenty of time to think about it and for now can just sit back and watch him make plays on the field.