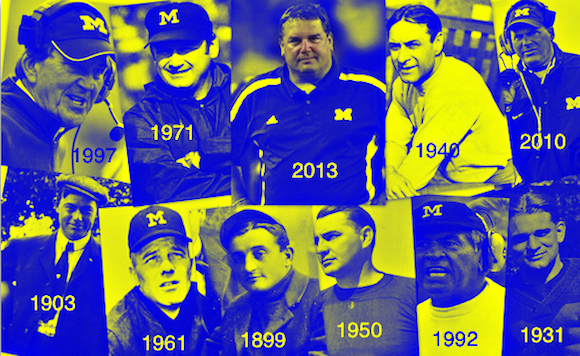 Rich Rodriguez survived for all of three atrocious seasons in Ann Arbor. 
As hideous as his Michigan legacy will always be viewed, his final campaign in 2010 was not without some merit: The 2010 Wolverines finished sixth in the country in total offense. Denard Robinson, whom Rodriguez recruited, became the first QB ever to both rush and pass for 1,500 yards en route to winning the Silver Football as the B1G MVP.
And Michigan football, which quietly began its atrophy during Lloyd Carr's twilight, finally appeared to be turning the corner despite stubborn, holistic flaws on defense. Rodriguez took a 7-4 record into Columbus but lost The Game and his only bowl appearance by a combined score of 89-21.
Yet despite its conclusion coinciding with his termination, Rodriguez's third season in Ann Arbor was easily his finest. Third seasons in Ann Arbor almost always end up that way.
And even though it was his best, Rodriguez's 2010 was still the worst-ever third year among all Michigan coaches.
That's largely because the precedent is absurd: Rodriguez lost six games in his third season, and so did Fielding Yost, Harry Kipke, Fritz Crisler, Bennie Oosterbaan, Bo Schembechler, Gary Moeller and Lloyd Carr. Combined.
A third year at That School Up North generally translates into a championship, a win over Ohio State or both. If there isn't a title of some kind adorned to Year Three of a Michigan Man's tenure then something has gone catastrophically against the grain of history, as was the case with Rodriguez.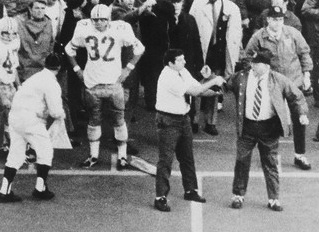 About six months from now Brady Hoke will become the 10th man to coach a third season in Ann Arbor. He and the rest of Michigan's stakeholders are wholly uninterested in finishing second in the Legends Division for a third straight year.
His predecessor didn't even do that. Rodriguez not only had the worst third season ever, he left Ann Arbor with the worst winning percentage in school history.
That history is worth revisiting, because the Wolverines have generally been terrific – and frequently, unbeatable – whenever their coach lasts three seasons: Gustave Ferbert was the first one to make it that long.
His teams went 24-3-1 (the tie was a 0-0 game against Michigan's alumni) including an 8-2 campaign in 1899, which was his final season coaching anywhere. 
His Wolverines shut out every team they beat that year, so including its own alumni, Michigan blanked nine teams in Ferbert's farewell. He then quit coaching and left Ann Arbor for Alaska to pan for gold. 
A couple of seasons after Ferbert, the legendary Yost arrived on campus. While the Wolverines didn't lose a single game for any of his first four seasons, Michigan won 11 games in his third without allowing a single point.
Yost terrorized Michigan's opponentry for a quarter century before taking the AD job in Ann Arbor. His third replacement, former player Kipke (who has now graced 11W's pages twice) stayed long enough to get that Year Three bonus, which produced an 8-1-1 record and a Big Ten title.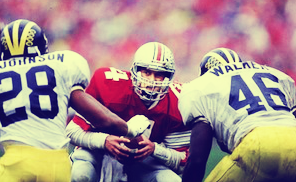 That single blemish in 1931 was a 20-7 home loss to Ohio State and the tie came against the pre-Big Ten Spartans, so by fan standards there was still plenty to complain about. Regardless, Kipke's third season was a championship season.
Crisler followed Kipke and in his third year the Wolverines went 7-1, finishing #3 in the final AP poll. Michigan's only loss was a one-point heartbreaker to eventual national champion Minnesota. The season finale was a 40-0 laugher in Columbus.
INTERMISSION: At this point in Michigan football history, the Wolverines are 34-4-2 in their coaches' third seasons.
SPOILER: Four of the next five coaches are going to end up in Pasadena in their third seasons.
Oosterbaan – yet another Yost player and arguably the greatest Michigan athletic department figure ever – took over for Crisler and won the national title in an undefeated first season. His Year Three was a relative disappointment: Michigan only won the Big Ten and beat Cal in the Rose Bowl.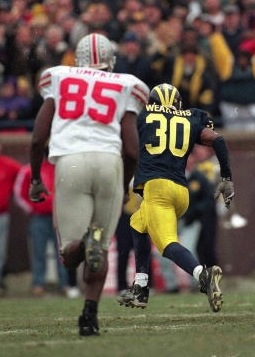 Bump Elliott, the man whose mediocrity begat the Schembechler era, went 6-3 in his third season. Sometimes you have to take a step backward in order to go forward, and until Rodriguez arrived Elliott had the lowest winning percentage in Michigan football history.
If you're dwelling on the exceptions, Hoke is not trending that way. He already has as many conference wins in two seasons as Elliott had in five. He equaled Rodriguez's entire three-year total in 2011.
Elliott was more of a reset button. Kind of like Rodriguez.
Following Elliott, Schembechler went undefeated in his third season, beat Ohio State and reached the Rose Bowl. After Bo, Moeller went undefeated in his third season, tied Ohio State and won the Rose Bowl.
And following Mo, Carr went undefeated in his third season, beat Ohio State and won the Rose Bowl.
Those three coaches who followed Elliott went a combined 32-1-3 in Year Three. Only a one-point loss to Stanford on a field goal as time expired in the 1972 Rose Bowl kept all of those men from going undefeated in their third seasons.
Carr's 1997 team won a share of the final title that preceded the BCS. All three post-Bump played the Buckeyes in relatively famous games: Woody destroyed a yard marker following an acrobatic game-changing interception by Thom Darden, while Ohio State tied Michigan in 1992 to temporarily halt the Wolverines' winning streak against them at four.
And that 1997 game, in which Michigan rushed for 42 yards on 42 carries while scoring just a single offensive touchdown was one of the most painful losses in Ohio State history, Charles Woodson's closing Heisman argument and one of the top games of the decade.
So Year Three at Michigan has not only been unkind to the rest of the Big Ten, it's been especially cruel to Ohio State.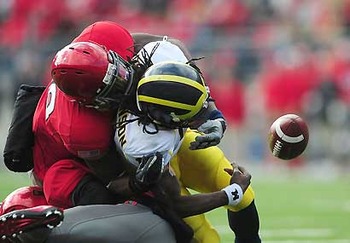 Hoke is very well aware of what he has lined up for the upcoming season: Roster management and attrition have almost completely expunged any evidence that Rodriguez recruited without bothering to realize he was at Michigan, not West Virginia.
Notre Dame, Nebraska and the Buckeyes all come to Ann Arbor. Manageable roadies include UConn, Happy Valley, Evanston (every B1G program's favorite home game away from home), Iowa City and that hour drive from Ann Arbor to East Lansing.
Most importantly, it's his third year. That means a lot more Hoke guys and far fewer RichRod ones stolen from Bowling Green or Purdue.
Michigan is no longer in transition mode, which may admittedly contribute to its historical Year Three success – aside from, you know, just being Michigan. Hoke has recruiting momentum, better roster fit, the invaluable vengeance narrative and favorable scheduling all on his side for 2013.
Only Elliott failed to win the Big Ten and beat Ohio State in Ann Arbor in his third season. Every single other Michigan coach who had the same opportunity came away with nothing less than the conference title, and that's just about the only acceptable outcome for the Wolverines three seasons removed from its failed experiment with RichRod's spread and Greg Robinson's 3-3-5.
There's only one big obstacle blocking a typical Michigan Year Three: Urban Meyer's typical Year Two.