The LOIs are in and Recruitmas 2013 is over. We've seen the 2013 class of Ohio State football players and experienced the ups and downs of another exciting National Signing Day.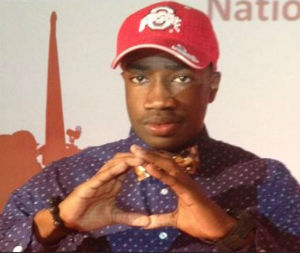 There were wonderful surprises along the way and not-so-wonderful surprises as well. I wonder how many among us thought the Buckeyes would land Dontre Wilson, Vonn Bell and James Clark. Well, we should have known, because Urban Meyer.
As if our recruiting experts (most notably, Alex, Derek and Miles) hadn't already knocked this week out of the park, we thought it would be nice to wrap up Recruitmas week with a nice bow for you.
Herein, we discuss the 2013 class in our usual roundtable style. Joining me are the aforementioned Alex, Derek and Miles.
Where did Ohio State best fill in its areas of need, and which areas were not sufficiently addressed?
ALEX: I think linebacker and the secondary on defense, and then wide receiver/playmakers on offense were the greatest need in this class. They certainly filled all of those by snagging Mike Mitchell and Trey Johnson at linebacker; Eli Apple, Cam Burrows, Gareon Conley, Vonn Bell, Jayme Thompson, Darron Lee, and Chris Worley at defensive back; and then Jalin Marshall, Dontre Wilson, James Clark, Corey Smith, and Ezekiel Elliott on the offensive side of the ball.
The only position group they didn't do a great job with was the offensive line. Evan Lisle and Tim Gardner are great looking prospects, but they really needed at least three players for this unit and failed to land another player.
DEREK: It has been reiterated by Urban Meyer repeatedly about the lack of home-run hitters on offense. That was shored up with this class. Wide receivers Clark and Smith have that ability, and athletes Marshall and Wilson do as well.
Other areas of need were linebackers and safeties. The linebackers were addressed in the form of Johnson and Mitchell. The safeties were addressed with Bell, Lee, and possibly Burrows.
It was a job well done, but offensive line could have used another stud. They graduate four along the line after next season, and were only able to nab signatures from Lisle and Gardner.
MILES: Ohio State best filled their needs in two areas. The first of which is obtaining multiple offensive playmakers, including the likes of Elliott, Clark, Marshall, Smith, Wilson, and Marcus Baugh. Secondly, the defensive backs class is very strong with Burrows, Conley, Bell, and Thompson. The one position that could've been addressed more is offensive line. I expect the Buckeyes to take 4-5 in next year's class, after only landing two in the class.
MICHAEL: Like our experts, I think the Buckeyes knocked out two of its most glaring needs — explosive playmakers and defensive back. Linebacker was also addressed sufficiently, given the scholarship reductions. Given this season's defensive line losses, Urban and his staff did well in that department. And I agree that offensive line didn't quite work out. Also, apparently the punter position was insufficiently recruited. [Boom. Tressel'd]
 
Were there any recruits Ohio State had to have but failed to land?
DEREK: One they really wanted to land but didn't was James Quick. However, they addressed that void very nicely. Any other players they didn't get that they had to have were on the offensive line. A few of those names are Ethan Pocic, Hunter Bivin, Patrick Kugler, Chris Fox, and John Montelus.
MILES: Two recruits come to mind, the first of which is OT Ethan Pocic, who signed with LSU. The Buckeyes were thought to be in the lead for Pocic this past spring, but he surprised us with a commitment to the Tigers. On defense — LB Jaylon Smith, the brother of current Buckeye Rod Smith. Smith signed with the Notre Dame Fighting Irish Wednesday. I believe Smith is easily the best LB in the 2013 class and the Buckeyes still need backers. The Buckeyes fell just short, finishing second for this defensive stud.
ALEX: There were a number of players on the offensive line that the staff went after and didn't get. Pocic, Bivin, Montelus, Colin McGovern, Dennis Finley, Dorian Johnson, Dan Skipper, Cameron Hunt, and others are names you can rattle off that would have been nice to add to the class.
MICHAEL: I was particularly intrigued by the extremely large Skipper, who committed to WOO BERT SOOIE at Arkansas. I thought the Buckeyes would grab him and was looking forward to four years of Gilligan's Island jokes. I thought the Buckeyes needed a guy like Dorian Johnson as well. Quick would have been incredible in Tom Herman's offense, but the staff did a great job of mitigating his loss.
Call your shot: who is the most important recruit in the class?
MILES: I think the most important recruits to this class are Trey Johnson and Mike Mitchell. The Buckeyes have two starting linebacker spots open. These two freshmen have a chance to step up and start from day one.
ALEX: That's a tough question because there are so many good players, but I am going to say J.T. Barrett. Other players may make an impact on this team sooner, but Barrett is supposed to be the next quarterback at Ohio State after Braxton Miller and "missing" on him would hurt in a big way.
DEREK: The most important recruit is Mitchell in my opinion. An argument can be made for Marshall, Bell, or Barrett, but Mitchell is a guy that has to come in and contribute immediately. The middle linebacker position has no experience returning for Ohio State and it is a thin group to begin with. Mitchell will be asked to fill the void rather quickly.
MICHAEL: I'm going to go with Joey Bosa here. I think Bosa has the makeup, as well as the talent, to become the next John Simon. Certainly Mitchell and Bell should have a huge impact as well, if they live up to their star ratings, but as we know, that isn't always the case.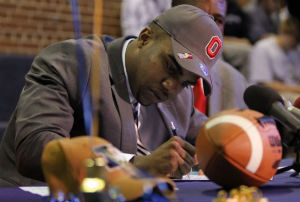 What was the biggest surprise of National Signing Day? The biggest disappointment?
ALEX: Many would say landing Bell was the biggest surprise, but I think it was James Clark. This is based on the fact that he's from Florida and many thought he would be headed there, as well as the fact that OSU didn't even really start recruiting him until January. This was a "shotgun commitment" in the sense that the Buckeye coaching staff was able to make this happen in about a month, and is even more impressive considering Clark wasn't even planning on visiting Columbus until two weeks ago.
The biggest disappointment for me is the offensive line. I hate to keep going back there, but landing Cameron Hunt or Dan Skipper down the stretch would have really taken some of the hurt away from missing on big-time prospects earlier in the recruiting cycle.
DEREK: Bell was a nice addition and a surprise to many but Clark is a guy they got when they had a lot going against them in his recruitment. They got on him late and Florida had hosted him on a ton of visits already. Being able to make up that kind of ground on Clark in a mere few weeks was an outstanding job.
I don't think there was really a disappointment unless it is not getting the signature from punter Johnny Townsend. A month ago they lost to Louisville for James Quick so that could be an angle possibly, but they made up for that in a big way.
MILES: The biggest signing day surprise was Ohio State getting a signature from Clark. The Buckeyes didn't start recruiting him until January and Florida was thought to be the likely destination for Clark going into his visit to Gainesville this past weekend. However, Urban Meyer and the Ohio State staff were able to convince Clark that OSU was the best place for him.
MICHAEL: The biggest surprise to me was scoring on all three of Bell, Clark and Wilson, although technically the latter didn't happen on Wednesday. I'd have been happy with two of the three, provided Elliott kept his commitment, which he also did. The disappointment was Townsend, who is a top national player at his position and an area of need.
Which recruit's process was the most interesting to follow?
DEREK: The most interesting was probably Vonn Bell because of how Ohio State went all out in so many ways to retrieve his signature. Urban Meyer's visit to Georgia on the weekend of his state championship game worked wonders and convinced Bell to take an official visit.
A dramatic recruitment that was quite entertaining was that of Trey Johnson. He de-committed from Auburn after the firing of Gene Chizik and Ohio State came in and scooped him up. For weeks after, many SEC schools came in and tried to change his stance, including Tennessee and Florida, but in the end Luke Fickell was able to keep him on board.
MILES: The most interesting process to follow was the recruitment of Alex Anzalone. He committed to Ohio State back at the spring game in April, but de-committed just a few week afterwards, originally stating it was because of the Waugh situation. Most people thought he was a lock for Florida, but he fell in love with Notre Dame, and gave them his commitment at The Opening. Everything stayed pretty calm on this front until rumors started to swirl that Brian Kelly had interviewed with the Philadelphia Eagles. He flipped to Florida just a day later and enrolled in Gainesville. It's safe to say he covered all his bases.
ALEX: No question, Vonn Bell's. Analysts had him "locked" to Alabama, Ohio State, and Tennessee at all different points of his recruitment, and, in the end, he was the only one that really knew. With media being the way it is today, it's an impressive feat how this kid kept everyone on their toes.
MICHAEL: I agree with Miles that the Anzalone recruitment process was the most interesting and took more turns than a John Petrucci guitar solo. It was the craziest recruitment story of the year until Alex Collins' mother went all runaway bride on Wednesday.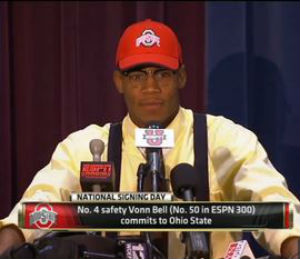 Which players were the toughest to get a read on during the recruiting year, and why?
MILES: The toughest player to get a read on was Bell. He did a great job of playing his cards close to the vest. He went from an Ohio State lean over the summer, to a Bama lock during the season, to a Tennessee lock a couple of weeks before deciding. Then he committed and signed with the Buckeyes Wednesday. Crazy.
ALEX: Would probably have to go Bell on this one again for the above reasons, but Shelton Gibson was also up there. 
Gibson kept saying he had the grades and scores to qualify and that he wanted to be a Buckeye, but he never pulled the trigger. When he finally came in for an official visit everyone thought he'd finally get the green light to pledge, but the exact opposite happened.
DEREK: Bell always played things close to the vest so it was difficult to get a judgment on where he may be leaning, but in the end it was his relationship with Urban Meyer.
Corey Smith was another one that was sort of tough to read because of a lack of information on how events would transpire because he was from the junior college side of things. In the end, Ohio State was a school he really wanted to play for so it all came together for him once everything had been solved.
MICHAEL: Trey Johnson was a mystery to me from the moment he took that surprise visit to Tennessee. Although he stayed true to Ohio State, I was never sure where his head was from that point on.
Which player in the 2013 class has the most upside? How many potential first team All-B1G, or possibly even All-Americans do you see?
ALEX: There are so many talented players in this class that it's hard to pinpoint just one. I really think Marcus Baugh is going to impress people right away and Jalin Marshall will thrive as a full-time receiver. Evan Lisle on the offensive line is going to be a really nice player too. On defense I'd have to go with Chris Worley, a kid who the staff is really high on, yet isn't highly rated. He and Darron Lee will surprise people.
As for All-Big Ten members or All-Americans, the "world is the class of 2013's oyster" in that regard. There's not really one weak link and they all are capable of playing to that level.
DEREK: It is nearly impossible to predict which recruits will pan out and live up to the expectations and the rank that is attached to them. A few that are believed to be cinches to make a stamp on the program are Bosa, Marshall, and Bell.
Others with high upsides are Michael Hill, Mike Mitchell, Trey Johnson, Cam Burrows, Eli Apple, Ezekiel Elliott, and Dontre Wilson. J.T. Barrett's development will be essential because of his importance at the quarterback position.
MILES: The player with the most upside on the offensive side of the ball is Jalin Marshall. Marshall played quarterback in high school and has just recently started learning the wide receiver position. He's already pretty good at it and has a lot of room to grow.
Defensively, I would have to go with Gareon Conley. He has only played football for a couple of years and is already a shutdown corner.
As far as All-Big Ten/All-American selections go, I would say everyone prospect in this class has the potential to earn those distinctions.
MICHAEL: I think the biggest candidates for postseason honors in their OSU career are Bosa, Bell, Apple, Mitchell and Elliott. I see a lot of potential in Apple in particular and am looking forward to watching his development.
Predict the legacy and accomplishments of this 2013 class. Go!
DEREK: Like I stated before, it is impossible to predict how they will perform once they arrive on campus but it is difficult to think it won't be a special class. It is ranked as the top group on Scout.com. Expectations will be through the roof for this collection of talent with Urban Meyer at the helm.
MILES: I think this class wins one, maybe two national titles, as well as multiple B1G titles.
ALEX: I truly believe that this class gets at least one national title and multiple Big Ten titles. I think Urban Meyer is building a beast of a program in Columbus and this group will be a big part of defining his success over the next three to five years.
MICHAEL: It seems a bit puffed up to predict a national championship, but this class is capable of being part of one, and possibly more than one, if subsequent recruiting years are on this level. I see multiple B1G titles with this group and at least one major individual postseason award — possibly even the Heisman.