The last edition of the 2013 Big Ten football recruiting rankings are here. National Signing Day has come and gone and it is time to break down the conference and determine who had the best class now that letters of intent are in.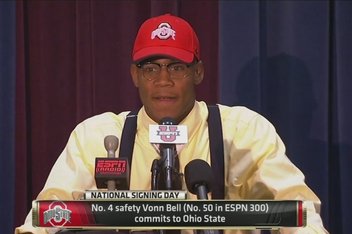 More shuffling in the order took place in the bottom half of the conference this week. Indiana and Minnesota were able to climb up the final rankings, but Iowa took a spill towards the bottom.
The best finish in the conference would easily be from Urban Meyer and Ohio State. The Buckeyes were able to close out with the top three targets left on their board heading into the last week.
Aside from OSU, the only other elite class in the conference resides in Ann Arbor. Michigan did their closing last week and is also a legitimate and consensus top-five class in the nation.
As a whole, the conference underperformed on the recruiting trail once again. Only five of the 14 teams in the Big Ten had an overall player star-average of at least 3.0.
In comparison, the SEC has 10 or 11 teams with a player star-average of at least 3.0, depending on which of the four main services you use.
Keep reading to find out which athletes the Big Ten teams were able to reel in over the past week, the headliners of each class, and where each team finishes in the final 2013 football recruiting rankings.
1. Ohio State
Urban Meyer is not called "The Closer" for nothing. In the past week, Ohio State was able to lock up pledges from ATH Dontre Wilson, WR James Clark, and S Vonn Bell, giving them arguably the best class in all of college football.
It did not come without a bit of drama, but the Buckeyes were also able to claim the signatures of DT Donovan Munger and LB Trey Johnson. RB Ezekiel Elliott also signed with Ohio State, choosing the Scarlet and Gray over the in-state Missouri Tigers.
A story in the Washington Post was released a day before Signing Day detailing the situation surrounding WR Taivon Jacobs, and a possible flip to Maryland. Jacobs went forward with that decision, signing with the nearby Terrapins.
Punter Johnny Townsend also brought a dramatic flare to Ohio State's signing day. Townsend has not signed anywhere and still remains a possibility for the Buckeyes' class, but early reports this morning had him headed to Florida.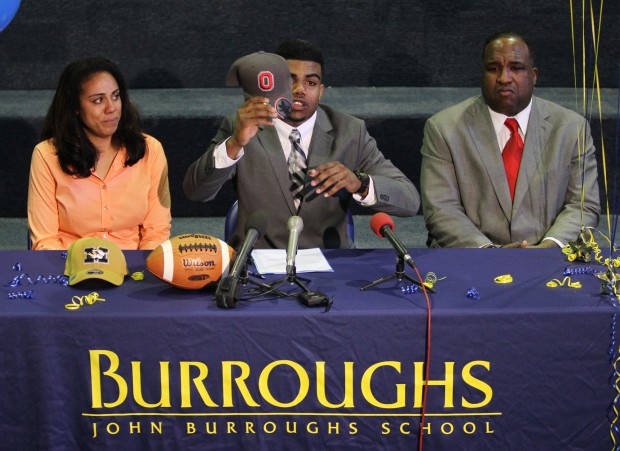 2. Michigan
The Maize and Blue closed out their class last week with the commitment from highly touted running back Derrick Green. Green joins DeVeon Smith and Wyatt Shallman to make a talented backfield class headed to Ann Arbor.
Other standouts in the Wolverine class are QB Shane Morris, OL Chris Fox, OL Patrick Kugler, DT Henry Poggi, and S Dymonte Thomas.
3. Nebraska
A collection of 26 recruits are headed to Lincoln to play for Bo Pelini.
The Huskers ended the cycle with signatures from OL Dwayne Johnson, DT Dimarya Mixon, ATH Trevell Dixon, and OL Chongo Kondolo.
The studs from the third-ranked group are QB Johnny Stanton, RB Terrell Newby, and DE Randy Gregory.
4. Michigan State
Like rival Michigan, the Spartans closed out their class last week, with a pledge from DL James Bodanis.
MSU also pursued LB Drake Martinez, but he chose to follow in the footsteps of his brother Taylor and sign with Nebraska.
QB Damion Terry, LB Jon Reschke, and LB Shane Jones headline the class that will play on the gridiron in East Lansing.
5. Penn State
Urban Meyer and Brady Hoke aside, it can be argued that the best job done in recruiting circles this year was completed by Bill O'Brien.
The PSU 2013 class, in all likelihood, will not have the luxury to play for any bowls or championships, but it is a solid group that mostly stuck together despite the sanctions handed down by the NCAA.
Despite all that happened, Penn State was able to hold onto the signatures of intensely sought-after prospects QB Christian Hackenberg, TE Adam Breneman, DL Garrett Sickels, and OL Brendan Mahon.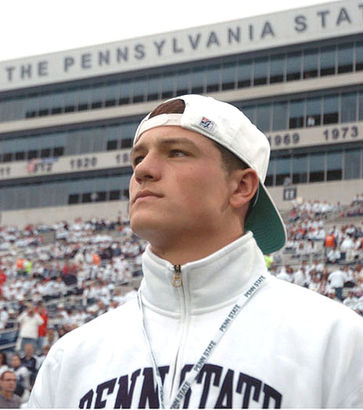 6. Wisconsin
New commits QB Tanner McEvoy and S Donnell Vercher give the Badgers a total of 21 signatures.
The assembled talent consists of highly ranked RB Corey Clement, DL Chikwe Obasih, DE Alec James, and ATH Austin Ramesh.
Gary Andersen stepped into the head coaching job in Madison after Bret Bielema departed for Arkansas. Andersen's greatest accomplishment was retaining the players that maintained their loyalty to the program.
7. Rutgers
The staff in Piscataway, New Jersey, began to compile athletes for their imminent move into the Big Ten Conference.
ATH Nadir Barnwell, ATH Myles Nash, and OL Dorian Miller are a few expected to perform at a high level for Kyle Flood's team.
Rutgers culminated their efforts for the cycle with the signature of RB Anthony Cioffi. The Scarlet Knights have a large pool of talent to draw from in the Garden State, but were unable to keep the two best at home after DE Tashawn Bower signed with LSU and LB Alquadin Muhammad signed with Miami.
8. Northwestern
Most importantly for NU, Pat Fitzgerald's Wildcats signed everyone that they were expected to.
Two of those expected signees, QB Matt Alviti and ATH Godwin Igwebuike, are expected to showcase a rare bit of talent not seen often in Evanston, and landing them is a direct result of the success the 'Cats have had on the field the last couple of years.
Northwestern was a team that found and pursued WR James Clark out of Florida early on in the process. If Ohio State, Florida, and Clemson had not stepped in with an offer at the end, Clark would have likely signed to play for Fitzgerald.
9. Maryland
Two of the top signatures the Terps were able to retrieve yesterday were their newest.
WR Taivon Jacobs decided to defect from the OSU class and join Maryland to play his football close to home, making it two years in a row Maryland was able to land a receiver over the Bucks (Stefon Diggs in 2012).
LB Yannick Ngakoue also chose to stay close to home and play for Randy Edsall, a very big pickup for the coach heading into his third year with the program.
Edsall has done a terrific job recently of keeping kids close to home, which is essential for the Terrapins' success. In addition to Jacobs and Ngakoue they signed OL Derwin Gray, and last year brought in the sensational WR Stefon Diggs, as well as RB Wes Brown.
10. Indiana
Landing in the top 10 of a conference of 14 is quite the accomplishment for a program that has been maligned for most of its existence. Fielding a competitive team starts and ends with the job a staff is able to do on the recruiting trail, and Kevin Wilson's staff has performed exceptionally.
The group headed to Bloomington is highlighted by DL Darius Latham, DL David Kenney, and S Antonio Allen. An improvement in the football product could be on the horizon for the Hoosiers, especially on the defensive side of the ball where most of their troubles lie.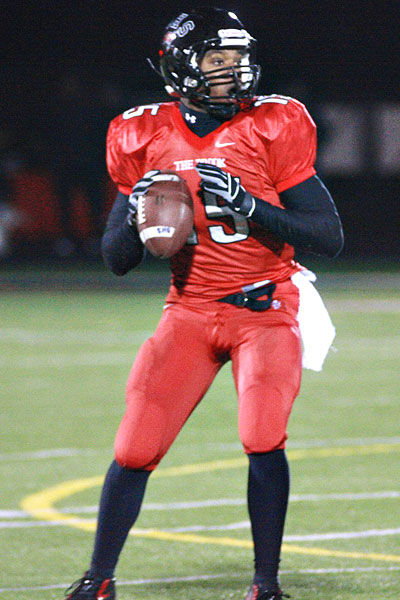 11. Illinois
The Illini finished the 2013 class with 25 pledges.
It seemed like a revolving door at times for Tim Beckman's class, after suffering a bevy of decommitments that included LB Reggie Spearman, DL Kenton Gibbs, DL Joshua Jones, and DB Reon Dawson.
Netting signees QB Aaron Bailey, RB Kendrick Foster, and ATH Caleb Day could give Illinois plenty of firepower on offense for the future.
12. Minnesota
Once a lock for the cellar of the conference rankings in recruiting, the Gophers have made enough progress to finish ahead of two other teams.
Minnesota picked up four new additions yesterday in the form of ATH Donovahn Jones, S Daletavius McGhee, ATH Brian Smith, and LB De'Vondre Campbell.
RB Berkley Edwards and ATH DeNiro Laster also signed with Minnesota, giving Jerry Kill some weapons to work with in the coming years.
13. Iowa
Iowa reaches 22 on Signing Day by picking up RB Akrum Wadley, RB Jonathan Parker, LB Reggie Spearman, and LB Josey Jewell. Spearman was a one-time Illinois commit and a recruit that was pursued by many of the Big Ten's teams.
Analysts believed S Delano Hill was the best Iowa commit before he jumped on a Michigan offer a few months ago. S Solomon Warfield, RB LeShun Daniels, or TE Jon Wisnieski may now hold that title.
14. Purdue
Darrell Hazell was hired as the new Purdue head coach late in the cycle, giving him a very late start, much like Urban Meyer had last year.
Being behind the eight ball at a non-traditional power leaves Hazell and the Boilermakers with the worst class in the conference and much work to be done over the next year to help rebuild.
RB Dalyn Dawkins, RB Keith Byars II, CB Da'Wan Hunte, and S Tyvel Jemison all chose to sign with Purdue in the last week, totaling 24 signatures for the program.
Dawkins hails from Louisville (KY) Trinity High School, giving Hazell's staff a foot in the door of one of the nation's top high school football factories.
Rankings overview
| Teams | # | Scout Star Avg | Rivals Star Avg | 247 Star Avg | ESPN Star Avg | Overall Avg |
| --- | --- | --- | --- | --- | --- | --- |
| 1. Ohio State | 24 | 4.04 | 3.83 | 3.96 | 3.83 | 3.92 |
| 2. Michigan | 27 | 3.81 | 3.63 | 3.63 | 3.59 | 3.67 |
| 3. Nebraska | 26 | 3.31 | 3.12 | 3.27 | 3.31 | 3.25 |
| 4. Michigan State | 18 | 3.06 | 3.11 | 3.11 | 3.22 | 3.13 |
| 5. Penn State | 17 | 3.06 | 2.88 | 3.29 | 3.18 | 3.10 |
| 6. Wisconsin | 21 | 2.95 | 2.81 | 2.86 | 3.10 | 2.93 |
| 7. Rutgers | 22 | 2.91 | 2.82 | 2.82 | 3.14 | 2.92 |
| 8. Northwestern | 19 | 3.00 | 2.89 | 2.84 | 3.00 | 2.93 |
| 9. Maryland | 23 | 2.74 | 2.91 | 2.87 | 3.00 | 2.88 |
| 10. Indiana | 22 | 2.77 | 2.95 | 2.73 | 2.95 | 2.85 |
| 11. Illinois | 25 | 2.76 | 2.72 | 2.72 | 2.96 | 2.79 |
| 12. Minnesota | 20 | 2.70 | 2.70 | 2.75 | 3.00 | 2.79 |
| 13. Iowa | 22 | 2.68 | 2.77 | 2.86 | 2.82 | 2.78 |
| 14. Purdue | 24 | 2.54 | 2.71 | 2.67 | 2.96 | 2.72 |