Around the Oval is Eleven Warriors' weekly love letter to Ohio State sports that don't get the coverage they should.
The Buckeye women's basketball squad once again had two games this past week, with the first being a trip to Bloomington to face Indiana, the only Big Ten foe Ohio State had beaten thus far. And like the game over two weeks ago, most everything went Ohio State's way.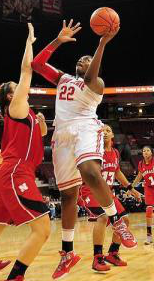 A total of nine Buckeyes had points, with Darryce Moore scoring 11 off the bench and Emilee Harmon contributing with six in her 12 minutes. Ameryst Alston had 11 points and five assists, while Ashley Adams had six block to go along with her six points and seven rebounds. 
Tayler Hill was sharp as ever, her 24 points moving her into sixth on the Buckeyes' all-time leading scorer list. Almost everyone in Scarlet & Gray had a hot hand — the team shot 56% from the field in the second half and 50% overall.
Although the Hoosiers continually threatened with a comeback, they never got within seven during the final eight minutes and Ohio State held on for their second conference and road win of the season, 70-56. The win snapped a three-game losing streak for coach Jim Foster's team.
Then there was last night's game at home to Wisconsin, a team who beat Ohio State in Madison just last month. 
It looked as if the Badgers were going to come out victorious once again, as they led by four with less than a minute left. But with only 11 seconds left on the clock, Tayler Hill was fouled during a three-point attempt. After sinking her first two free throws, she intentionally missed the third one, allowing Amber Stokes to tip it to star freshman Ameryst Alston, whose incredible toss over her shoulder cleared the hoop just as time expired to force overtime. 
In overtime, the Buckeyes required some more late heroics as they fought back from a deficit to force a second extra session. The second OT was no problem for the home team, who outscored Wisconsin 7-1 to win an enthralling game by the score of 65-59.
The win keeps Ohio State, who are now 13-10 and 3-7 in conference, in some sort of postseason contention. Tayler Hill surprisingly was south of the 20-point mark as she registered 15, but there were some other great performances that kept Ohio State in the game. Amber Stokes had 15 points, and Ashley Adams led all scorers and rebounders with 16 and nine, respectively. 
The Buckeyes have now won back-to-back games for the first time since Dec. 27 and 30, and will look to continue their late charge against Northwestern on Sunday in Evanston and next Thursday in Lincoln against Nebraska.
MEN'S HOCKEY
Coming off their best weekend in months, the Ohio State men's hockey team was looking to climb farther up the CCHA standings when they faced No. 9 Notre Dame in Columbus. After scoring a season-high six goals in one of last weekend's games, conventional wisdom pointed to the Buckeyes struggling to match that output against a stellar Irish squad. In this case, that proved to be far from the truth.
Aided by six Notre Dame penalties in the second period, Ohio State overturned their 1-0 first-intermission deficit by scoring five goals in the stanza to go on to win, 6-3.
Four of the five second-period goals came on the power play: one each from Nick Oddo and Alex Szczechura, and two from leading scorer Ryan Dzingel. Oddo led all Buckeyes with three points on the evening, when eight of his other teammates getting in on the act. The performance clearly delighted head coach Mark Osiecki.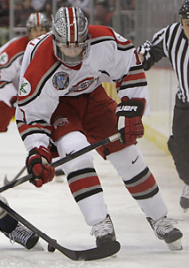 "When you have guys that are constantly together and understand their positions, you get good chemistry," said Osiecki. "And that's what was out there tonight."
On Saturday they looked for yet another impressive sweep, but were met with a much stronger Notre Dame performance.
The Buckeyes took the lead early when Darik Angeli stole in during a Notre Dame power play to score shorthanded. From then on the action was almost exclusively in the Buckeye end of the ice, as the Irish relentlessly pressured goalie Brady Hjelle. With seven seconds to go in the first period they finally broke through when Thomas DiPauli scored past Hjelle to tie the game. The visitors then grabbed their first advantage of the evening as Sam Calabrese scored on the power play midway through the second. 
Ohio State did all they could to get back in the game, but each of their forechecks were met with stern resistance from ND. Finally, they capitalized on a 5-on-3 situation, with freshman blueliner Craig Dalrymple rifling a shot past Notre Dame goalie Mike Johnson. 
The momentum was still with Notre Dame, though, and they dominated the Buckeyes in the third period, outshooting them 14-3. But the team had Hjelle to thank, as he continually turned away each Irish attempt at a decisive goal, making a career-high 45 saves. No winning goal materialized, and the teams went into overtime, which turned out to be much of the same. Notre Dame had four of the six shots in the period, and the game ultimately headed to the shootout to determine who would get the extra point in the standings.
Ultimately it was the Irish who prevailed, with each of the team's first three shooters missing until Anders Lee slid a shot between the legs of Hjelle to give the team in green a shootout victory after the 2-2 tie. Hjelle was named CCHA Goaltender of the Week for the fifth time for his efforts, and Ohio State now sits at fifth place and 10-6-4-1 in conference.
This weekend they travel all the way out to the Last Frontier to face an Alaska team who are only one place below them in the standings. Both games are 7:05 p.m. starts out in Fairbanks, 11:05 p.m. here in Columbus.
Men's Tennis
This past week featured a huge win for the No. 4 Buckeye men's tennis team — they defeated No. 6 Georgia, 5-2, in the Varsity Tennis Center on Sunday. The team is now 8-0 this season and have won an incredible 156 matches in a row at home. 
Doubles play was dominated by Ohio State, as they scored both points. First, it was the tandem of Kevin Metka and Blaz Rola who emerged victorious. Then there was Connor Smith and Peter Kobelt, who upset the No. 5 doubles team in the nation to give the Buckeyes a second win.
Four of the six singles points were also won by Ohio State, where Devin McCarthy got the first win of the afternoon in the category with his victory over Ben Wagland. After that it was No. 30 Chris Diaz who beat Georgia's Austin Smith. Blaz Rola was a part of another victory as he upset No. 19 Chris Pashua, before No. 13 Connor Smith finished off the Bulldogs with his victory over No. 16 Hernus Pieters.
The team will face its first away matchup this season when they travel to College Station to compete against Texas A&M at 1 p.m. on Sunday. 
Men's Wrestling
It was a big weekend for the No. 5 Ohio State men's wrestling team after they defeated No. 6 Illinois, 25-9, at Oak Harbor High School's gymnasium on Friday. 
After finding themselves down 3-0 early, the Buckeyes saw momentum turn their way after 133-pound sophomore Logan Stieber — competing in his first match since December — pinned the Illini's Daryl Thomas, the eighth-ranked wrestler in the weight class. 
There were wins for sophomore Cam Tessari and redshirt sophomore Josh Demas, 13-3 and 10-3, respectively. Stieber's brother Hunter also found himself in the win column, with his 10-2 major decision being his 24th victory on the season, a number which leads the Buckeyes. 
Wins from junior Nick Heflin and freshman Kenny Courts steered the Buckeyes on their way, and it was a 2-0 victory from heavyweight Pete Capone that ended the successful evening for OSU.
Ohio State are 10-2 overall and 4-2 in the Big Ten, with three out of the four teams ahead of them in the ranking coming from within conference. Tom Ryan's squad has a huge weekend ahead of them as they finish out their B1G schedule, with a trip to Ann Arbor on Friday evening and then a return to Columbus for Senior Day on Sunday to host No. 3 Penn State at St. John Arena. 
BANDS
From now on in each week's AtO, we're going to give you an update on some Ohio State bands, since we not only have the Best Damn Band In The Land, but the Best Damn Bands In the Land. Plus, none of us can really get enough of them. I find it difficult to believe there are some who didn't swell up with immense pride when they witnessed a few hundred students parade across the field in the shape of a galloping horse. 
The Ohio State Wind Symphony performed this morning at the Convention Center in downtown Columbus as part of this year's OMEA Professional Development Conference. The Conference takes place all weekend, and any info you'd like on it can be found at this link.