John Simon's undeniable leadership, heart, weight room heroics, and sacks have solidified his place in Buckeye lore. I mean, Urban and Shelley are going to name their next kid after him.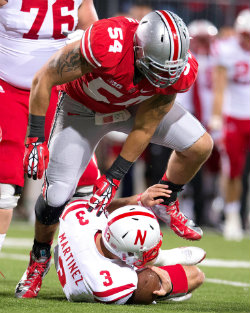 However, there was no guarantee that Simon would be a legendary figure for Ohio State fans – or even crack the starting lineup – when he committed to The Ohio State University on Boxing Day of 2007. 
Simon had recruiting services in total disagreement as a high schooler. Scout had Simon as a five-star and the fifth-best defensive lineman in the nation, while Rivals had him as just a three-star and the 36th-best defensive tackle. ESPN split the two, ranking him as the 16th best in the 2009 class. 
Part of the disparity might have to do with his early commitment in December of his junior year – early commits simply aren't as interesting to cover if there is no drama surrounding a decision. I'm no recruiting conspiracy theorist, but that offers at least a partial explanation. 
When I was reminded of his recruitment a few days ago, it struck me how there could be so much variation between the recruiting services. How did Scout look at Simon and see a future Big Ten Defensive Player of the Year and sack leader, while Rivals said, "Eh?" and moved on?  
It seems that there are a few players like that every year – who are offered by the Buckeyes but have extremely dissonant recruiting evaluations.
With National Signing Day tomorrow, I take a look at the current Buckeye commits that have the recruiting analysts the most divided. 
Evaluating the Difference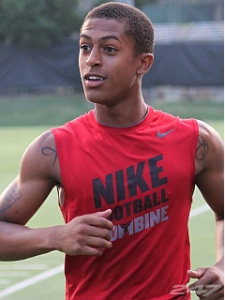 Unfortunately each recruiting service (Rivals, Scout, ESPN, and 247) uses a different ranking system in order to evaluate recruits, so comparing grades is not very straightforward.
While 247's Composite normalizes recruits' grades onto a linear composite index, it only tells us how 247's evaluations differ from the other three as a whole.
That pretty much rules out using the service's grades and ratings.
So in order to get a rough idea about which Buckeye commits have the recruiting industry divided, I compare the only metric guaranteed to be more or less standardized: position rankings.
Comparing the big four recruiting services, I find that recruiting experts are most conflicted by Taivon Jacobs, Donovan Munger, Michael Hill, Timothy Gardner, and Darron Lee.
Taivon Jacobs (WR)

| ESPN | Rivals | Scout | 247 |
| --- | --- | --- | --- |
| 58 | 52 | 54 | 33 |
The 5-10, 160 (!) Jacobs joins Jalin Marshall as an interior, slot receiver. Meyer has coached his fair share of diminuitive speedsters, and Jacobs reportedly brings 4.35 speed and obvious big-play ability. His size and lateral speed allow him to slip between defenders.
While ESPN, Rivals, and Scout are fairly uniform in their evaluation of Jacobs, 247 is much more impressed. It's important to remember that Jacobs received a committable offer before the likes of Ryan Timmons and Corn Elder. The disparity in his evaluation might be due to his high school competition, but many of his traits are impressive regardless of the competition.
Track times don't (ever) translate to real football speed when the pads are on, but Taivon's sub-4.5 speed is obvious. I'm impressed with his ability to not lose too much speed when changing direction. 
Jacobs might see the field first as a kick and punt returner at Ohio State as he'll likely need a little time to learn routes. 
Donovan Munger (DT/OL)

| ESPN | Rivals | Scout | 247 |
| --- | --- | --- | --- |
| 26 | 39 | 22 | 18 |
Munger is a 6-4, 285 defensive tackle (and possibly OL) prospect with offers from Florida State, Auburn, and UCLA, but doesn't get much respect from Rivals in particular. 
Donovan is a particularly intriguing prospect that can absolutely play both sides of the ball at OSU – I expect Warinner and Vrabel to fight over him from day one. At both offensive line and at defensive tackle, Munger plays with noticeable intensity even when the play isn't going his way and continues past when others have let up. 
Munger is particularly relentless in his run blocking, racking up multiple pancakes in his highlight film. His intensity is just as noticeable on defense (where he'll likely get time first), as he wraps up well and pursues the quarterback like a much smaller player.
Michael Hill (DT)

| ESPN | Rivals | Scout | 247 |
| --- | --- | --- | --- |
| 19 | 10 | 16 | 28 |
With offers from Alabama, Florida, and Florida State in addition to Ohio State, Michael Hill was an extremely sought-after recruit that was selected for the Army All-America Bowl. So why does 247 rank him so (relatively) low? 
Hill certainly brings size (6-2, 315) to the defensive line. He got away with out-muscling all of his high school competition in South Carolina, even when double teamed. However, he will need to learn better hand technique quickly to see the field early in his college career. With guys like Hill who have the physique to be successful in college, technique and effort go a long way in determining success. 
Timothy Gardner (OL)

| ESPN | Rivals | Scout | 247 |
| --- | --- | --- | --- |
| 59 | NR | 31 | 24 |
Gardner really had the recruiting experts divided, with 247 placing him as the 24th-best offensive line prospect and Rivals not even ranking him. 
Tim worked hard for his Ohio State offer at camp, slimming down from 340 to 320 pounds and beating out Lovell Peterson and others at Friday Night Lights. After receiving praise from LeCharles Bentley and Orlando Pace, Urban had seen all he needed to extend Gardner an offer. 
Gardner brings three things that I think will be critical to his success at Ohio State: Size (6-5, 320), work ethic, and meanness on the football field. While not as highly rated a prospect as the other OL commit in the class, Evan Lisle, Gardner brings plenty of material for Warinner to work with. A season or two with Marotti will be crucial to his development.  
Darron Lee (S)

| ESPN | Rivals | Scout | 247 |
| --- | --- | --- | --- |
| 22 | 44 (ATH) | 29 | 21 (ATH) |
Part of the difficulty in evaluating Lee is that he primarily played quarterback in high school and was listed variously as an athlete and a safety, where he'll likely end up at Ohio State. 
Lee has great hands and north-south speed, both of which are on display in his highlight film. After an interception, Lee excels at decisively finding a hole and then racing past potential tacklers. 
While he might need time to fully transition onto defense, he has a strong frame to be a physical tackler and ball-hawk in the secondary. I can see hints of early Kurt Coleman in his game.