Buckeye recruiting fans: your day has arrived. 
The Woody's fax machines are beeping to life and Buckeye Mission Control is prepared to receive official word on Urban Meyer's second recruiting class as The Ohio State University's head coach. 
You might as well set Eleven Warriors as your homepage now, because we will be covering all Buckeye targets' decisions, Urban's press conference, and will snag interviews with the newest commitments as well.
Look for our annual "Meet the Ohio State Football Class of 2013" piece later tonight as well. You remember Urban's first, right?  
While you're waiting for gray boxes to appear throughout the day, we'll host our National Signing Day Chaos Control Center & Live Blog at 8:30 a.m., just like we do for games. 
Below is your survival guide for the day, complete with network coverage listings, recruit announcement times, and locations.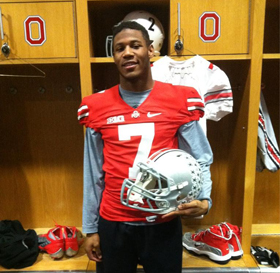 ESPN Coverage

ESPNU – complete with former Auburn and Tennessee head coaches Gene Chizik and Derek Dooley – begins its coverage at 9:00 a.m. and will continue until 7 tonight. 
If you're in class and your professor doesn't already have ESPN on the projector, you can catch a stream online here. 
In addition to Chizik and Dooley, ESPN will have Rece Davis and Dari Nowkhah as co-hosts, as well as head recruiting analyst Tom Luginbill, Craig Haubert, Mike Bellotti and Rod Gilmore.
Seventeen recruits have decided to make their intentions known live and on air for ESPN this year. 
However, the real draw will be Quint Kessenich reporting live from Ohio State as the faxes come in. Urban will be interviewed throughout the day in addition to his appearance on 97.1 The Fan for his weekly call-in show at noon. 
We won't get too many interviews or videos of the football program until spring practice begins, so soak it up, people. 
Big Ten Network

BTN's coverage, creatively termed "Football Signing Day Special," airs live from 3 to 4:30 p.m. today. 
If you tune over to BTN, you'll be welcomed by Mike Hall, Gerry DiNardo, and Howard Griffith, covering each school's recruiting class needs. This might be worth your while for one-on-one interviews with Big Ten coaches as well as analysis from Scout's Allen Trieu. 
Here's their early preview from around the Big Ten, in case you're worried that Minnesota will make a late push to claim the Big Ten's top spot. 
Decisions of interest

Here's a handy table to all of the remaining Buckeye targets/potential flips: 
|   | time (ET) | Where | schools |
| --- | --- | --- | --- |
| James Clark | 9 a.m. | MaxPreps | OSU, Clemson, Florida, NW |
| Taivon Jacobs | 10 a.m. |   | OSU, Maryland |
| Vonn Bell | 10:05 a.m. | ESPNU | OSU, Bama, Tenn |
| Trey Johnson | 2:15 p.m. |   | OSU, Tenn, Florida |
| Ezekiel ElliotT | 5 p.m. | KSDK Live | OSU, Mizzou |
If you're looking for an announcement schedule with a little more national flavor, ESPN has you covered. 
Your Very Own

While Eleven Warriors doesn't have a television network (yet), we will be posting here, live blogging, and joining some radio shows throughout the day. As previously mentioned, our coverage begins with the liveblog at 8:30 a.m. 
We'll be updating you with gray boxes (both good and bad) all day long, but we'll formally introduce you to the class around 2:30. Soon after, Kyle and Derek will cover Ohio State's press conference (stream available online) at 3 p.m.
Alex will then go on Bull and Fox on 92.3 in Cleveland at 4:20 p.m., breaking down Urban's second class. Finally, we'll add videos to the site as they become available.
Finally, be sure you're following the right people on Twitter: @Alex11W, @Derek11W, @Miles11W and @KyleRowland.
All right, good luck out there, recruitniks. Go Bucks!