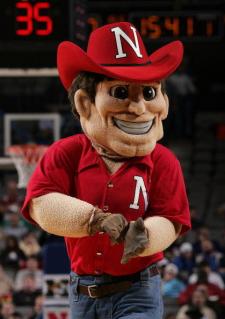 For Ohio State, the beginning of February means a bad opponent that you already clobbered once this season, with Michigan and Indiana looming next week. Yes, Saturday night's game at Nebraska is a prime trap game. But don't expect that result to be a loss. A close game, maybe.
Nebraska is just 2-7 in the Big Ten, with the wins coming against fellow downtrodden programs Northwestern and Penn State. Five losses have come by double digits. First-year head coach Tim Miles has an uphill climb, and right now, the summit probably looks like Mt. Everest.
It's been 15 years since Nebraska last appeared in the NCAA Tournament. Barring a miracle, another year will be added to that streak of futility after this season.
"Tim has been a head coach for 18 years and he's won at a high rate," Ohio State head coach Thad Matta said. "I do think you can build that, but the fact is that it doesn't happen overnight."
First it takes the right mentality. And that's what Miles is trying to instill into a group that is short on winning. Against Ohio State, there has been zero wins. The margins: 34, 31 and 26.
Ouch.
"I'm not sympathetic to a bad mentality," Miles said. "I'm not sympathetic to, 'I'm not sure I can do this.' That's not going to get us very far in life. That's not going to get us very far with this basketball team."
| # | Name | YR | HT/WT | PTS | REB | ASST | P | # | Name | YR | HT/WT | PTS | REB | ASST |
| --- | --- | --- | --- | --- | --- | --- | --- | --- | --- | --- | --- | --- | --- | --- |
| 4 | A. Craft | JR | 6-2/190 | 9.0 | 3.5 | 4.6 | G | 24 | D. Talley | SR | 6-52/216 | 13.0 | 5.4  | 2.5 |
| 32 | L. Smith Jr. | JR | 6-4/225 | 10.0 | 5.7 | 1.7 | G | 15 | R. Gallegos | JR | 6-2/181 | 13.5 | 3.2 | 1.1 |
| 12 | S. Thompson | SO | 6-7/190 | 7.2 | 3.4 | 1.1 | F | 31 | S. Shields | FR | 6-6/214 | 7.5 | 4.9 | 1.1 |
| 1 | D. Thomas | JR | 6-7/215 | 20.3 | 6.3 | 1.6 | F | 2 | D. Rivers | SO | 6-7/191 | 5.6 | 3.1 | 0.5 |
| 23 | A. Williams | SO | 6-11/250 | 4.1 | 3.9 | 0.2 | C | 13 | B. Ubel | SR | 6-10/234 | 12.1 | 6.7 | 1.4 |
Opponent
Prepare to win. Expect to win. That is the message Miles has been delivering to his team. From his vantage point, the Cornhuskers have been buying into the role as the underdog, entering games already defeated.
Miles is ready to mark an end to that era.
"We've got to operate with a chip on our shoulder if we're going to be able to be in some of these games, and win some of these games," he said. "I don't think we operated that way."
The margin of defeats is all the proof someone needs to agree with Miles' assessment. Not expecting much out of themselves has led to underwhelming performances. It happened again this week against Minnesota, a team that entered the game reeling. But four straight losses took a back seat against Nebraska. The Golden Gophers won, 70-44.
"I don't see how we can't get excited for these kinds of games," senior forward Brandon Ubel said. "We've got to look at ourselves in the mirror, each of us, and see where our motivation is coming from."
Said Miles: "Half the time it looks like, to me, we don't care. Or we don't know. I asked the guys all the time in film, which is it? You don't know, or you don't care? It's got to be one or the other. It's like pregnancy. You are or you're not. It's pretty clear."
Ray Gallegos appears to be the one Cornhusker that does rise to the occasion in Big Ten games. He scored 14 points in Columbus earlier this season and a career-high 30 in the loss to Minnesota.
It's going to take more than that, however, on a team that is already limited. That's why Miles concentrated on the psychological aspect of basketball this week. Practice is all fine and dandy, but what about talking about winning.
"You can get conditioned to winning, and you can get conditioned to losing,'' Miles said. "I don't think we expect enough out of ourselves yet.
"Ohio State, they expect to win. It's that simple. And they play accordingly."
That expectation will be oozing from the Buckeyes on Saturday.
Buckeye Breakdown
Two years ago, heck, even one year ago, if you asked someone to describe Deshaun Thomas, they may have called him an offense-only player, a gunner, a defensive liability and a player who disrupts the offense's rhythm.
Those defining traits can now be tossed aside. Thomas is well-rounded – he shoots, assists, rebounds and, yes, plays defense. He's also the one that gets the offense humming. It typically comes via a field goal, but during Ohio State's win over Wisconsin on Tuesday, Thomas made the all-important "extra" pass.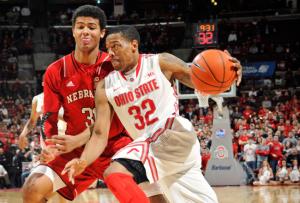 "I saw a lot of (Wisconsin) jerseys," Thomas said. "That's just part of me growing up and knowing when we're up in the game, the momentum's going our way, just give it to our point guard and set up a play."
All too often, basketball players fail to make that connection, instead taking an ill-advised shot or committing an untimely turnover.
The Big Ten's leading scorer, Thomas shot one three-pointer against the Badgers. His 25 points came on 17 shots. Thomas made 10 2s and five free throws. Ten of his points came during the Buckeyes' 15-0 second-half run that distanced Ohio State from Wisconsin.
It was one of the best performances during Thomas' career, but it wasn't simply because he scored 25 points and took over the game offensively when Ohio State looked to be slipping. Thomas was just as productive away from the ball and on defense.
"He was exhausted the last five minutes of the game," Matta said. "Two years ago, he would've just completely shut down on the defensive end to save it for the offensive end. But I thought he kept defending down there.
"Without a doubt, this is probably right there at the top. Just because of his overall effectiveness on offense, and I thought he was very good defensively too."
Clearly, though, scoring is still the area in which most people identify Thomas. And when he has outbursts like Tuesday, it's hard to blame them. 
"I was just in attack mode," Thomas said. "I was watching film with Coach to learning about shot selection and trying to free my teammates. I did the little things for my teammates and myself to help this team."
Finding a second consistent scorer has been the theme of the season for Ohio State. But in recent weeks, the Buckeyes have been able to spread the scoring around to several players, negating the need for one person to pick up the slack behind Thomas.
Nebraska will approach the game looking to elimate Thomas' scoring ability.
"We have to go after him," Nebraska head coach Tim Miles said. "I just feel like at the end of the day, they want to run their offense through Thomas, so why should you be trying to let them play the way they practice every day? Why would you do that?
"You make other guys do other things and rise to occasion. I'm quite certain Deshaun will rise to occasion. He's pretty good."
Etc
Ohio State is 7-2 all-time vs. Nebraska.
Kevin Kugler and Jim Jackson have the call.