Practice.
Those that don't share Allen Iverson's worldview consider it pretty crucial to development. If you put the work into practicing speed reading, surgery, juggling knives – anything, really – your proficiency should improve.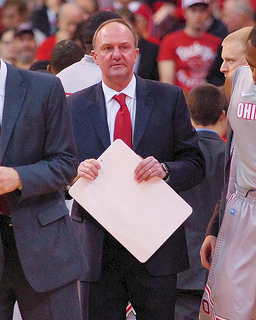 Luckily for Thad Matta, the 2012-13 Ohio State Buckeyes seem to be a team that enjoys the art of improvement.
"Building a team is a process in terms of guys finding their niche and what type of personality they're going to bring to practice," Matta said. "That's something we've tried to instill in them. This is the personality we want you to have. That's easier said than done, but in terms of meetings and practice, they've been pretty receptive of having an understanding of what we're trying to get out of it."
One year ago, Ohio State was in the midst of capturing a third consecutive Big Ten championship and advancing to the program's second Final Four appearance in six years. But the team was largely reliant on a veteran core that understood the game and what it took to succeed at the highest level.
When you've practiced for four years or feel like you have what it takes to be dominant, dedication to practice begins to wane.
With the calendar advancing one year, the nucleus of that team is gone. William Buford, the third-leading scorer in school history, is gone, as is Jared Sullinger, a two-time All-American. Evan Ravenel, the lone senior, and three juniors – Aaron Craft, Deshaun Thomas and Lenzelle Smith Jr. – remain, but the Buckeyes have a decidedly young feel to them. Four underclassmen, two of them starters, play more than 15 minutes per game.
"To be honest, we're a better practicing team than we were last year," Craft said. "That's very encouraging, especially with the heart of the Big Ten season coming up. It reaches a point where it's real easy to punch-in and punch-out and just get the work in and leave."
That period is the zone Ohio State is now entering. Late January and the month of February is the least desirable point during basketball season. The games and practice become a grind after three months of non-stop action. But the second half of the Big Ten schedule is the most challenging for Ohio State, meaning focus will be paramount. At the heart of that is taking advantage of extra time in the gym, not just game experience.
"We have to make sure we trust each other and make sure we practice hard," Thomas said. "We know every game will be a fight, but Coach Matta has prepared us."
Matta has become known for his team's defensive presence, but he is also a preparation guru. It's one reason why his teams at Butler, Xavier and Ohio State have all won 20 games. Sure, he's had the luxury of great players due to a keen recruiting eye. Plenty of coaches are good recruiters and underachieve. When Matta's players arrive on campus, he has a track record of development.
"He does a phenomenal job of getting us ready through practice, and especially on game day," Craft said. "That is why he is one of the best coaches in the country."
During Matta's tenure Ohio State has trended upward as the season progressed. That appears to be holding true once again. The Buckeyes lost three games during a 10-game stretch earlier in the season, albeit to ranked opponents. The constants, however, were defeats away from Value City Arena to highly ranked teams. The bottoming out came at Illinois in a 19-point beatdown.
The transformation started in the first practice following that game. The coaches showed no panic, instead delivering a message. The realization finally set into the Buckeyes – every day is meant for bettering themselves. Ohio State is 5-1 since that afternoon in Champaign, winning two games on the road and handing No. 1 Michigan its only defeat.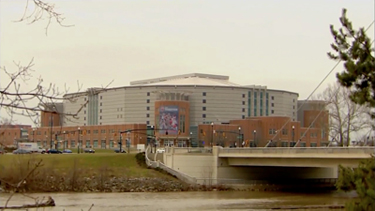 "When you don't have a ton of guys in practice and you don't come to play every day, you look bad," Matta said. "They picked up on that early and that has helped our team.
"It has been a process of getting guys to understand and appreciate what it takes to get your mind ready to play every single minute you take the floor. From the standpoint of coaching, we just have to keep showing them the film, practicing at an incredible level and seeing improvement every time we take the floor."
Last season Ohio State experienced a February swoon that threatened to derail its Big Ten title hopes. In the end, with backs firmly against the wall, Ohio State overcame a bout of adversity to pull out a final-week stunner to add another trophy to a growing case.
Walk into the auxiliary courts today and you'll likely see spirited competition between the starters and reserves, and skirmishes that occur when teams are invested in winning at a high level. That group of underclassmen – sophomores Sam Thompson, Amir Williams, Shannon Scott and LaQuinton Ross – has helped give the Buckeyes a relentless attitude on the court. 
"We definitely compete more," Smith said. "The teams are more well-rounded. Last year at practice with the starting five against the other guys, we'd take over the practice almost every time. Now it's guys competing, we're fighting. You never know who's going to win these practices."
Said Thompson: "I think we're definitely getting better every day. That's all you can ask for. It hasn't always been as smooth as we'd like it be, but I think we're all coming into our own."