It is less than a week until National Signing Day and teams across the country are polishing the classes that they have constructed for the last year.
Unless there is a Terrelle Pryor-like situation, this will be the last edition of our rankings before squads have locked up their respective 2013 prospects, and we move on to focusing our attention to the talented 2014 group that lies ahead.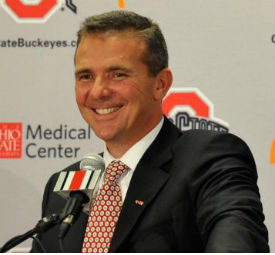 Three winners emerged in the conference within the past seven days. Ohio State was able to grab a desired outside wide receiver, Michigan claimed arguably the top running back in the nation, and Purdue was able to secure the commitment from six different players.
The undisputed conference loser of the week was Nebraska. The Huskers suffered two losses to the class, and were the only team in the Big Ten to be "left at the altar" a week before Signing Day.
Michigan State, Wisconsin, Indiana, Iowa, Minnesota, and Rutgers all also brought in new additions. The Spartans' newest member enabled Mark Dantonio's club to be one of only two B1G foes to climb a spot.
Keep reading to find out which teams still have potential targets left on the table, and if any can make moves in the conference recruiting rankings to unseat the mighty Buckeyes at the top of our list.
1. Ohio State
Assistant coach Zach Smith reeled in a playmaker this weekend in the form of JuCo WR Corey Smith, who grew up in Akron. Smith will be asked to step in immediately and contribute to the OSU offense this upcoming season and has two seasons left to play in Columbus.
The Buckeyes now look ahead to the final week with just a few spots available to be filled. WR James Clark, ATH Ryan Timmons, WR Darren Carrington, ATH Corn Elder, ATH Dontre Wilson, and S Vonn Bell are all possibilities and it will be interesting to see how things play out.
Another angle to the OSU recruiting situation is the status of LB Trey Johnson and RB Ezekiel Elliott. Johnson visited Tennessee and Elliott took a weekend trip to Missouri, so the staff has its work cut out for them to not only get new players, but to keep their current pledges.
Trey Johnson's coach has said that his star player will sign with Ohio State, but until the fax is in, nobody can be 100% certain. Elliott has gone silent until Wednesday, fueling speculation that he might flip to the Tigers, but word we are receiving is that he'll be a Buckeye.
It remains to be seen what will happen, but we feel both players will still play their college football in Columbus.
2. Michigan
Brady Hoke's persistent pursuit of RB Derrick Green finally paid off when the star back announced his intentions of signing with the Maize and Blue. 
The only other Wolverine target entering the week was TE Durham Smythe, before he committed to Notre Dame over the weekend.
With the board now being cleared, the push begins for the 2014 cycle for the staff in Ann Arbor, as they seem to have finished off a very talented 2013 class.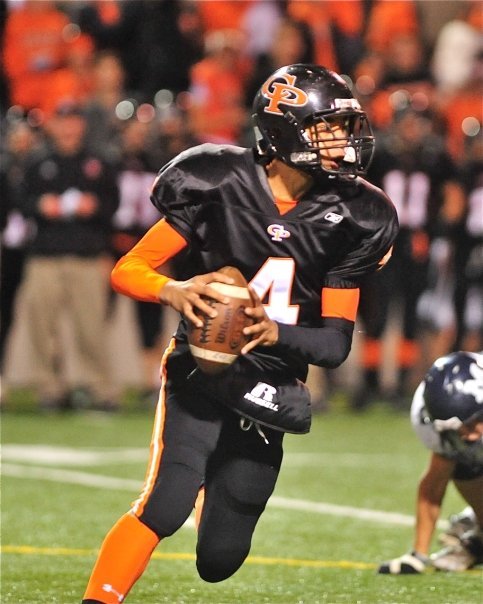 3. NEBRASKA
Nebraska followed up a fantastic week on the recruiting trail with a somber one.
After collecting four pledges last week, the Huskers lost two this week. Long time commit, S Marcus McWilson, was poached by Kentucky and WR Domonic Walker was flipped by Auburn.
Additionally, DB Priest Willis publicly declared for UCLA, furthering the damage as Nebraska limps down the stretch and potentially falls down the rankings.
4. Michigan State
Mark Dantonio and the Spartans continued their roll on the trail with the commitment of DL James Bodanis.
They had also secured verbals from S Justin Williams and DL Noah Jones in the previous week.
At 19 members and an expected smaller class, Michigan State appears done for this signing period and will concentrate its focus on the next class.
5. Penn State
The staff in Happy Valley is finished handing out scholarships for 2013 due to NCAA restrictions, and are more focused on landing some talented preferred walk-on athletes to help supplement their roster. 
Despite the limitations, the Nittany Lions sit fifth in the conference, which has to be considered a success for Bill O'Brien and his staff.
QB Christian Hackenberg leads a talented group that will play in front of the crowd at Beaver Stadium.
6. Wisconsin
Gary Andersen and his staff had their best week yet since arriving in Madison, receiving verbals from DB Jakarrie Washington and LB Leon Jacobs.
The biggest prize of the week, however, would be the reaffirmation of DE Alec James' commitment to the program.
James, along with RB Corey Clement and DL Chikwe Obasih, headline a solid group that has, for the most part, shown their loyalty in the midst of a massive coaching transition.
7. RUTGERS
LB Skai Moore is once again considering the Scarlet Knights, which is great news for the coaching staff in Piscataway. Moore was once committed to Rutgers but after receiving a couple of SEC offers, backed off from his pledge to Kyle Flood.
In other good news for Rutgers fans, LB Devan Carter and ATH Janarion Grant verballed to the staff in the last week. RU currently has 23 declarations in, but would love to have Moore make 24 come Signing Day.
8. Illinois
The fax machine will be busy in Champaign on Wednesday, as the Illini are expecting 26 signatures come Signing Day.
Several of the players committed will have a great opportunity at early playing time, including QB/ATH Aaron Bailey and DB/WR Caleb Day.
9. Northwestern
In talking to WR James Clark yesterday, he told me to still not rule out the Wildcats in his decision. Clark is set to announce his college choice at 9 AM on Signing Day between Ohio State, Florida, Clemson, and Northwestern.
Clark would be quite the coup for Pat Fitzgerald's staff if they could pull off the shocker. Northwestern already has a talented quarterback committed to throw him the ball in Matt Alviti and the 'Cats are building a nice little program in Evanston.
10. MARYLAND
It seems to be the consensus across all the scouting services that the Terps are now expected to land prized in-state recruit LB Yannick Ngakoue. Keeping Ngakoue at home would be an incredible steal for Maryland and would bolster the 2013 class for the growing program.
Randy Edsall and his staff have done a great job at keeping the top players at home since he arrived. WR Stefon Diggs chose to play for the Terrapins last year, this year they have already landed OL Derwin Gray, and now they are in great shape for Ngakoue.
11. Iowa
It had been very quiet out of Iowa City recently, but business picked back up again this week with the verbal from RB Desmond King.
King joins LeShun Daniels as backfield mates in the class, giving the Hawkeyes 18 players set to sign on the dotted line.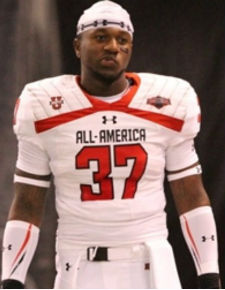 12. Indiana
IU kept the commitment train rolling this week after CB Nigel Tribune announced for the Hoosiers. Tribune gives Indiana 21 commits for their 2013 class.
With less than a week to go, Kevin Wilson and company have a bit more space to bring in a few more athletes to play on the gridiron in Bloomington. Defense has been the focus for the program, so look to that side of the ball for last-minute additions.
13. Purdue
Darrell Hazell put his personal stamp on the Boilermakers' class in the past week, receiving six pledges.
WR Dan Monteroso was a big one for the new coach, leaving the Boston College class to play in West Lafayette.
TE Garrett Hudson, WR Deangelo Yancey, OL Jason Tretter, DT Johnny Daniels, and DL Evan Panfil were the other prospects that announced they would be playing their college football for Hazell.
14. Minnesota
The Gophers added another playmaker for their offense in WR Drew Wollarsky.
Wollarsky joins ATH DeNiro Laster and RB Berkeley Edwards as members expected to be the focal points on offense for Minnesota in the future. 
Rankings Overview
| Teams | # Of Commits | Scout Star Avg | Rivals Star Avg | 247 Star Avg | ESPN Star Avg | Overall Avg |
| --- | --- | --- | --- | --- | --- | --- |
| 1. Ohio State | 23 | 3.91 | 3.65 | 3.78 | 3.78 | 3.78 |
| 2. Michigan | 27 | 3.81 | 3.63 | 3.63 | 3.59 | 3.67 |
| 3. Nebraska | 22 | 3.32 | 3.14 | 3.32 | 3.41 | 3.30 |
| 4. Michigan State | 18 | 3.06 | 3.11 | 3.11 | 3.22 | 3.13 |
| 5. Penn State | 17 | 2.94 | 2.88 | 3.53 | 3.18 | 3.13 |
| 6. Wisconsin | 19 | 3.05 | 2.89 | 2.84 | 3.16 | 2.99 |
| 7. Rutgers | 23 | 2.95 | 2.77 | 2.82 | 3.14 | 2.92 |
| 8. Illinois | 26 | 2.65 | 2.73 | 2.69 | 2.92 | 2.75 |
| 9. Northwestern | 19 | 3.00 | 2.89 | 2.80 | 3.00 | 2.92 |
| 10. Maryland | 20 | 2.70 | 2.90 | 2.85 | 3.00 | 2.86 |
| 11. Iowa | 18 | 2.71 | 2.88 | 3.00 | 2.94 | 2.88 |
| 12. Indiana | 21 | 2.65 | 2.90 | 2.55 | 2.95 | 2.76 |
| 13. Purdue | 20 | 2.50 | 2.70 | 2.60 | 3.00 | 2.70 |
| 14. Minnesota | 16 | 2.40 | 2.73 | 2.80 | 2.87 | 2.70 |