One week is all that remains until National Signing Day. It has certainly been a wild finish for Ohio State and the rest of the college football world and in just seven days all of that will be put to rest.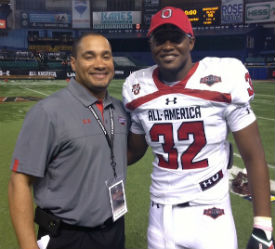 Since the last time the notebook came out, Urban Meyer has seen multiple commits take visits to other schools, hosted a couple of super wide receiver prospects, saw an offensive line prospect commit elsewhere, and landed a wide receiver of his own.
When on the Dubcast with Johnny, I was asked what the biggest difference between recruiting under Jim Tressel and Urban Meyer was. While I gave a long-winded response about strategy and execution, I also talked about it from a media perspective and I can say with a lot of confidence that many more heads are spinning as Signing Day arrives under the new regime versus the old.
Keeping track of recruiting is hard enough as it is, but bring in Meyer's relentless efforts to not rest until a class is signed, and you have the recipe for recruiting analysts everywhere trading around cycles of information that seem to pop up each and every minute of the day. I know that I will certainly be relieved after Signing Day, if only for about 10 minutes before we have to start going at it for the class of 2014.
In this edition of the 11W Recruiting Notebook, we take a look at a couple of OSU verbals that are looking around, run down the current class as it stands today, and take a look at the prospects still out there that could end up in the Buckeye family come next Wednesday.
Commits Looking Around
A big story the past weekend surrounded two Ohio State verbal commitments taking official visits to other programs.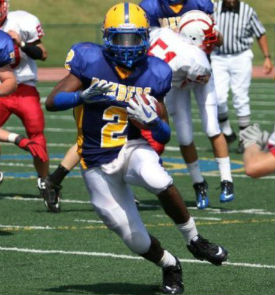 RB Ezekiel Elliott was one of those players and he took a visit to Missouri, where both of his parents attended. Elliott was upfront and honest about the visit with the staff, and while they couldn't have been happy it was happening, what could they really do considering he handled the situation as professionally as he could.
I know a lot of fans are nervous about where this one will go, especially considering Ezekiel is not talking to reporters until Signing Day, but we are fairly confident that he will stick with the Buckeyes. Sure, it is a little weird he is going silent until Wednesday, adding to speculation he might be flipping, and I must admit I am a little apprehensive about this situation, but I can only go off what I am being told.
Sources close to the situation that we trust have assured us all is well between OSU and Zeke following the visit by Tom Herman and Stan Drayton on Monday, so we are going to roll with that info, regardless of any sources "not being on fire lately".
I think in the end Elliott always wanted to give Missouri one last look to make sure the school he grew up on wasn't the right one for him. The timing wasn't great, but I think he knows Ohio State is where he belongs and his parents are 100% behind that decision.
While Ezekiel was upfront with the OSU coaches, that was not the case with LB Trey Johnson who was at Tennessee this weekend. Johnson didn't necessarily lie to the Buckeye staff, but he wasn't forthcoming about the visit and even used Twitter to deceive Ohio State.
Johnson tweeted about going out in his home county of Gwinnett and about seeing his sister in Georgia on Saturday morning, as well as lied to Miles, saying the rumor of his visit wasn't true and then retweeting the following tweet displaying that information.
It turns out the four-star prospect was indeed at Rocky Top, but it doesn't appear as if it will mean anything. Both Trey's coach and father say he is "locked in" to OSU and will be signing with the Bucks next Wednesday on Signing Day.
It was certainly crazy in regard to holding on to the current commits over the last week, but it looks like Meyer and his staff have weathered the storm. We'll know for sure soon enough.
Current Outlook
East Mississippi Community College WR Corey Smith committed to Ohio State yesterday, bringing the 2013 class total to 23 members.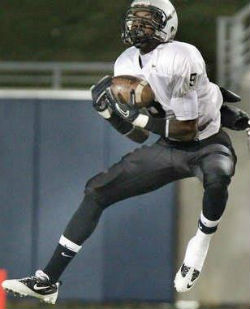 As things currently stand, the Buckeyes have 58 players returning from last year's roster and have 23 players coming in, bringing the total scholarship count to 81. The limit is 82 so there is technically room for 1 more player, but I wouldn't be surprised to see the Bucks take 2, possibly even 3 more players if they know about current members who are going to transfer before the start of fall camp.
The offensive class is full of playmakers at various positions and gives the unit a much-needed boost for the future of the Urban Era. The Bucks brought in quarterback JT Barrett to be the heir apparent to Braxton Miller, have Ezekiel Elliott at running back with a ton of versatility, and add Jalin Marshall, Taivon Jacobs, and Smith to a receiving corps that needs immediate depth. 
In addition to the aforementioned, one of the more underrated players in the class is TE Marcus Baugh. Baugh is expected to see playing time as a true freshman and brings a skill set that OSU fans have not seen at the position.
The offensive line is an area that the coaches struggled with a bit this past cycle, but both Evan Lisle and Tim Gardner are good players and you can bet any holes in that group will be taken care of with the class of 2014.
On defense the class is loaded and there really aren't any holes. Joey Bosa leads a tremendous defensive line haul, Mike Mitchell and Trey Johnson are top-notch players for linebacker, and the secondary might be the strongest unit in the class, with Cam Burrows, Eli Apple, Gareon Conley, Jayme Thompson, Darron Lee, and Chris Worley all possibly contributing.
Things are certainly looking up for the future of Buckeye football and Meyer is making a legitimate push to have the nation's top-ranked class when Signing Day comes and goes next week.
The Remaining Targets
If Ohio State finished their class today as is, it would be a tremendous group that would be regarded as a consensus top-five class in the country. Many fans would be happy with the current haul, but fortunately Urban Meyer never settles and is on the hunt for a few more outstanding players to add to the class.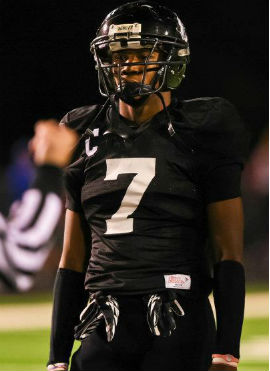 Remaining targets on the board include S Vonn Bell, ATH Dontre Wilson, WR James Clark, ATH Ryan Timmons, ATH Cornelius Elder, WR Darren Carrington Jr., and OL Cameron Hunt.
We got word coming out of the Under Armour Game that Vonn Bell may have slightly been favoring Ohio State. His official visit came and went with no commitment and then Nick Saban and Alabama had their crack at the five-star safety. Following that visit, Derek, Miles, and I all thought it was going to be "Roll Tide" for Bell, but we knew Meyer had not given up. 
Bell was in Knoxville this past weekend visiting Tennessee, the school he grew up rooting for. Butch Jones and his staff rolled out the red carpet for the star and it appears they made a good enough impression for the Vols to now be considered legitimate contenders for his services.
As things stand right now, the rumors are Alabama may be fading and it could be a Tennessee and Ohio State battle. I truly believe Vonn hasn't made his mind up yet, and with news coming out last night that he won't be talking to any schools after Thursday, it appears the time is now for that to happen.
I'm not going to pretend to know anything concrete when it comes to Bell, but it is my guess at this point that OSU is in good shape. I heard this morning that the staff feels good about where they stand, and although UT is making a strong push, I think the relationship that Vonn has with Ohio State may be too much to overcome. Nick Saban can never be counted out of this one either, despite reports that the Tide may not have much more room for 2013, so we will all just have to wait until 10 AM next Wednesday to find out where this goes. 
Wilson was in Columbus this past weekend for his official visit and from everything I hear it went very well, as expected. Wilson's coach told Derek that Dontre is still committed to Oregon, but right now his decision is a "toss-up" and he will make a visit to Texas this coming weekend before a possible NSD decision.
Right now I don't know how to feel about this situation, as I am not sure why he'd visit a local school in Texas if he was sure it is Oregon or Ohio State. He certainly could just want to see one more school to make sure of his choice, but this recruitment is certainly odd at this time and it will be interesting to see how things play out. I still think as of now it is Ducks or Bucks for Wilson and if I had to bet on one of them, I'd go Ohio State, but that is a pure guess and clearly Dontre is looking for something more before a decision is made.
Clark was also in Columbus this weekend and also had a good visit with the staff. He will visit Florida unofficially this weekend though, and it appears if the Gators have room for him that he will be headed to Gainesville. Anything can change, but right now the 11W staff sees OSU as number two behind UF for Clark's services.
Timmons will also visit Florida this weekend and is supposedly down to UF, OSU, Kentucky, and Illinois. If the Gators land Clark, I'm not sure there will be room for Timmons and I think his decision may come down to UK and the Buckeyes regardless.
I was not sure if Meyer would accept Timmons' pledge right this minute, as he may want to see what happens with Wilson and Clark before making that call, but it appears the heat is being turned up and an in-home visit is scheduled for today. Maybe I had this one completely wrong? We will see soon enough.
Elder was recently offered a basketball scholarship by Purdue and the sport is his first love so that may be tough to turn down. Other schools courting him for football are saying he could play hoops as well if he wants, but right now the Buckeyes are looking at him solely for the gridiron. I think, like Timmons, Elder is a backup option right now and I don't see him ending up in Columbus unless they miss on some of their higher-rated prospects.
Carrington is slated to be in Columbus this coming weekend, and if he does arrive it is "game on". The current Oregon commit is looking around and has been to Arizona and Arizona State since Chip Kelly's departure. To me, this is a kid looking for another option, and if the visit happens, the Buckeyes could certainly be that option.
Carrington, who doesn't hold an offer yet, is from San Diego, and it is my guess that without an offer in hand that he will not make the trip. Developments with other targets could determine if that happens or not, so stay tuned for more news on the West Coast star.
Finally, Hunt visited California last weekend, the program he was originally committed to. Coming out of that visit, it appears his choice could now be between the Golden Bears and Oregon, with Ohio State looking like a long shot. 
The Bucks lost out on OL Dan Skipper to Arkansas last week, so with it looking like they will lose Hunt as well, it appears the offensive line class for 2013 will close out with just two members.