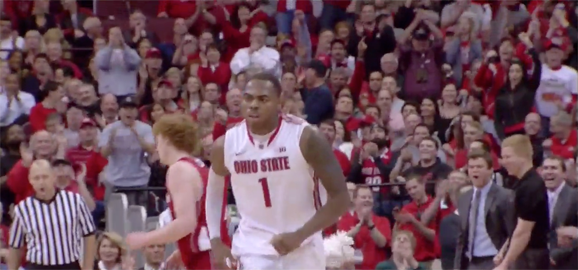 COLUMBUS, Ohio – "Is this real life?" asked Aaron Craft after Ohio State's 58-49 statement win over Wisconsin. It was a good question, considering the offensive onslaught from Ohio State.
The Buckeyes shot 63.6 percent from the field in the second half, an unheard of number against Wisconsin. A 15-0 run pushed Ohio State from down four to up 11, and they never looked back from there.
Craft's inquisitiveness also could have been due to Deshaun Thomas's shooting clinic. Thomas played all 40 minutes, delivering one of his finest performances as a Buckeye. He finished with 25 points on 10-of-17 shooting and even dished out four assists, including a stretch of three straight.
"Without a doubt, this is right there at the top with his overall offensive effectiveness," said Ohio State head coach Thad Matta, raving about Thomas. "I thought he was good on the defensive end too."
But Craft was actually talking about Wisconsin head coach Bo Ryan declining to enter the postgame press conference room, instead choosing to do a Q&A outside the Badger locker room.
Odd, yes. But the game was a normal Ohio State-Wisconsin slugfest, at least for the first 27 minutes. The Badgers led, 41-37, and had established their usual slow-down pace. Sensing an opening, Thomas broke right through it. He scored 10 points during Ohio State's 15-0 advantage.
Wisconsin missed seven consecutive field goal attempts and turned the ball over three times as the Buckeyes took control. Ohio State scored 11 points off the second-half mistakes by the Badgers.
"All season long we know our best offense stems from our defense," Craft said. "We did great getting long rebounds and getting into our offense. We're at our best when everyone is contributing and we aren't really concentrating on one guy."
That one guy is No. 1 Deshaun Thomas. While he scored well over his average of 20 points per game, Ohio State was able to spread its scoring around to six other players. Craft had 13 points and seven rebounds and LaQuinton Ross chipped in with eight points.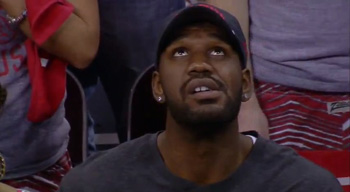 The first half was either ugly or beautiful depending on your opinion of offense. Neither team connected on 40 percent of their field goal attempts, but it was exactly what Ryan wanted. Entering the game, Wisconsin had won three of its past five games against ranked opponents, and they did it with grit on the defensive end.
Halftime game-planning revolved around Ohio State creating high-percentage scoring opportunities by getting the ball down low. That's where Thomas did a majority of his dirty work, scoring 20 points on two-point baskets. The Buckeyes scored 34 points in the paint.
"I thought we were more aggressive in our pace of our offense, the flow of our offense," Matta said. "I thought we did a good job of getting open shots. You have to give (Wisconsin) credit – they're as good defensively as we've played this season."
Ohio State wasn't the only team hitting shots after the break, though. Wisconsin connected on six of its first 11 shots until going in a deep freeze. And the Buckeyes weren't interested in more late second-half nervousness. Last week, Ohio State twice allowed opponents to cut significant leads, but Wisconsin never got closer than six once the Buckeyes took the lead for good.
"We executed real well down the stretch," Thomas said. "We knew it was going to be a low-scoring game. Coach said to show toughness. We knew Wisconsin was going to slow us down, and we wanted to get out there and punch them in the mouth."
Consider it a KO.
One major factor in Wisconsin's inability to make a run was its lack of free throws. Remarkably, the Badgers didn't get to the line once. Ohio State entered the game with foul issues, but it committed a season-low 12 fouls.
"We've done it to other teams and we've had other games where we took only one or two," Ryan said. "Ohio State played well defensively."
Wisconsin didn't make it much easier on itself, attempting 28 three-pointers. It connected on 11, but only made eight shots inside the arc. Wisconsin shot 36.5 percent for the game.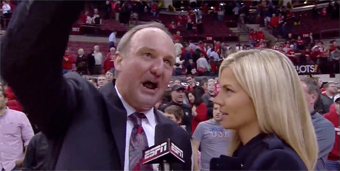 For Thomas, the game represented a sea change. His career has involved a considerable point output from three-pointers. But he attempted just one shot from beyond the arc. Instead of playing like an athletic wing, Thomas took the approach of a more traditional forward, gaining position and backing down his defender to get easy looks at the basket.
"I was just in attack mode," he said. "Coach Jent was telling me to be patient and relax and attack when it's there. I was just reading my defensive man. I felt really good getting inside closer."
Not wanting to mess up a good thing, Thomas' teammates continued to feed him. He shot the ball 17 times, but nearly every attempt could be characterized as makeable.
"When someone has a hot hand, you keep giving them the ball every possession," Craft said. "We were able to get him the ball in different areas where he feels comfortable. That's what we need to do. He made some big shots, but he also had some great passes."
Dating to 2004, Ohio State and Wisconsin have split every season series when the schools have played twice in the regular season. The Kohl Center has been a graveyard for Ohio State, giving the Badgers an advantage when the teams play in February.
One thing is certain: the game will be low scoring and feature a physical, brash style. Some call it boring, others embrace it.
"It's fun for me," Thomas said. "I like a challenge."
On Feb. 17, Ryan would be wise to throw a few more tests Thomas' way.
---