Last week we took a look at the impressive offensive line group in the recruiting class of 2014, so it's only natural that the next segment in our "Forecasting 2014" flips over to the other side of the trenches and examines the prospects on Ohio State's defensive line big board.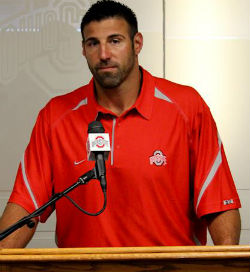 With John Simon, Nathan Williams, and Garrett Goebel graduating, as well as Johnathan Hankins leaving early for the NFL, the Buckeyes need to replace all four starters on the defensive line.
An excellent haul for the unit in 2012, headlined by Tommy Schutt, Adolphus Washington, and Noah Spence will likely fill those spots, along with Michael Bennett, but that did not stop Urban Meyer and the staff from pursuing more elite players on the defensive line in 2013.
Joey Bosa, Billy Price, Tracy Sprinkle, Donovan Munger, and Tyquan Lewis will all help bolster depth on the unit, but once again that will not stop this relentless coaching staff from pursuing more playmakers at tackle and end in the 2014 class.
Meyer knows that having super athletes for his spread offense will certainly help OSU get to the top of the football world, but the reality is the Bucks will need elite defensive play to top Alabama for college football's throne. In a little over a year on the job he has certainly made steps towards accomplishing that goal, and the 2014 class has the opportunity to be a group that gets Ohio State over the hump.
Join us after the jump to see which defensive linemen may be next to join what looks to become a special position unit under the tutelage of assistant coach Mike Vrabel.
Tier 1
It's pretty easy to guess who starts off Tier 1 for defensive linemen. If you guessed Woodbridge (VA) DE Da'Shawn Hand, you would be correct.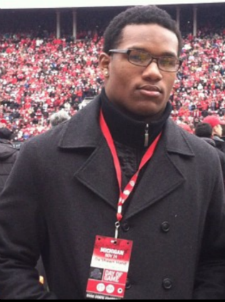 Hand is not only the top strongside end in the nation, but he is the consensus number one player in the country, regardless of position. He took a trip to Ohio State this past November for The Game and liked what he saw, but surprisingly the Buckeyes sit sixth on his list behind a top five (in no order) of Virginia Tech, Alabama, Michigan, South Carolina, and UNC.
While many think Hand is firm on his top five, there is still room for Ohio State to sneak in to the group. Urban Meyer has been leading this recruitment and Hand really likes Zach Smith, who has been out to visit him recently. I think the Bucks will make a strong push and having other elite defensive players in the class will help, but at the end of the day I see Hand at Virginia Tech or Alabama.
Behind Hand there are a number of other talented players included in Tier 1 and they are Chesapeake (VA) Oscar Smith DT Andrew Brown, Detroit (MI) Loyola DE Malik McDowell, Tucker (GA) DT Elisha Shaw, Norcross (GA) DE Lorenzo Carter, Coppell (TX) DE Solomon Thomas, and Hollywood (FL) Chaminade-Madonna DT Khairi Clark.
Brown, named a first team All-American by USA Today as a junior, is rated as the top defensive tackle and ninth-best player in the country by the 247 Composite. He doesn't appear to be anywhere close to making a college decision, but has mentioned Alabama, Clemson, Florida, Nebraska, UNC, Ohio State, Penn State, Virginia, Virginia Tech, Wake Forest, and West Virginia as schools of interest. The first step for the staff is to get him on campus and we will see what happens from there.
Meyer has made it a priority to put the OSU footprint in the state of Michigan and Malik McDowell is one of the players he is after hard. It appears the Buckeyes' biggest competition for the nation's second-ranked strongside end will be from the Wolverines, Michigan State, and Notre Dame. Kerry Coombs is on the case and while the Bucks will have plenty of work to do to win this one, they are certainly in the game.
Georgia is quickly becoming a hot bed for Ohio State recruiting and Elisha Shaw is one of the best in the state for 2014. Shaw is a prospect that will be tough to pry away from the South, as Alabama, Florida State, and UGA are at the top of his list along with the Buckeyes. The 247 Composite's sixth-ranked defensive tackle does talk highly of OSU though, and the staff is pushing to get him up for a visit soon.
Speaking of Georgia, another star from the state is Carter, who is ranked as the sixth-best weakside end in the class. Carter is a teammate of Buckeye lean Myles Autry and is certainly hearing enough about Ohio State to pique his interest. This will be another tough pull from SEC Country, as Alabama, Florida, Florida State, UGA, Georgia Tech, Miami (FL), South Carolina, Mississippi State, Vanderbilt, and others in the region are all under serious consideration.
One of the more recent offers to go out was to Solomon Thomas, a 6-3/251 end hailing from the Lone Star State. The nation's third-ranked strongside end will be tough to pry from the Longhorns, but with that program on the downward, there's certainly an opportunity to get in the mix. Right now this is an uphill battle, but Urban has thrown his hat into the ring.
Clark is the lone member of Tier 1 that does not hold an offer from the Buckeyes, and is a unique case as the staff saw him up close and personal at camp last summer. They must have not been in love with what they saw, as Clark is certainly a high quality player, ranked as the second-best tackle in the nation by the 247 Composite and holding offer from the likes of Auburn, Miami (FL), Clemson, Florida, Florida State, Georgia, LSU, Michigan, Notre Dame, Oklahoma, South Carolina, and other top programs. 
Tier 2
Tier 2 is a very strong group in its own right and includes Suwanee (GA) North Gwinnett DE Dante Sawyer, Southfield (MI) DE Lawrence Marshall, Arlington (TX) James Martin DE Myles Garrett, McDonough (GA) Eagle's Landing Christian DE Andrew Williams, Olney (MD) Good Counsel DE Jesse Aniebonam, Bellflower (CA) St. John Bosco DE Malik Dorton, Shaker Heights (OH) DE Joseph Henderson, Cincinnati (OH) Winton Woods DT Daniel Cage, Aliquippa (PA) DT Jaleel Fields, Greenville (NC) JH Rose DE Kentavious Street, and Fort Lauderdale (FL) St. Thomas Aquinas DE Anthony Moten.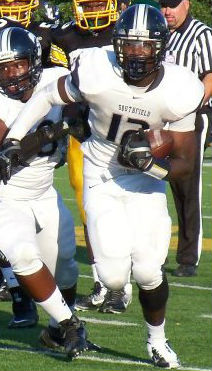 Sawyer is an outstanding prospect and one who I think could rise into Tier 1 upon further evaluation. The good news for OSU fans is that he is very high on the Buckeyes and plans to visit for the Indiana basketball game on February 10, along with some other Georgia stars. Alabama, UNC, and Georgia are also at the top of his list, but Meyer has done a great job in planting the seed here.
Marshall is another Michigan star that the Bucks have offered and Mike Vrabel is leading the charge for his services. Michigan will be tough to beat, and MSU is certainly a player, with USC being a serious threat if they offer. Once again this is an uphill battle, as many expect the childhood favorite Wolverines to win out, but OSU is definitely up there as an option.
Garrett, 6-4/240, is the 247 Composite eighth-ranked weakside end, but don't look for the Buckeyes to be legitimate contenders for his services. It appears LSU, Texas A&M, and TCU are at the top of his list, and at this point it would be a surprise if he didn't commit to one of those schools. He is on the OSU radar though, and is someone to keep an eye on.
Back to Georgia we go for Andrew Williams, who is just starting to take a look around at schools, but holds offers from Alabama, Clemson, Florida, Florida State, LSU, Notre Dame, Ohio State, and many others. Williams is ranked as the number 12 weakside end in the class of 2014 and the Buckeye coaches are working to get him up to Columbus for a visit.
Good Counsel has put out a ton of talent in the past and that doesn't appear to be changing anytime soon. We mentioned two-way lineman Sam Mustipher in our offensive line story, but there is another top player that lines up alongside him in Aniebonam. The four-star prospect has a current top five of Notre Dame, Virginia, Clemson, Michigan, and Auburn, but has mentioned the Buckeyes lately more often and it appears mutual interest is picking up.
Dorton seems to be feeling the West Coast vibe right now, with UCLA thought to be the favorite at this point. The Buckeyes haven't offered him yet, so nothing to see as of now, but he does list OSU among his list of schools, and has the talent to potentially warrant a scholarship sometime in the future.
Henderson is a very versatile player who, at 6-4/220, could play weakside defensive end or linebacker at the next level. He already has offers from Michigan, Illinois, Pittsburgh, and Cincinnati, and is a player the Bucks may have already offered under the old staff or if there was more room in the 2014 haul. He is definitely a prospect the Bucks will keep warm, but unless he blows away the staff at camp I don't see there being room for him in this class. If an offer did come his way, I don't see how he would turn it down.
Another Ohioan to watch, Daniel Cage will be on campus next weekend for an unofficial visit. At 6-3/275 Cage has a great frame to play on the inside when he gets to college and has enough talent to warrant an OSU offer in the near future. Definitely look to see what happens on the visit next weekend, as that may say a lot about where this recruitment is going.
Fields visited for the Michigan game and went home very high on the Buckeyes. It seems many schools are close to offering, but have not yet, and you have to wonder if there is an academic reason or something similar preventing scholarships from rolling in. The 6-3/270 prospect is definitely worthy of playing high-level Division I football, so pay attention to see how things unfold in the coming months.
Kentavious Street has Clemson and Virginia Tech out in front, but has said the Buckeyes would be a school of interest should they offer. They came through with that offer on Friday and it appears they are a legitimate option now.
Street is a player that has flown a bit under the radar, but is starting to blow up after a successful junior season in which he recorded 93 tackles, 8 sacks, and 2 forced fumbles. The staff is definitely a fan of Street and he is a player definitely in consideration to move up the board with more exposure.
Finally, we mentioned the Buckeyes pulled Joey Bosa out of St. Thomas Aquinas for their 2013 class, and they may go back to see the Raiders' top 2014 defensive lineman in Anthony Moten. The four-star prospect, who played alongside Joey and his brother Nick on the line, was a big part of STA's state championship run this past year.
He has offers from Miami (FL), South Carolina, FSU, Cincinnati, Rutgers, and UCF in addition to OSU, but it appears the Hurricanes and Gamecocks may be out in front for his services. That could change if Meyer decides they want to go full steam ahead, as you know that the Buckeye boss will use Bosa to help lure his former teammate in for at least a visit.
Tier 3
Whoever the Buckeyes land in their defensive line class for 2014 is likely to come from Tiers 1 and 2, but there are a handful of players to keep an eye on in Tier 3 that could move up the board in the coming months.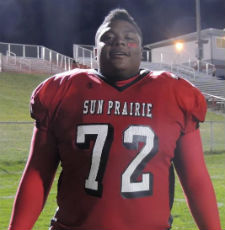 Sun Prairie (WI) DT Craig Evans was committed to the home state Badgers, but backed off his pledge once Bret Bielema went to Arkansas. The OSU staff has been in touch with the  6-3/305 tackle since then, but an offer has not been extended yet. Definitely one to stay tuned to, although it seems Gary Andersen is doing a good job of bringing the four-star prospect back into the fold. 
Chicago (IL) Mount Carmel DT Enoch Smith Jr. holds offers from Notre Dame, Cincinnati, Illinois, Indiana, NC State, Purdue, and others, so he is definitely in consideration for an offer, but he needs to get to camp this summer to show Ohio State he is worthy. It seems other top programs are keeping the seat warm with Smith as well, so this is another case that is in wait and see mode.
"Big Daddy" Dan Wilkinson once dominated in the middle of the defensive line for Ohio State and now his nephew, Verondtae Wilkinson, is doing damage along the same unit for Ohio high school power Trotwood Madison. At 6-2/220 most think Verondtae will play linebacker when he gets to college, but regardless of position it appears he is a long shot for an Ohio State offer. He is a very good player though, and I can see him competing against the Bucks in the Big Ten for another program one day.
Lombard (IL) Motini Catholic DE Dylan Thompson hasn't gotten much recruiting attention, but is starting to make a name for himself after some impressive workouts at the recent Core 6 showcases. At 6-5/270 Thompson has great size and could play either strongside end or move inside to tackle when he gets to college. He doesn't have any offers at this point, but is getting plenty of looks, and I expect him to rack up some scholarships in the coming months.
Finally some other players that deserve mention on this list, but are also longer shots for Ohio State offers are Hartland (WI) Arrowhead DE Billy Hirschfeld, Delaware (OH) Buckeye Valley DT Logan Dziak, Sylvania (OH) Southview DT Ryan Stout, Traverse City (MI) St. Francis DT Jake Khoury, Springfield (OH) DE Devin Nye, and Cincinnati (OH) Country Day DT Michael Barwick.